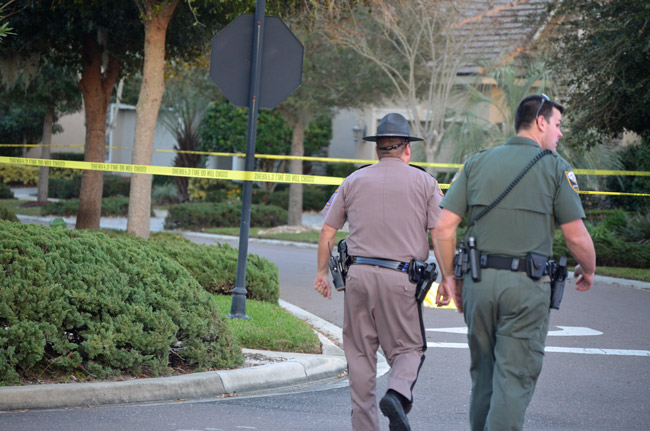 Authorities are still trying to piece together an incident that proved fatal to Richard Resnicoff, a 68-year-old resident killed two doors down from his Jasmine Drive house, in Grand Haven, Saturday afternoon.
After almost five hours of investigation, this is what Florida Highway Patrol investigators had gathered: at about 4:20 this afternoon (Jan. 12), Lucille Horton, 65, was at the wheel of her 2012 Hyundai Sonata. Horton, an investigator said, is Resnicoff's wife.
Horton was driving on Jasmine Drive, toward Egret Drive.  Jasmine Drive ends at a roundabout where Egret Drive and Osprey Circle intersect. Resnicoff's house is the third house from the turnabout, on the south side of Jasmine. Resnicoff was not in the car. But somehow–it's not clear when, where precisely or how–at one point Resnicoff jumped on the trunk of the Sonata. Investigators don't yet know whether the car was stopped or in motion when he jumped on the trunk.
They do know that the car was in motion when Resnicoff was either thrown from the trunk from the momentum, or fell off the trunk. He struck the pavement hard enough that his injuries were very severe, though authorities are not specifying the nature of the injuries.
He was briefly conscious after he struck the pavement. The Flagler County Sheriff's Office got the call about the incident at 4:22 p.m. Volusia's Air One, the emergency transport helicopter, was requested, then rather quickly cancelled: Resnicoff had died at the scene, and was pronounced dead shortly after 4:30.
There were witnesses. But on Saturday afternoon and evening, the accounts were still not clear. "We're trying to find out what possessed a man to get on the trunk of a car driven by his wife. We don't know," an FHP investigator said emphatically. The investigator was not giving credence to possibilities of horseplay, largely because the victim is 68 rather than a teenager. "I spoke to Mrs. Horton, and I don;t believe that she's impaired," the investigator added.
But charges are pending. That doesn't mean that Horton is a suspect: she is not in custody, and the car was impounded only because in homicide investigations, that's routine: the car involved in any fatal incident is impounded for processing, photographs and so on, then usually returned to its owner, assuming it's in driveable condition. In this case, the Hyundai had only minor scratches on the trunk.
Resnicoff's body was on its back, Resnicoff's arms outstretched, facing the turnabout, only a few feet from the end of the street, where he had died. He was covered in a yellow tarp, and remained there as the investigation continued, and as investigators awaited the arrival of the medical investigator: bodies may not be moved from a scene before clearance from a medical examiner.
Many residents of Grand Haven, a gated community where residents know each other within their neighborhood clusters, where they like to walk and where vehicle traffic is light, walked or drove by the scene, peering past the yellow crime-scene tape and wondering what had taken place. That section of Jasmine was completely taped off for a while, then opened to residents who lived along it. Osprey , Egret and Jasmine are tightly lined with single-family houses on both sides of each street, all the way to the roundabout.
Investigators held back one key detail that they did know about, but would not reveal: where Horton and the Hyundai were when they were located or recovered after the incident. That's a key detail in the investigation, though for now it appears that investigators don't yet know clearly whether Horton knew her husband was on the trunk of the car and continued to drive, or whether she did not know he had jumped on the trunk.
Depending on subsequent findings, Horton may face no charges; she may face a civil infraction; or the case may be turned over to the State Attorney's office for criminal proceedings, the FHP investigator said. But those are the usual possibilities in many crash investigations.
Authorities were hoping to have the scene cleared before 10 p.m.
Resnicoff's death brings to six the total number of people who have lost their lives in crashes in Flagler County since the new year, including three people killed in  the plane crash on Utica Path in Seminole Woods on Jan. 5 (that crash is counted among FHP's statistics, and initially investigated by FHP).