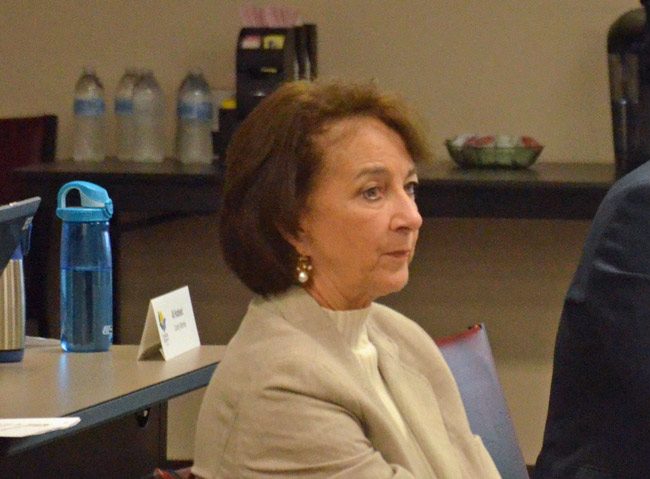 It has not been a good few weeks for Barbara Revels.
Last month the two-term Flagler County commissioner was defeated in her bid for a third term by the largely unknown Dave Sullivan, the Republican who rode the Donald Trump wave that swept all but one of Flagler's Democratic officials out of office on the county's major government boards.
Last week, Revels signed a settlement agreement with the Florida Commission on Ethics admitting to breaking the law on three occasions—in 2012, 2013 and 2014—by filing vague, incomplete, erroneous or misleading financial disclosure statements about her income, assets and liabilities. Each filing included numerous such factual evasions or obfuscations, according to an ethics commission investigation. Revels subsequently corrected the filings with supplemental forms, but at times only to make further errors or obfuscations.
The findings of probable cause were headed to the Ethics Commission Friday, but Revels stopped the process by signing a settlement agreement and agreeing to a fine of $4,500, should the Ethics Commission ratify the agreement at its January meeting. If it does, this would be the second time in two years that Revels is found in violation of ethics laws and required to pay a fine. In January 2015, the ethics commission fined her $2,500 over two violations involving her conflicts of interest between county commission business and her own business relationships.
The combined amounts, at $7,000, would make her the single-most fined elected official in memory in Flagler County, exceeding the $6,200 fine Sheriff Jim Manfre had to pay this year over ethics violations dating back to the early part of his term. Combined, the two cases are an inescapable blight on what was left of Flagler County's Democratic leadership. (Manfre, too, was defeated in November, with the ethics case playing a significant role in his loss.)
There may be little question that the cases against Revels and Manfre were politically motivated, as ethics-complaint filings frequently are. But innumerable ethics, elections commission and other forms of complaints had also been filed against Revels's Republican colleagues and members of the county government administration, none of which stuck or led to more than nominal fines in two cases. The county administration has not shied from politicizing the issue, either: in most cases when the ethics commission or the elections commission would toss out complaints against commissioners or staff, the administration would issue triumphal press releases. The PR office has been silent on the Revels case. Her service on the commission is to be marked with a farewell reception next Monday. (On Tuesday, a county spokesperson and the county attorney both said they had not been aware of the developments in the Revels case until reading about it on FlaglerLive.)
Regardless of the politics behind the filings, the ethics commission conducts its investigations with rigorous independence, and its findings are supported by substantial evidence, as was the case in both actions against Revels. The former commissioner, in any case, agreed to the settlement "with the understanding of the seriousness of the allegations," accepting the final order and findings of the commission.
In an interview this afternoon, Revels said the errors were never malicious, or an attempt to hide information, but the result of a process that was never explained to her. "It's always been a matter of the fact that I did not file the Form 6 forms in the manner that the state expects you to," Revels said, "but they don't ever send one back to you to say, 'this is not the way you do this, this is not what we want you to do, do it this way instead.' And I'm told that probably 90 percent of the people that file them do it wrong, but you don't know it until somebody complains."
She pointed to another difference between her and her colleagues on the county commission, or on most local boards: she remains involved in business with a lot of holdings, whereas her former colleagues had to file relatively simple forms. "Everybody else, they either rent or they own a home or they have a car payment and their only income may be the county commission," Revels said.
Revels noted that early in her tenure, it would have served her to travel to Tallahassee and spend time with officials at the ethics commission to understand more precisely how to properly fill out disclosure forms, though most officials seldom know, going into the job, that what appears to be a matter of misplaced mis-categorized numbers could turn into formal legal proceedings resulting in big fines. Revels said that considering the absence of malice, she considered appearing before the ethics commission to plead her case. "That meant I would have to continue it, go to a formal hearing, continue to pay an attorney, and all I would maybe possibly be able to do is lower the fine per year," Revels said. "So I didn't see the benefit of dragging that out any further. So yeah, it's extremely painful, financially painful for sure."
The 2015 judgment against Revels was the result of an ethics complaint filed by Ray Stevens, a former sheriff's candidate and member of the now-defunct Ronald Reagan Republican Assemblies of Flagler County. The more recent ethics complaint against Revels was filed by John Ruffalo on June 3, 2015. Ruffalo was a director of the Reagan group and a frequent filer of formal complaints in various venues against local government officials. The case against Revels is his only success of note.
Ruffalo's complaint was characteristic of his style: it stretched to seven pages of single-spaced, typed allegations—30 allegations in all—and was rich in unsubstantiated claims, accusations and conclusions of its own. But it also revealed numerous violations the ethics commission's investigation substantiated, essentially agreeing with Ruffalo that Revels had provided "convoluted information" on financial disclosure forms that misled the public, under-reported assets and liabilities, lacked transparency, and, going into the details, failed to properly itemize assets and liabilities again and again.
Initially, for example, Revels did not disclose her ownership of a 36-foot boat. Then, when she filed a revised Form 6, she disclosed it under household items. She finally listed it as an asset only after the ethics complaint was filed.
Much of the complaint appears inspired by the previous complaint against Revels, which centered on her business relationship with one of the former co-owners of the old Memorial Hospital in Bunnell. The county commission, with Revels leading some of those proceedings, acquired the old hospital and turned it into the sheriff's operations center. Revels had not disclosed her relationship with the former owner, nor had mentioned it, or recused herself, before key votes on the acquisition. Both failures cost her in the ethics commission's findings. Ruffalo's complaint picks up where Stevens's leaves off, seizing on the way Revels itemized her business interests—she owns Coquina Real Estate and Construction in Flagler Beach—which include rental properties.
Taking the 2012 disclosure form, for example, the investigation found so many inaccuracies that it did not list them all, though what it did list filled seven items and a page and a half. There was an inaccurate report of Revels's net worth, which increased with each subsequent filing of revised forms. There was a failure to accurately disclose income, which increased by $232,624 with one revision. There were failures to accurately disclose assets, such as the boat and other properties, failure to disclose secondary sources of income by vaguely referring to it as coming from rental properties in "various locations," without itemizing the properties—which would have more transparently allowed the public to see whether her official and business interests crisscrossed—and failing to accurately report liabilities.
Revels, the ethics commission's advocate's recommendations found, "recognized that she made errors on her 2012 Form 6 filing and specifically acknowledged failure to report all of her income." Form 6 is the financial disclosure form elected officials are required to fill out once a year. Revels's errors, the advocate continues, on both her original disclosure form and the revised version, "are not immaterial, inconsequential, or deminimis"—a Latinized way of referring to trifles)—"because the filings were so vague and incomplete there was not sufficient information for the public to identify potential conflicts of interest."
The investigative report of the ethics commission quotes Revels pleading "my absolute and pretty bad ignorance" when she acknowledged her failure to report all, of her income, but there was no malice behind the errors. When asked about omitting the boat from her assets–a boat she said she bought in cash from the proceeds of a property sale in Horseshoe Beach in 2012–she said: "I don't know how the timing was as to why it wasn;t added, but then I totally forgot about it. There's not a slot when you read about household goods. There's something that does say vehicles, and then it talks about other assets, but you read everything and it talks about stocks and bonds. And all those different things, but nowhere does it say boats, and that's a big asset. When I started looking back I realized it should have been added."
The subsequent findings against Revels focus on the 2013 and 2014 filings and echo similar issues.