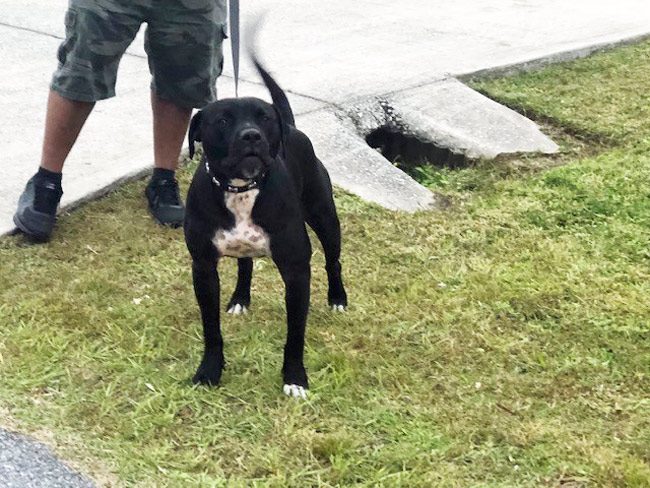 A pit bull mix that ran loose attacked a 76-year-old woman in her back yard on Palm Coast's Regent Lane Monday (Nov. 5), a day after a pit bull mauled a 9-year=-old girl in the P Section. It was the third biting incident in two weeks involving a pit bull.
Monday's incident took place in mid-afternoon. The pit bull mix, called gunner, belongs to Lilly M. King of 8 Regent Lane. Gunner had managed to get out of the house and run loose, as he had on previous occasions, the victim told Flagler County sheriff's deputies, without being aggressive.
This time, the dog bounded onto her yard. She approached Gunner "and attempted to kiss him on the head," according to a sheriff's incident report. "Gunner bit [the woman] on the face causing minor lacerations to the outside and inside of her nose." The woman, who is 5'3", fell backward, and Gunner bit her again, this time on the back of her upper-right arm. "The second bite also cause puncture marks, but had stopped bleeding" prior to a deputy's arrival. When the deputy arrived the woman was holding a towel to a bleeding wound on her nose.
King told deputies the dog had been secured back at the house. The victim was complaining of knee pain from the fall and apparent swelling around her knee. Flagler County Fire Rescue 62 responded and assisted the woman with first aid. She declined transport to the hospital, but was advised to contact her primary care physician as soon as possible. Flagler's 911 dispatch center contacted Palm Coast Animal Control for an immediate response.
The dog's owner provided documentation showing he was currently vaccinated through the Flagler Humane Society, with the current rabies vaccination dated Oct. 22: the dog had just been acquired as a rescue. King "was advised that Gunner should be placed on quarantine within her home, and that Palm Coast Animal Control would be conducting a separate investigation," the report states. But the victim said her son had taken pictures of her injuries "and she did not want any included with the investigation."
A day earlier, a 9-year-old girl who was knocking on her neighbor friend's door at a house on Powder Horn Drive was mauled by a pit bull that slipped through the door. She was hospitalized and was bitten in so many places that she had to be sedated to receive stitches. Two weeks ago a pizza delivery man of the same age as the victim on Regent Lane was attacked in the same manner as the 9-year-old girl, when he knocked on a door for a delivery and a pit bull mix slipped out.