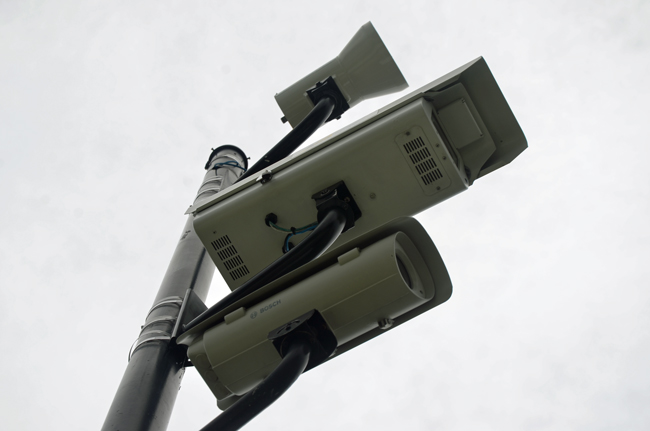 Three years ago the city of St. Petersburg gave in to local governments' favorite narcotic of the day: red-light cameras. Last night by a 6-2 vote, the St. Petersburg City Council voted to get out of the camera business, making St. Petersburg the largest Florida city so far to end its addiction to one of the great frauds perpetrated by and on local governments.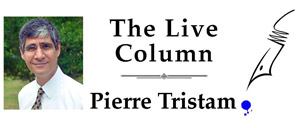 St. Petersburg did it for the wrong reason. The city claimed the program wasn't profitable enough. Maybe that was just a pretext by council members who just wanted to get out of the dirty business regardless, having realized that the ire they earn with every ticket isn't worth the blight on the city's image. Of course the program wasn't profitable over there. St. Petersburg only had 22 cameras at 10 intersections. For this scheme to work, you need volume. You need saturation. You need Palm Coast.
Here, a city with less than a third of St. Petersburg's population, we have more than twice as many cameras. To be precise, Palm Coast's 47 cameras represent 5 percent of the state's total of 922 cameras.  And the city council appears as high as ever on its flashing zaps, because they're generating almost $400,000 a year for the city.
But the problem with red-light cameras, one of them anyway, is not that they're not profitable enough. It's that they're too profitable, and that most of the money is siphoned out of the local economy. Based on last September's numbers, Palm Coast's cameras are generating roughly $3 million a year. But the state takes more than half of that, and American Traffic Solutions, the Arizona-based snake-oil-selling company that dominates the Florida market with its cameras, takes another million dollars, leaving Palm Coast with roughly 13 percent of the take. So the cameras are sucking more than $2.5 million a year from the local economy, in a town where the city council claims to be all for economic development. Those council members must have beach-front property in Arizona.
ATS just launched a high-profile campaign to burnish its cameras' lousy image. It had Palm Coast send out a tendentious video making the cameras look like god's gift to the city, though the video was full of half truths and omissions. You'd never know that ATS was skimming off that million dollars from the local take, for example, or that a legislative report released last month, whose image actually appears at the end of the video, found that rear-end crashes increased by 12 percent overall where cameras were installed, and that every independent report under the sun concludes that absent minor ticks one way or the other, the jury is still out on whether cameras actually improve safety. What's clearer is that they trade one sort of crash for another.
Just as clear are the lies politicians fall for and end up repeating in defense of the cameras, just like any addict justifying his addiction. Even in Palm Coast we're told the cameras are "working," that they're making intersections safer, that they're changing driver behavior. Really? Based on whose facts? Whose studies? There are no such studies, because there's never been a comprehensive and independent analysis of the cameras' consequences in Palm Coast. The best we have is an unscientific and of course prejudiced cobbling together by the city of crash numbers in the general vicinity of intersections to reach pre-determined conclusions that can then be bandied about at council meetings with the certainty of fact.
But if you ask for an actual study, you'll get nada, because it doesn't exist. An actual, independent study—not one produced either by ATS's PR hacks or by the city's half-baked Crayola PowerPoints—would cost a lot of money and, if existing evidence is any guide, show the same inconclusive results that would make it untenable for council members to keep lying to us. So don't expect any study soon.
Yet we've been enduring this multi-million dollar heist on Palm Coast's pocketbooks for seven years. There's an attempt yet again in Tallahassee to do away with red-light cameras. Sen. Jeff Brandes, the St. Petersburg Republican, is leading the legislative drive, and now has behind him his own city's enlightened decision to stop what he justly calls a backdoor tax on residents. Collier County turned off its cameras last year. Both governments had contracted with ATS. They could do so contractually because they were not dumb enough to do what Palm Coast did.
Palm Coast should follow St. Petersburg's example. But the city administration, in one of its most irresponsible abrogation of taxpayer protection, made a key change to the contract with ATS in 2012: it eliminated a clause that would have enabled Palm Coast to end the contract without cause. And it extended the contract to 2019.
Did you get that? The contract, in other words, was extended and locked in well past every single one of the mayor's and council members' terms. This council has enabled its share of indefensible decisions. This one ranks near the top. And it reeks of the sort of knavish deals red-light camera companies are becoming famous for, though they could never get away with it without the complicity of local governments signing their name to the heist.
Mayor Jon Netts and council members Bill McGuire and Bill Lewis voted for the deal in July 2012, as did then-council member Frank Meeker, now a county commissioner. Jason DeLorenzo was the only dissenter. The day of the vote, the addition of more than three dozen cameras was never brought up. That would take place a few weeks later, when the seven-year extension was secure. Heaven forbid there should be a camera trained on the Oz-inspired wizardry of our council.
Absent a change in law, it's not clear what the financial consequences would be for Palm Coast to end its contract with ATS. Chances are it would still end up costing the local economy far less than letting it run five more years. The fraud has lasted long enough.

Pierre Tristam is FlaglerLive's editor. Reach him by email here. A version of this piece was broadcast on WNZF.