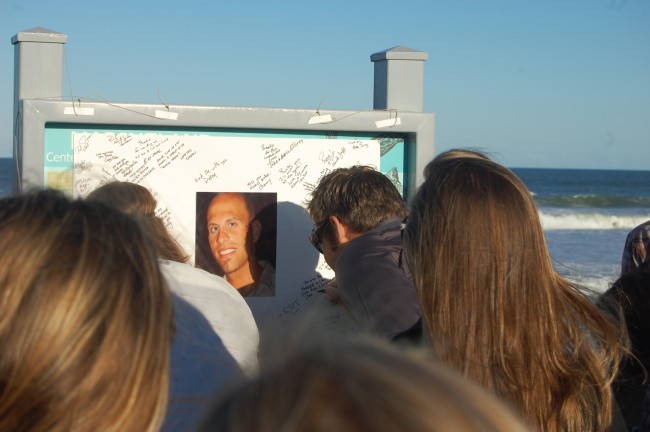 In a moving ceremony of tributes and symbolism on Marineland's boardwalk Sunday afternoon, 300 people, including large contingents of the county's three fire departments–Flagler County, Bunnell and Palm Coast–paid their last respects to Ransford Jones, the Flagler County firefighter-paramedic and professional beach volleyball player who collapsed from an aneurysm on the sands of Panama Beach six months ago, and died on Nov. 8. He would have been 35 next week.
Several of the Jones' colleagues, friends, partners and teammates and partners spoke in his memory.
"Today, we are gathered here to welcome our hero home," Jim Luteran, who's known Jones for 15 years and surfed and played volleyball with him, said after comparing Jones' heroism to that of Kirk Gibson. Gibson is the Los Angeles Dodgers slugger who, injured and pinch-hitting in the bottom of the 9th inning, with two outs and his team down a run against Oakland, hit a homerun to win the first game of the 1988 World Series. Quoting C.S. Lewis, the Book of Provers and Ecclesiastes ("a good name is more desirable than great riches"), Luteran drew the portrait of a man with "a wisdom and a maturity far beyond his years," whose earthiness was not above super-gluing a seashell to his front tooth for lacking a dental plan, and whose gift of life, however brief, was "a brilliant flash of light."
Ranse's wife of three years Barbara, wearing black but for a light-blue butterfly broach, flying skyward, spoke briefly, having written previously of Ranse's philosophy as he would have described it, whatever his circumstances: "Live, love and laugh everyday as if it is your last. Never take for granted the little pleasures in life."
Moments later a long moment of silence was called, broken only by the surf on one side and the sound of two fire engines on the other. Then came the distant thumping of a helicopter, Flagler County's Fireflight, trailing a large American Flag as it flew directly above the congregation, then out to sea in a circle as the final ritual was conducted: at a fireman's memorial, his name is called out three times over the radio. When no answer is given, he is pulled out of service.
Shortly after the service ended, many people walked down to the surf and threw white roses against the waves. Mike Pius, a lieutenant with the Flagler County Fire Department, took a red surfboard and did a paddle out in Ranse's memory, saying a prayer on the waves before returning to shore.
In Early October, Barbara had written: "As you can imagine, with his profession, we had many conversations about 'what if' scenarios and his wishes so I am not totally ill-prepared for the circumstances in which I now find myself. It is okay to be sad. We all are. Why does such a terrible thing have to happen to such a great person? But do not feel sorry for him for he would not want that. He will want you to remember how rich and full the life we knew him as having and as an example of how such a far-reaching life can be lived in such a very short period of time. The blessing is all ours to have known him for a day, a week or for years. The reality is that bad things do happen to good people; maybe God's plan for Ranse was to remind us all of how to live and encourage us to live like it may all end tomorrow."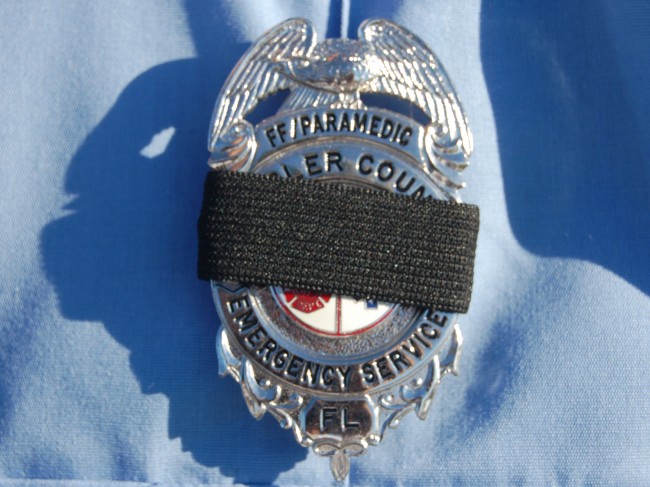 Ranse Jones Memorial Photo Gallery
[nggallery id=41]