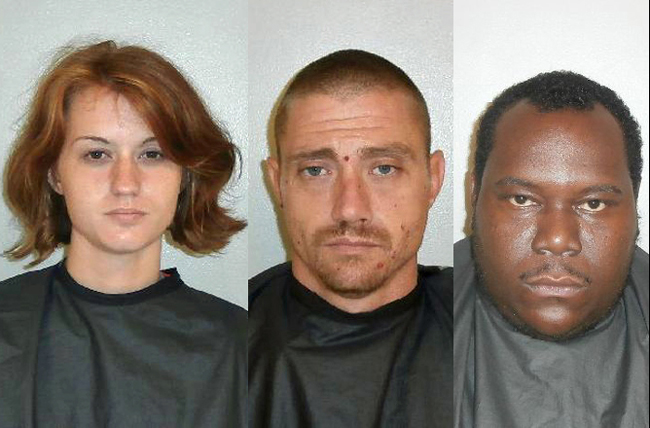 Michael Lee Marsh, a 30-year-old resident of 6 Raeitan Way in Palm Coast, has been arrested several times before, but never twice in less than 24 hours, as he was Friday, and again early Saturday morning—the first time for allegedly running a meth lab at the Raeitan Way address, the second time for drug possession and loitering. In the interim, he had posted $5,500 bond on the Friday arrest.
He was arrested again with two other people—Amber Troha, 19, also of 6 Raeitan Way, and Virdell Myers, 28, of 925 Marion St. in Daytona Beach—near 37 Leaver Drive in Palm Coast at around 4 a.m. Saturday. Marsh again swiftly bonded out.
A cop had been dispatched to the Leaver Drive address because of a suspicious vehicle early Saturday morning. When the cop got there, he saw a beige 2007 Mercury that had been parked in the driveway make a maneuver to leave. The cop knew that the house at that address is a vacant, bank-owned property. He saw three people in the car, and executed a traffic stop.
"The occupants all appeared to be nervous and kept moving their hands out of view," the three individuals' arrest reports state. The cop observed loose blue and green tablets in plain view on the center console. The pills were later determined to be 60mg-Cymbalta, an anti-anxiety drug available only by prescription.
Myers consented to a pat-down, according to the arrest report, and said he had a pocket knife on him. As a cop retrieved it, a small bag allegedly containing various pills, also later determined to be anti-anxiety prescription pills, were found, along with acetaminophen and hydrocodone. When Marsh was asked to step out of the car, a hypodermic needle was observed in the door panel. He, too, said he had a pocket knife after he consented to a pat-down. His arrest report also notes that he consented to have his pockets emptied. When Troha was searched, nothing was found on her. But a metal spoon with alleged drug residue was found in the car in a purse, along with a hypodermic needle, a vial with white residue and a coffee filter with brown residue, leading to Troha's arrest.
None of the individuals were able to produce prescriptions for the pills. Vidrell was on probation. All three were booked–Troha for the first time, Myers for the fourth time since 2010 (in Flagler County), and Marsh for the sixth time.
Marsh posted $1,500 bond on the Saturday charges and was released. Troha was still in jail Sunday afternoon, on $1,500 bond, according to the jail's log, as was Myers, who was being held on $2,250 bond on the prescription drug possession charges, and on no bond on the probation violation charge. His previous arrests were related to similar charges—prescription-drug possession as well as a previous probation violation.
At 12:01 p.m. Friday, a sheriff's release states, investigators and the Flagler County Sheriff's SWAT teams served a warrant at the Raetian Way address following an investigation into an alleged methamphetamine operation there.
Cops removed five people and temporarily detained them as two cops—a corporal and an investigator—searched within, wearing breathing masks. They discovered evidence of a meth lab in a bedroom in the 1,800-square-foot home, which is rented out by an owner who lives in California.
The evidence discovered is as follows, according to Marsh's arrest report: "A plastic bottle (one pot), plastic tubing (containing white substance), two bottles of muriatic acid, syringe, multiple containers with lids, spoons, black scale, glass jar with a white residue (Field tested positive for Methamphetamine), filters, light bulb, spoon."
Marsh was one of the five individuals being detained as the house was being searched. He was arrested and charged with manufacturing or possessing methamphetamine and possession of drug paraphernalia. He was booked at the Flagler County jail at 4:50 p.m. but soon bonded out. (He would be booked again at 6:32 a.m. the next day.)
Personnel from Flagler County Fire-Rescue and the Palm Coast Fire Department took up positions in the area before the warrant was executed, in case something went wrong (local first responders, including the SWAT team, train for just this sort of eventuality) while the county's Fire Flight emergency helicopter circled above, in case a pursuit was been triggered–or a health emergency required a quick evacuation.
Once the scene was secured, the two cops who'd gone in to investigate and the five individuals who were in the home were decontaminated, the sheriff's release states.
"Our investigators followed up on information they received and were able to shut this operation down," Sheriff Jim Manfre said. "It's my belief that similar operations exist in our county and as we identify them, we will be moving in to shut them down and arrest those involved in the operation."