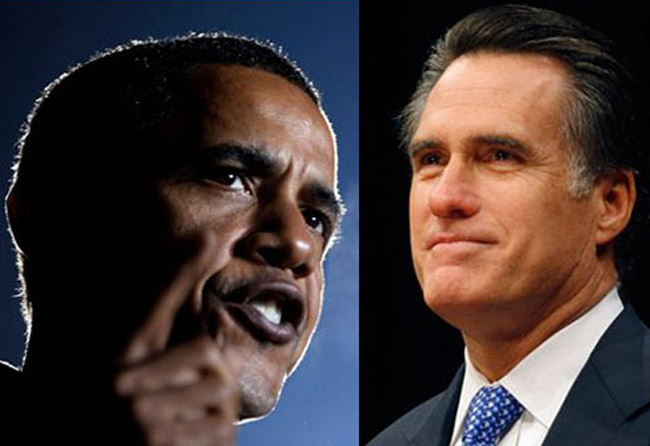 Barack Obama's Republican primary effect is over: while Rick Santorum, Newt Gingrich and Mitt Romney battled it out, damaging their name, the president's approval rating rose in Florida. No longer. The latest Quinnipiac University poll, among the most consistent polling measures of the Florida electorate, reveals a virtual 180-degree reversal for Obama's fortunes in Florida.
Romney now holds a 47-41 lead over Obama. Two months ago, Obama led 49-42.
There's more bad news for Obama: 52 percent of Florida's registered voters say the president does not deserve a second term in the Oval Office (as opposed to 44 percent who do), and 52 percent give him a negative job approval, as opposed to 44 percent who approve.
"Gov. Mitt Romney has slipped into the lead in Florida and that standing is confirmed by his much better numbers than the president when voters are asked whether they view the candidates favorably or unfavorably. They view Romney favorably 44 – 35 percent, while Obama gets a negative 45 – 50 percent favorability," said Peter Brown, assistant vice president of the Quinnipiac University Polling Institute. "The overall picture in Florida is positive for Romney, who is ahead 50 – 37 percent among men, while women are divided 44 – 45 percent. And the president is getting just 33 percent of white votes, compared to 85 percent of black votes and 42 percent of Hispanic votes."
Florida is one of the keys to a second Obama term, but it is not absolutely essential in the president's strategy, especially if the presumptive Republican nominee picks Marco Rubio as a running mate. The Quinnipiac poll shows that a Romney-Rubio ticket would help Romney, but it adds only two points to his favorability, which rises to 49 percent. Still: two points in Florida is generally all it takes to tip the state one way or another. In 2008, Obama won Florida with 50.9 percent of the vote, compared to John McCain's 48.4 percent. In 2004, George W. Bush won the state with 52.1 percent to John Kerry's 47.1 percent. And in 2000, of course, the margin of victory was a matter of a few hundred votes.
The Quinnipiac poll, released this morning (May 23), also asked registered voters about gay marriage. Florida law already banned gay marriage when voters in 2008 approved a constitutional amendment, with a 63 percent majority, reiterating the ban. Floridians now say they oppose gay marriage 50 – 40 percent. Men oppose same-sex marriage 55 – 35 percent while women are divided 44 – 46 percent. Support is 57 – 33 percent among voters under 35 years old. Opposition is 52 – 38 percent among voters 35 to 54 years old and 55 – 36 percent among voters over 55.
A total of 22 percent of Florida voters say same-sex marriage is "extremely important" or "very important" to their presidential vote, while 26 percent say "somewhat important" and 49 percent say "not important."
Romney's opposition to same-sex marriage will not affect their vote, 56 percent of Florida votes say, while 23 percent say it makes them more likely to vote for him and 19 percent say less likely.
"While the issue of same-sex marriage looks like it affects only one-third of Florida voters, we know from experience what a few votes can mean in the Sunshine State," said Brown.
Quinnipiac University surveyed 1,722 registered voters with a margin of error of +/- 2.4 percentage points. Live interviewers call land lines and cell phones were used during the May 15-21 survey period.
A national poll released today by NBC News and the Wall Street Journal has Obama ahead of Romney, 47 to 43 percent. In that poll, NBC reports, "Obama leads Romney among African Americans (88 percent to 2 percent), 18 to 34 year olds (55 percent to 35 percent), women (53 percent to 38 percent), independents (44 percent to 36 percent), and seniors (46 percent to 44 percent). Romney, meanwhile, holds the advantage with whites (52 percent to 39 percent), men (49 percent to 40 percent), suburban residents (47 percent to 41 percent), Midwest residents (48 percent to 43 percent), and high-interest voters (47 percent to 44 percent)."
Real Clear Politics' national average of polling data has Obama holding a 1.9 point edge over Romney.

May 24 update: In Marist Poll, Obama Is Ahead
While the latest Quinnipiac University poll shows former Massachusetts Gov. Mitt Romney leading in Florida, a separate poll by NBC News and Marist College shows President Barack Obama ahead in Florida in his bid for re-election. According to the NBC-Marist survey, Obama would get 45 percent of the vote in Florida if the election were held today, while Romney would get 40 percent. Obama and Vice President Joe Biden would lead a ticket of Romney and U.S. Sen. Marco Rubio by a 48-44 margin, while the gap would close to 47-45 if Romney chose former Florida Gov. Jeb Bush. The poll also shows incumbent Democratic U.S. Sen. Bill Nelson beating Republican Congressman Connie Mack, the GOP frontrunner, by a 46-42 margin. Democrats have complained that the Quinnipiac poll is too heavily weighted toward Republicans, but the Marist poll gives a strong edge to Democrats that might not materialize in November: 43 percent of those polled were Democrats, 35 percent were Republicans and 21 percent were independents. The poll was taken of 1,078 registered voters May 17-20 and has a margin of error of 3 percentage points.–News Service of Florida