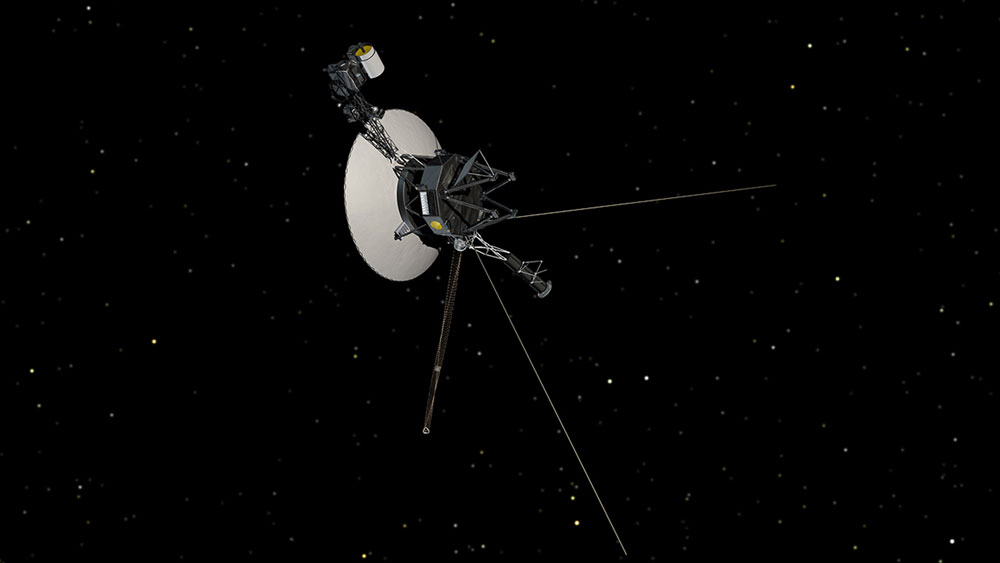 Maybe out of an impulse to be as far away as possible from here, I Googled "Where is Voyager now" this morning and there it was: NASA's Mission Status page for the two Voyagers, those emissaries of a previous century into that other undiscovered country from whose bourn no traveler returns, though we are getting endless returns from those two intrepid workhorses. They keep beaming back data. Not fast: your average cell phone processes data 2 million times faster than do Voyagers' computers. But fast enough.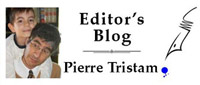 The relevant comparison isn't with our navel-bound devices but with that span of space-time where creation stretches in inverse proportion to our little history's contraction. We are the irrelevant spec ("the tiny parasites of this insignificant planet," as Bertrand Russell put it), parrying edicts of randomness as best we can, as space could remind us if only we looked up once in a while (light pollution notwithstanding), as the two Voyagers remind us in their own little bytes every day and night. Every mile they add to their journey tells us in our own language how much smaller we are. We can even watch the humbling in real time as they talk to Earth, assuming we have the time. Which now we may, compliments of Covid.  Voyager 1 is 14 billion miles away, Voyager 2 is 11.5 billion miles away, though they departed Florida–lucky them–three weeks apart in the fall of 1977, Voyager 2 ahead of 1.
I was visualizing them this morning, hirsute instruments–the universe's most avant-garde musical instruments, really–their 735 kilos bowing through space at 38,000 miles an hour (Voyager 2 for some reason is the slower of the siblings, traveling at 34,000 mph), safe from all things viral, safe from all things human beyond the humanity they carry on that Golden Record: Bach's second Brandenburg (the Karl Richter interpretation, below), a percussion piece from Senegal, an Aborigines song from Australia ("Morning Star"), two more Bach pieces (the only guy to get space encores other than Beethoven, who got two, though I would not have frightened deep space with the pompous opening bars of the Fifth when the Pastorale would have sent the more appropriate message), China's "Flowing Streams," bagpipes from–no, not Scotland but Azerbaijan, Louis Armstrong's "Melancholy Blues." Some of it is good Covid music, a reminder of what's on either side of this calamity, at least for those of us not condemned to that other undiscovered country.
I looked at Voyager's live travels, measured in miles' distance from the sun, miles accruing in increments of a dozen every second, though right now, because Earth's velocity around the sun is actually faster than the two Voyagers' velocity away from the sun, we are cutting the distance between us and the spacecraft, as we do every year around this time: it's diminishing by about five miles per second. The Voyagers should be freaking out, wishing they could get away from us faster even though they are humanity's most literal example of social distancing. No two human objects have ever been more distant from their creators, ever. There is beauty in that distance, watching it grow millisecond by millisecond, to know that works of ours are out there, caressing dark matter with all the eroticism of endless, nocturnal discovery.
But I wonder if NASA could inadvertently infect them with a computer virus. It would be human. It's what we do. We infect all we touch. That we do so often with immeasurable beauty and love has never diminished our other capacities for self-destruction. It takes 20 hours for a command from Earth to make it up there, 20 hours for Voyager to talk back. There's a lesson for all adolescents there, for all Pavlovian droolers of social media for that matter. Unlearned, of course. But imagine that: In 20 hours, a virus could stop the work of 43 years past and destroy the work of 40,000 years to come. As Robert Oppenheimer would tell you: more probable than unthinkable, if man is at the levers. Lucky for the two Voyagers, for the next year Earth won't have the capability to talk to them: NASA is having to shut down the conversation from Canberra in Australia, where the giant antennas that beam up commands have to be reworked so the antennas can better talk to coming missions to Mars.
So there'll be no chance even for Covid to mutate and make it to the two Voyagers as a computer virus. Maybe by the time communication is restored we'll be able to tell the Voyagers we have a vaccine. They'll shrug that cool black shudder of space and go on with their planned rendezvous: "In the year 40,272 AD (more than 38,200 years from now), Voyager 1 will come within 1.7 light years of an obscure star in the constellation Ursa Minor (the Little Bear or Little Dipper) called AC+79 3888," NASA tells us. Voyager 2 is going in an astronomically more southerly direction, toward the constellations of Sagittarius and Pavo. "In about 40,000 years, Voyager 2 will come within about 1.7 light years of a star called Ross 248, a small star in the constellation of Andromeda."
Let's hope we won't be doing damage there. Which in these times of borderless contagion brings to mind the Prophet Vonnegut. He anticipated we would not doom or dignify deep space any less than we doom and dignify ourselves, throwing punch lines like epitaphs in one of his most delicious short stories: "Fuck you, Andromeda," and "Andromeda, We Love You." As always with manic manichaen humanity, it's one or the other, our homebound combat with Covid reminding us of the self-inflicted duality with every passing stellar mile.