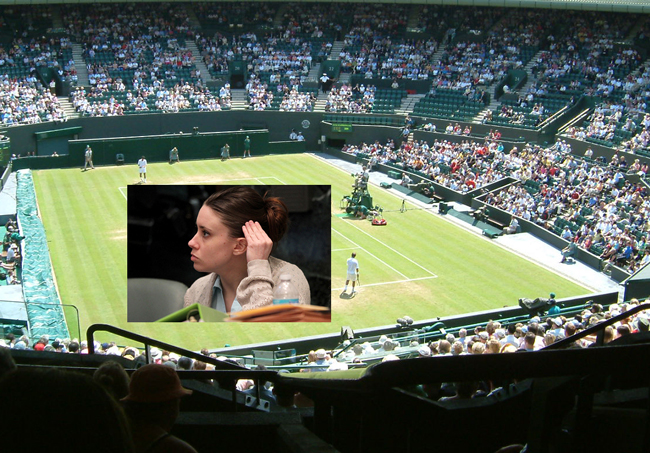 Chris Evert, Jimmy Connors, John McEnroe, Bjorn Borg, Roger Federer, Rafael Nadal.
And now Casey Anthony.
Since the days of Evert and the rest of them—that's about a third of a century—NBC has had a lock on the Wimbledon men's final, usually on the first Sunday  in July. It does so again this year. Promising match:  Nadal and Novak Djokovic, titan versus upstart. But if you're in Central Florida, the usual NBC affiliate has opted to pre-empt coverage with the Casey Anthony trial. (As a friend clued me in, fish around a bit and it'll show up elsewhere.)
Casey Anthony.
---
Editor's Blog
---
It's not that coverage isn't warranted. Of course it is. It's a murder trial, and a somewhat unusual one, although there's nothing "usual," ever, about any kind of murder. The life of a homeless, nameless drunk is not one bit less valuable or less worthy of note, when ended by murder, than the life of a photogenic toddler girl. If mothers aren't often accused of murdering their own child, it's sadly not entirely uncommon, either, whatever the culture. There are unusual elements that compel a degree of unusual coverage in this case. But saturation, pre-emptive coverage on every local channel, when matters of far greater consequence (war, national default, government shut-downs) warrant less than two minutes on the evening newscast? I don't think so.
A tennis match doesn't rate much importance at all, either, obviously. But it doesn't pretend to. It's honest, scheduled irrelevance.
I'm all for televising trials. For that matter we're at the point technologically where every court proceeding from the lowest administrative court to the United States Supreme Court can and should be available in some way electronically, at little to no cost. But all in its proper place. Leave saturation coverage to matters of regional or national importance. The Casey Anthony case isn't even a matter of local importance: its unraveling and outcome will affect absolutely nothing, other than the bottom lines of television channels and the entertainment quotients of Nancy Grace wannabes, as if we needed more harpies like her pretending to be one-mullah committees for the propagation of virtue and the prevention of vice. As Shirley Jackson well knew when she wrote "The Lottery," Stonings don't happen only in Taliban country, or with stones.
Anthony's isn't murder-trial coverage. It's voyeurism on a bimbo scale. If Anthony had been middle aged, crinkled, overweight, if she'd not been white, this level of media fixation would have been unthinkable. But she's young. Lithe. White. Allegedly attractive. A party girl. A customized object to men's puerile fantasies, a ready target for women's inquisitorial instincts: mothers all over the place playing judge and jury over Anthony's fate. And when it's over, no one will give her or her lost child another thought. The show will be over, changing virtually nothing about anyone's understanding of human psychology or behavior or what makes a human being tick, or kill. This isn't televised Crime and Punishment we're talking about. It's the superficiality of CSI-Orlando hashed over and stretched over weeks of ratings-rich exploitation.
Whatever happened to Caylee Anthony is an atrocity. But so is the circus trailing it.
–Pierre Tristam