Between two and three dozen people turned out Sunday afternoon for a hastily-arranged protest of Flagler County government's controversial new lease with Captain's BBQ at Bings Landing. Along the way one of the restaurant's owners, who turned up to speak with protesters about their concerns, said he was willing to hear alternative ideas, suggesting that the matter may not be entirely settled on either side.
The County Commission approved the lease in a 3-2 vote last week before the largest crowd to turn up for a meeting in three years. The lease allows Captain's BBQ to build a new restaurant with a larger footprint more toward the center of the park, just north of its existing structure, which its owners say requires too many continuous repairs to be salvageable in the long term. The owners are footing the bill of the new building for the popular restaurant. But the county submitted the plan to the commission with little advance preparation, no corroborating documentation about the building's failings and no warnings to the Hammock community, much of which reacted with anger and dismay.
"Something needs to be done. We went to the board meeting and no one listened," said Shari Gray, who organized the protest through an online posting after Thanksgiving at Nextdoor.com that quickly re-circulated through members of the Scenic A1A Committee and on Facebook neighborhood pages. Protesters started showing up before 2 p.m. outside Bing's Landing along State Road A1A with makeshift placards bearing "Save Our Park" messages.
"They don't like their building, which is fine, it's nice to have a restaurant here, I'm not against the restaurant," Gray said. "They say the building is beat up and needs repair. I understand. I don't think it should be at the cost of the county's people's money for them to tear down trees. They told us that there'd only be one oak tree torn down and a couple of palms. I don't see how they're going to do that without tearing down the rest of them. They shot this thing through, no one knew about this meeting, and they shot it through the night before the new commissioners were sworn in."
The commission took its vote the night before the swearing-in of Commissioner Joe Mullins in place of Nate McLaughlin. McLaughlin cast the deciding vote. Mullins at the beginning of the meeting spoke in opposition to the commission stacking that evening's agenda ahead of him taking his seat.
At 12:25 p.m. Sunday, County Attorney Al Hadeed emailed the five county commissioners and Craig Coffey, the county administrator, to alert them of the protest he'd just heard of. "I am not sounding any alarms or anything of the sort," he wrote them. "You well may know these things already from other sources, so no offense meant to your grassroots knowledge. I do not want any of you caught off guard in case the media contacts you about any 'protest' efforts." He also told commissioners he did not know "the capability of the folks who are against the relocation," but said they were attempting to mount a legal challenge to the commission's decision.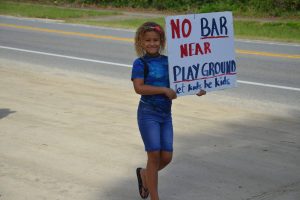 If there was a goal among the protesters, it was echoed in Gray's wish about the restaurant: "Leave it the way it is," Gray said. She'd brought along her 7-year-old granddaughter Giovanna Cohill, who carried a sign that read, "No Bar Near Playground."
Randy Odom, a prospective business owner preparing to open a 34-seat restaurant on A1A, says the county's Technical Review Committee turned down several other restaurants for not having the right parking-to-seat ratio or septic capacity, though each business would have had a smaller footprint than Captain's. "And you had to have your plan, your septic, your parking, you had to have all these things completed before you go to the TRC," Odom said. "These guys walk in there with a sketch, no parking plan, no septic plan, no plan whatsoever other than a sketch that says we want 150 seats and this is how we want to structure it. So they didn't have to follow any of the rules, so they're giving this particular entity an enormous advantage. And what's going to happen to the other restaurants in the area?"
The other goal of the protest was to gather more petitions, though to what end is not clear. "That's a good question," Dennis Clark said in response to a question about the lease-opponents' next move. Clark heads the Scenic A1A Committee, but was acting in his capacity as a Hammock resident individually: the committee itself voted to approve the lease earlier this month, then several of its members said they would not have done so had they actually been presented with the lease itself. Like many protesters, they are objecting to the dilution of the lease's original terms. (See the original 2011 lease here, the 2015 amendment here, the amendment's exhibit here, and the newest lease here.)
Clark said a "a challenge to what the county did" on eight potential grounds could be in preparation: he has circulated an online appeal for a legal fund. "We may have found a few ways to tackle this," he said. "Also it's possible the board could overturn their decision at the next meeting when Joe Mullins is on."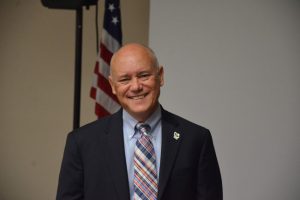 Commissioner Don O'Brien was one of two dissenters in the vote, along with Charlie Ericksen. O'Brien still has issues with the way the lease was pushed through the commission but questions whether the matter can be revived.
"I don't know how we can do that, it's a lease and it's my understanding the lease was executed, so I don't know how you can go back on a contract, that's an Al question I'd have to ask," O'Brien said, referring to Hadeed, the county attorney. "I'm sure there's a way to reverse a motion that was made, through Robert's Rules there's a way to do that. But again I don't know what legal jeopardy that puts us in."
There is no black and white answer as to whether and how an issue may be revisited by a government body. Robert's Rules is the guide the commission follows, but it's not legally binding. Commissioners may choose to revisit an issue by a majority vote, according to its provisions, but that would require a commissioner in the majority of the 3-2 vote to make the motion to revisit it. That would now have to be either Commissioner Greg Hansen or Dave Sullivan. The motion may not be made by O'Brien, Ericksen or Mullins, but one of the three may second it. The commission could also opt to dispense with Robert's Rules and move from there. But the Captain's BBQ issue remains a contractual matter which, if re-opened, could draw objections from Captain's owners. They are represented by lawyer Jay Livingston.
That said, O'Brien said the issue remains cloudy. "I still have questions about process and what it looks like and still feel frustrated that we didn't do a good enough job explaining to the people that had issues," O'Brien said. "It's also one of those things, a 3-2 vote, sometimes you have to accept what the majority voted because that's the way we do business, that's the way every commission does business."
Reached in mid-afternoon Monday, Mullins said he would be interested in discussing the issue–not to prevent the deal, but to make it more transparent and perhaps amend it along more palatable lines. "My concern is not Captain's, it's not what the public is doing, it's the perception of the way this was pushed through to them, and I feel like it gave the business a bad rap, and it gave the public that bad taste," Mullins said. He noted that there was willingness on Captain's part to talk, and there's room for a clearer understanding of what's ahead. "I'm not going to vote it down but I'm not going to vote for it until I understand it," Mullins said. Describing himself as pro-business and pro-growth, he said Captain's has an important role to play at Bing's, and places the blame for the controversy largely on the county administration's part.
But one of the more interesting parts of the protest was what developed about half an hour into it between a couple of protesters–Barbara Royer and her sister–and Chris Herrera, who, along with Mike Goodman, is the Captain's BBQ lease holder. Royer, who held up an "Impeach Commissioner Hansen" sign, was on the more vocal, more extreme side of the protesters.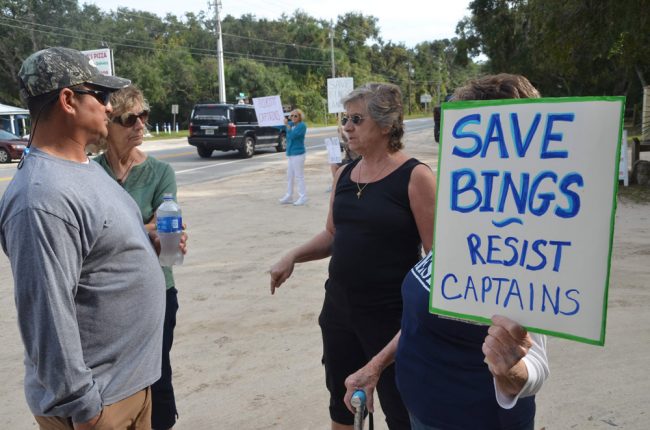 "We need to do something about this crap," Royer had said minutes before Herrera showed up.
"That's what I'm trying to figure out is what common ground is, because Barbara here has one gripe about the situation, I can talk to somebody else who has something completely different," Herrera said. "At the end of the day I'm a fisherman, and I cook barbecue. I don't deal with politics, I don't deal with county government and I never want to be a politician because you're never going to make everybody happy, you're always going to have the split thing, that's why the only reason I'm out here, I just want to be a good neighbor. I'm hearing people's concerns. When I pulled in here, Ms. Barbara here was pretty upset, and I said that's the first person I want to talk to because there's no reason she should be upset."
They talked, but in the end Royer wouldn't budge, leveling more accusations and anger at Herrera than engaging in the sort of dialogue that Herrera seemed genuinely to be seeking: he had placed himself in the thick of the protest, and on several occasions gave Royer openings that he was willing to revisit the plans.
"If you guys feel like there's something better we can do, I'm down for the discussion," Herrera told her. "I just want to hear your concerns and hear anything you have to say."
"What I see happening here is not for the best," Royer tells him, speaking of her parents who moved away from crowds to be in the Hammock in 1994. She moved in 14 years ago to take care of her ailing father. "I used to come over here, my parents used to come over here, play with the park, the kids, the playground, and now you want to have liquor besides beer? This is totally wrong, what you're doing."
Herrera explains his plan and why he can't build in the same place: "Building in the same location would be fantastic," he says. "It's just time and effort: how long was it going to take to rebuild. Let's say a year."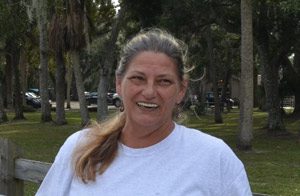 "All right," Royer says.
"So I lose all my employees for a year. So now I've got to look and start a business over again. This is a contractual obligation from the county to me. I'm just a tenant. We came up with this idea to alleviate some of the stress off the county. We think it's a good idea. Of course you're going to get 1,000 people say we love it, you get 1,000 people they say they hate it."
"What's the stress on the county?" Royer asks.
"That's going to cost a lot of money to redo that building," Herrera says.
"The county shouldn't have to pay for it, it's your restaurant," Royer says. But the county wouldn't be paying for it: the proposal is for Captain's to pay the full cost of new construction. The fact does not alter Royer's objections.
Herrera continues: "So as a good tenant we said look, we can afford to put a new building up for you, no cost to the taxpayer, and let's work something out. They thought it was a great idea. I don't know how they conveyed it to the public, I agree it was probably a piss-poor way of doing it."
"It was never conveyed to the public," Royer says, as she and her sister object to the way the issue was rammed through the commission with little vetting.
"This had nothing to do with me," Herrera tells her, distancing himself from the county's method. "You have as much say about what happened in that meeting as I do. I'm just the tenant."
Royer's recurring complaint sharpens as the conversation progresses: it's growth she objects to, in the Hammock and in Palm Coast. "We don't need any more growth in Palm Coast. We don't," she says. "And I fault the county for allowing this to happen, and I fault you because you are in with" the county.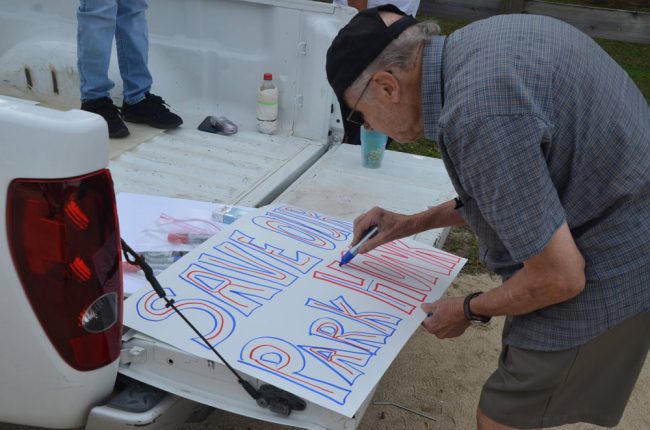 Cars are passing by, often honking in support of the protesters, who by then have attracted the attention of Flagler County Sheriff's deputies. Two deputies' patrol cars are parked across the street.
Royer says that now that the restaurant is operating, she's not opposed to it. Few people are. "But it doesn't need to get bigger," she says. "I don't want you to expand this. If you're going to keep it, really I loved it, everybody here loved your barbecue, but when we found that you're going to expand and take away these lovely oak trees that we've lost already–"
"No, I want to clarify that," Herrera tells her, inviting her to walk with him to show what trees will remain and what trees will go, "if they were to come down." He tells her he'd never take down a century-old tree (the restaurant actually renovated around one so as to preserve it) and says, somewhat disingenuously, that the parking "has nothing to do with me." In fact, additional parking, while a county responsibility, is tied to the lease agreement, which states that the county "agrees to use best effort to expand visitor parking at the park by at least 30 parking spaces within 24 months" of the new restaurant opening.
Royer walks with Herrera to the area of the prospective construction. He shows her where the building would go, and what trees would not be impacted. Royer is half-distracted by a side-exchange with a restaurant customer after briefly looking inside the structure. She tells Herrera: "You're not convincing me Chris," and adds: "He listens to me, I listen to him, but it's not going to change." She says she wants to get somewhere, "but we can't get anywhere with the county."
"Let me be your voice, let me help," Herrera says. "It's to hear their concerns and maybe we can go back and hit the drawing board again."
Herrera has just told Royer that the plans can still be worked over, a startling statement. But Royer doesn't seem to have heard him. She's worried that a man walked into the restaurant without shoes (a sign in the window permits it) and talks about people's morals "going down the toilet." Royer and Herrera then part company.
"She's saying it's all about you, it's all about you," Herrera says afterward. "You know her, it's all about her. She moved here, she doesn't want any change, she doesn't want any development, but you know what, life goes on, we're a growing community, this is what growth is all about, because more and more people are moving here every year, and growth is inevitable. It is what it is. I'm just trying to hear their issues, and if I can make something happen, I'll try my best. That's all I can do."
Asked specifically about his earlier statement, being willing to go back to the drawing board, Herrera is unequivocal: "Absolutely. Why not? Why not? But if I'm talking to crazy people, it's all about me, me, me, me, like she's saying it's all about me, it's really about her, there's no reasoning with people like that. But if people got legitimate concerns–too big, take another tree, maybe we can move it somewhere else, I'm always up to listening. This is my community. I love my community. Why wouldn't I want to be a good neighbor and listen to my neighbors?"
An hour in, the protest is still stretched along A1A, now with a couple of deputies urging the protesters to move back from the asphalt.
At 3 p.m., the sound of a crash: a Jeep rear-ends David McKay's Maserati in the northbound lane of A1A, just past the protesters. McKay had stopped behind a vehicle that was making a left turn into Bing's, and the Jeep's driver had apparently been distracted by the protest, braking too late. No one was hurt, the damage was very minor, affecting only bumpers (and the resale value of the Maserati). The protest carried on.