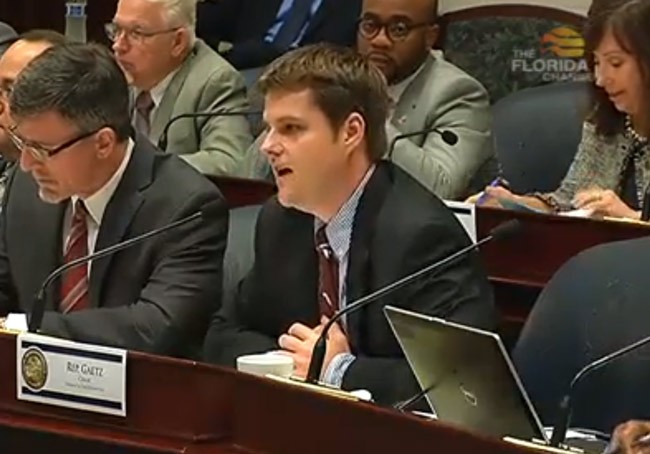 A House committee is looking at ways to replace property taxes with a higher state sales tax. The House Finance & Tax Committee on Wednesday started to explore different scenarios that would shift the tax burden to shoppers by eliminating or reducing the number of Floridians paying property taxes.
Committee Chairman Matt Gaetz, R-Fort Walton Beach, said any scenarios will need "many hours to fine tune," with economists expected to address the committee before anything is advanced for the 2016 legislative session.
Several Democrats on the committee quickly expressed concerns that the swap would disproportionately hurt poor people, who spend greater portions of their incomes on sales taxes than wealthier residents do.
"Poor folks spend eight times more of their income on sales tax that wealthy or folks who are not in poverty," said Rep. Randolph Bracy, D-Orlando. "Would I want my property tax lowered? Absolutely. But shifting it to sales tax concerns me."
If the state eliminated all property taxes, committee records indicate the state's sales tax would have to go from 6 percent to 12.72 percent to cover existing state, local, school and special district expenses.
If a "super" tax exemption is imposed on the first $1 million of any property's appraised value, which would cover 98 percent of all residential and business property in the state, the sales tax would have to be increased by 4.93 percentage points. The sales tax would have to grow 4.36 percentage points if the exemption covered the first $500,000 of all property, which would be enough to keep 95 percent of all property owners in Florida from paying a property tax.
The committee is expected to also review the impact on state and local revenue before any measure advances, Gaetz said.
Rep. Bob Cortes, R-Altamonte Springs, said the committee will need to look at the potential impact on local governments along the Georgia and Alabama lines, noting there may be an increase in Floridians opting to cross the state lines to do their shopping.
But Rep. Charles Van Zant, a Keystone Heights Republican who for years has wanted to eliminate property taxes, said Florida would become a more-desirable place to move if it combined getting rid of property taxes with its lack of a personal income tax.
"All ships would rise," Van Zant said. "Now is the time to do it, not when we have another economic upheaval."
Van Zant added that the state could slowly implement the swap over a four- or five year period so as not to "shock" the economy.
Seeking to address Democratic concerns, Rep. Matt Caldwell, R-North Fort Myers, said poor people could avoid taxes since the state fully exempts most foods, rent and medicines from the sales tax.
"Under this type of proposal, if you are truly poor you can actually live tax free in the state of Florida," Caldwell said. "If you are only buying the things you need, and you no longer have to pay any property tax, you can live exclusively tax free in the state of Florida."
Rep. Hazel Rogers, D-Lauderdale Lakes, said she hopes as the committee delves further into any of the concepts, it also considers the impacts of a higher sales taxes on renters and seniors on fixed incomes.
Rep. Jay Trumbull, R-Panama City, said with lowered or no property taxes, "hopefully" landlords would reduce rent and more people would seek to become homeowners.
"But more so, I think we need more people in the state that are paying sales tax, reducing the cost of the burden that people are paying in property taxes," Trumbull said. "And hopefully we're adding an extra focus on folks buying property and saving up for that."
–Jim Turner, News Service of Florida