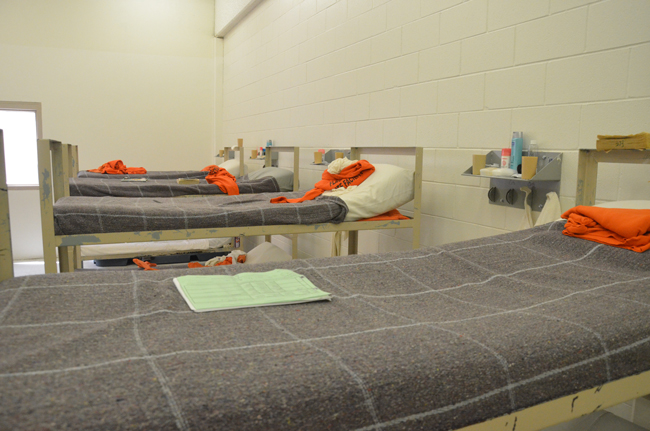 With County Commissioner Barbara Revels leading the opposition to the idea, Flagler County will not create a pre-trial release program for non-violent, low-grade offenders, even though the program would save the county money in the long run—and help poorer individuals awaiting trial to avoid costly bonding fees.
It was an unusual stance for Revels, usually a champion of the poor and a big supporter of the local justice system, although that support has cooled since Revels's friend, former County Judge Sharon Atack, left the bench.
"I am adamantly opposed to starting a new program this year," Revels said.
Her opposition was part of an effort by the county to cobble together several hundred thousand dollars in savings  ahead of setting its final tax rate for next year. That property tax rate was tentatively set at a level not seen in recent memory ($8.055 per $1,000 in taxable value), high enough to raise tax bills by close to $100 for a median-priced house. Because of the increase, the county was looking for more savings to manage at least some lowering of the tax rate from that high level.
The daily cost of operating the jail doesn't go up and down based on the daily population at the jail, Revels said, so pre-trial release can't be credited for saving money there.
That's true, but it's not the complete story.
The pre-trial release program is an idea favored by County Judge Melissa-Moore Stens and Flagler County Sheriff Jim Manfre. It is intended to help low-grade offenders avoid jail by also avoiding having to post bond to be released from jail, once booked. Many such low-grade offenders end up staying in jail longer than necessary because they're poor, and can't afford to make bail arrangements. That's unfair to them while it unduly burdens the jail operation with inmates it wouldn't have to contend with otherwise.
Moore-Stens estimates that 30 inmates a month—or an inmate per day on average—would qualify for pre-trial release, a significant proportion, relative to a jail with an average population of between 110 and 130 inmates. (On Tuesday, there were 127 inmates at the jail.) County Commission Chairman Nate McLaughlin, who has supported the notion of pre-trial release, acknowledged that the program would help the county diminish its need for a bigger jail down the road.
But the county, with Revels's support, has been arguing that it needs a bigger jail now—and is moving toward building one. A pre-trial release program would not help the county make the case for a bigger jail as sharply, since diminished jail bookings would contradict the claim that the jail is chronically overbooked.
Aside from foregoing the pre-trial release program, commissioners balanced the books by putting off building up their reserves as much as County Administrator Craig Coffey had recommended (he wanted $200,000 set aside for reserves, commissioners agreed to $100,000), and by reducing capital costs (such as phones and computers) $75,000 and investments in the county's health insurance program (by $25,000). Each of those line-items was proposed by Revels, with a push from ex-Commissioner Alan Peterson, the lone speaker during the Monday meeting's public-comment segment.
Coffey wasn't pleased. "We can cut more stuff. You're going to wind up buying it the next year," he said. "I would argue, you haven't saved anything, you've just deferred it to next year and all you've done is put the money in reserve and bought the equipment next year."
"Next year I anticipate that our property tax rolls will continue to go up and we may not have to do anything else to our millage to try to move these items forward," Revels said. Next year is also an election year, when it's much more difficult for commissioners to raise taxes (though Revels is not up for reelection until 2016). McLaughlin and Frank Meeker are up for reelection.
"It would be my goal next year to not have a millage adjustment if we have a little growth, to absorb whatever challenges we face," Coffey said.
Revels's approach didn't thrill McLaughlin. "I don't want to increase the cost of doing business just because property values go up," McLaughlin said. "If the budget is what it is, then the clear picture is to say to Flagler County this is the cost of providing services that we as a county, residents, citizens here want to have. I just don't like the mode of, well, you know, property values are better, we'll have more money to spend. I'd rather say no, it doesn't matter how high the property value goes, the budget is still here. It doesn't mean the amount that they pay has to keep increasing."
"I just want to correct for the record that what I said is not what I think Commissioner McLaughlin is intimating that I've said," Revels said.
"I'm not intimating anything. I'm just saying what I'm saying," McLaughlin said.
"OK, all right, but I'm not talking about when our tax roll gets higher that now we'll have more money to go out and spend."
"And I'm not saying you said that, I'm just giving my view on the budget, that's all. I wasn't responding to anything," McLaughlin said. He then added, referring back to Peterson's mention of Flagler County's property tax rates climbing in relation to that of other counties: "The whole millage rate comparison is such a misleading thing, it's so misleading because you say, well, you know, our county is getting close to whatever county. We don't know what their property values are, what their budgeting, what their citizens require of them. We're not taking into account other taxing districts within their county. It's really misleading to compare and for me I just don't like to compare millage rate to this county or that county."
County and city administrators, along with commissioners and council members, will typically boast of low property taxes in years when their jurisdiction compares well with others. That's been the case in Flagler in previous years. This year, officials prefer to avoid such comparisons.
By the end of their meeting Monday, commissioners had agreed to the roughly $400,000 cut in the proposed budget, ahead of two public hearings when they'll hear from constituents more directly about the tax rate.
"You've got the tough decision, and I don't want to be in your shoes," Coffey told commissioners. "You're the ones that run for election and have to get beat up on."