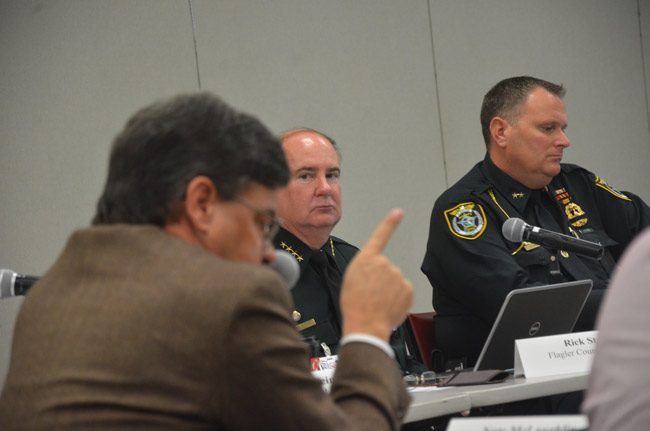 Flagler County government will go ahead with a long-delayed proposed ordinance that would give local law enforcement the option to issue a civil citation to first-time recreational pot users rather than arrest them and saddle them with a criminal record.
"We were kind of waiting at the county level to see what the state was going to do," Flagler County Commission Chairman Nate McLaughlin said this morning during a countywide Public Safety Coordinating Council meeting. He was referring to a pair of bills at the Legislature that would have instituted a statewide civil citation program for lesser offenses, including pot possession. The bills died Monday. "Where they're going to do nothing, I think what we'll do is get together with the sheriff and move forward in Flagler County."
But it's still not clear when the County Commission will vote on the measure. Its members have all to one degree or another given their support to the idea, including Greg Hansen, its recent addition. "My initial take is that's probably the right way to go," Hansen said in February, "and my thought process there is, it's a shame to make a 15 or 16 year old saddled with a criminal record for the rest of his life." When informed that the civil citation program would extend to adults (it already applies to juveniles), he said: "same argument." But he noted that he was still studying the issue and wanted a workshop on it.
But Bunnell has already said it would not adopt the Flagler ordinance in its jurisdiction, as cities would be required to do if they want to extend the same option to their officers. Flagler County Sheriff Rick Staly said that while he is not opposed to the county ordinance, he would rather see a statewide, uniform application of the same approach. He said he won't stand in the way of his deputies having the discretion to issue civil citations, but just as importantly, he said he won't be directing his deputies to use it, either.
What that means is that even though the county commission may eventually adopt the ordinance, it may prove more symbolic than effective, and won't necessarily make a difference to people arrested every year on charges of possessing 20 grams or less of marijuana. At the same time, and because of the very limited reach of the proposed ordinance, its enactment (or its non-enactment) was unlikely to make much of a difference even if the sheriff and Bunnell were enthusiastically behind it, since cops aren't generally on the hunt for recreational pot users.
Hundreds of people are arrested on marijuana possession charges in Flagler, but overwhelmingly, the marijuana charge is part of a larger set of charges, so in those instances the civil citation option would not apply. For example, since May 1, seven people have been arrested countywide on possession of 20 grams or less of marijuana. But in every case they faced additional charges, from drunk driving to possession of other drugs (cocaine, meth, controlled substances). In none of those cases would the option of issuing a civil citation have been possible under the current wording of the proposed ordinance.
A previous version of the ordinance would have applied to other lesser crimes, but that approach was struck down by the State Attorney's office, whose officials did not want civil citations applied to any crime that involving victims. The Public Safety Coordinating Council, a countywide assemblage of representatives from the judiciary, law enforcement, the public defender, social service agencies, and the chairman of the county commission, recommended approval of the civil citation measure in a 7-5 vote in August, eight months after then-Commissioner Barbara Revels, who chaired the council, and then-Sheriff Jim Manfre, had championed the issue.
Even after passage, the proposal never made it to the County Commission for ratification. The thinking then was that an election was taking place, and commissioners wanted to see how it would unfold. It did change a lot: Manfre and Revels are gone. But it did not change the commission's backing of the measure, with McLaughlin now its strongest supporter.
He reiterated that support again in a brief interview this morning. "I don't know when it's going to come up," McLaughlin said of the measure's appearance on the County Commission's agenda, "but obviously I support it. I support these efforts to decriminalize personal habits. I'm just not a big fan of throwing people in jail for these minor things. As you've seen in today's meeting, our jail population has gone up, we've got bigger, more pressing problems that we're dealing in society. This marijuana issue, I don't advocate its use, I've told you before I don't advocate its use, but I also don't want to throw somebody in jail for smoking a joint instead of drinking a beer."
The proposal got further delayed when McLaughlin and Staly wanted to see the outcome of bills in the House and the Senate that would standardize a civil citation program—and go much further than the Flagler measure. Senate Bill 448 would have enabled a program to apply to any misdemeanor that a local government would want to include. The House version termed it any "qualifying" misdemeanor.
The House version cleared the three required committees with overwhelming support in 16-1, 15-0, and 15-0 votes. The Senate version cleared two committees with unanimous votes. Yet the bill died.
"The reason it failed in the Legislature is they were making it mandatory and they were taking the discretion away," Staly told the coordinating council this morning.
In fact, both House Bill 205 and Senate Bill 448 made it clear that civil citations could be issued solely at the officer's discretion: the two bills did not differ in that regard. And both bills also left the development and implementation of such a program to local governments—essentially returning the issue to counties like Flagler, and leaving it in their hands to decide what to include and what not to include, as well as leaving it in local municipalities to decide whether to go along or not. In other words, Flagler County would have been right back where it's been, or where it already is: ahead of that curve, except that the Legislature's much broader allowance was more along the lines of what Revels and Manfre wanted included in their civil citation program than the product that finally came out of the council in August.
The State Attorney's office had successfully narrowed its scope. Today, Jason Lewis, an assistant state attorney who regularly attends the council meetings, said his office was still behind the program. "When it comes back up we'll talk about it again, but the citation that was passed, we're in favor of the implementation of that," Lewis said. "We supported the previous civil citation program, we don't have any issues with it at this point."
Staly, in a brief interview, said again that he favored a statewide approach as long as it left implementation at officers' discretion. "As far as the local ordinance, I have met with the county administrator and expressed my concerns in some areas that they're working on, so we'll see what they come back with," Staly said, referring to wording in the ordinance. He was also concerned about creating a "hodgepodge" of policing, with some jurisdictions adopting the ordinance and some not.
"I'm not going to oppose the ordinance if they fix a few things that I suggested," Staly said. "I think it's an ordinance that has no teeth to it, and I'm not sure how much my sheriff's deputies will use it." If the ordinance follows his directions to the administrator, he added, "then I would tell them that it's an option that they have and I would just leave it at that. I'm not going to direct them to use it, for the reasons that I've stated."
The proposed civil citation ordinance and FAQ about it: