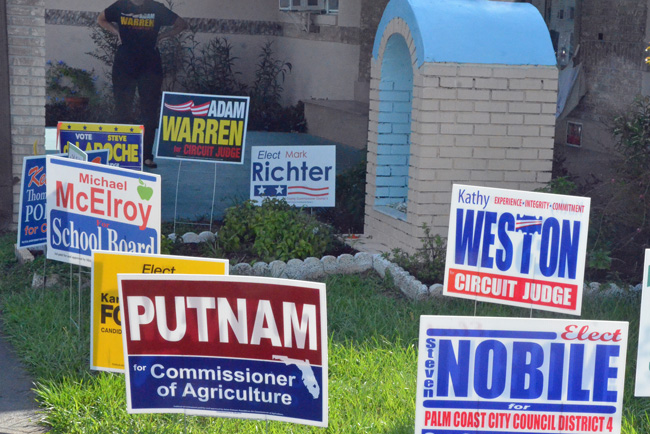 Few blights match those of campaign signs at election time. With that in mind, states, counties and cities usually have unequivocal rules, though the rules aren't always followed. Florida law is clear: Political campaign signs are to stay off all state and county rights of way. The law doesn't preclude municipalities "from imposing additional or more stringent requirements." The Palm Coast ordinance is just as clear: "It is prohibited and unlawful to place a political sign on or within public rights-of-way or public property." Flagler County's ordinance repeats the same language. Flagler Beach goes so far as to regulate the size of signs on private property, and makes no allowance for signs on public property. (Note: an earlier version of this story incorrectly applied the state law provision to county "property," as opposed to rights of way.)
Despite that, Supervisor of Elections Kimberle Weeks and Dennis McDonald, the man who appears to have become an equally tall but blonder Rasputin to Weeks's semi-regular clashes with local government, lambasted the county commission Monday, claiming the county's ordinance restricting signs to private property suppresses free speech, reduces turnout, particularly at the public library, and reflects a county government "interfering" with local elections.
"If the county would simply allow only current laws that are in place to govern the elections process," Weeks told commissioners, "it would eliminate a lot of confusion and I believe allow the elections to be fair."
Of course, that's precisely what the county is enforcing: only current law.
But Weeks, who at point claimed not to know whether the county had a policy in place and speculated it might only be a verbal directive, was not appeased by County Administrator Craig Coffey's and County Attorney Al Hadeed's detailed and evidence-based correctives.
An hour in, what was to be a routine and short meeting got briefly tense as Weeks would return to the podium to press her case. That  prompted an unusual intervention by County Commissioner George Hanns, whose patience ad permissiveness with public speakers occasionally gets on fellow-commissioners' nerves. Not this time: "Ms. Weeks, we're going to have to stop this dialogue, because it's interfering with the county commission today," Hanns said. "It wasn't on the agenda, we went way beyond what we should have." (It wasn't on the agenda, but he and the administration knew it was coming: the administration had drafted a memo in response.) Hanns refuted the notion that there's been issues with signs "other than with people who are pushy in the area of the elections office to polling. It's been my experience that it turns people off."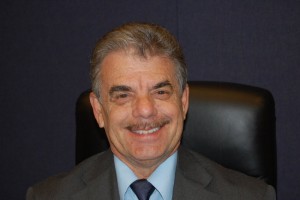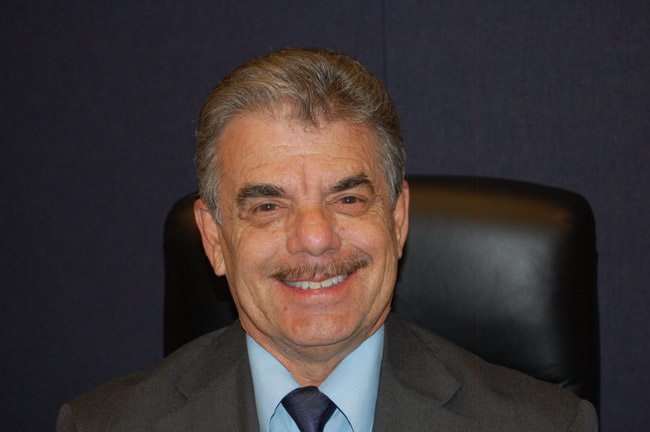 When Weeks challenged the commission to "hold yourself to the same standard," by criticizing it of posting some of its own signs on county property, County Attorney Al Hadeed intervened: "There is a world of difference between a governmental message and a message from a  private person. They are two totally different worlds legally."
At the end of the meeting, Hanns made a long plea for civility at election time, especially in government meetings. "This is a public meeting, it isn't a campaign forum."
McDonald, a director of the Ronald Reagan Republican Assemblies who last teamed up with Weeks to criticize Palm Coast voting ordinances (unsuccessfully), is a candidate for the County Commission against Frank meeker. So Monday's appearance was of a piece with a sustained strategy of bomb-throwing in hopes of drawing attention. The bomb-throwing was rich in polemic but devoid of evidence, either that voters themselves (as opposed to very few candidates) were upset by the signage rule, or that turnout has in any way been affected by the ordinance: apathy is universal across the county, the state and the nation, regardless of signs.
McDonald alluded to Coffee allegedly making new policy to restrict signs at the county public library on Palm Coast Parkway. "I don't believe that that's possible, Mr. chairman, it's our library, we own it," McDonald said, revving up for his more inelegant finish: "Where does the county administrator get off on how we're going to handle elections? To the best of my knowledge, we elected a supervisor of elections, she is a constitutional officer, and she should be made to make the call on all of this, so I'd like to ask you all to stay out of it and allow the election to take place freely."
McDonald is wrong. The supervisor must, as she herself stated a few moments later, work within laws and ordinances state, counties and cities establish. "Outside of that," Weeks said, referring to the 100-foot perimeter around polling places, within which no solicitation is allowed, "I have  no authority over what takes place."
That would be just Hadded's and Coffey's point. Coffey is not setting policy on how to run elections, but reasserting—as is his responsibility as the county's chief executive—county authority, as authorized by its ordinance, on county property regarding signs.
"Many years ago and several elections ago staff was faced with an ever increasing disregard of the public's property and a proliferation of signs everywhere," Coffee told commissioners, reading from his  prepared memo. "We were accused of not protecting the public's property, favoritism for selective enforcement, and we received complaints about the appearance of our community and specifically regarding the public properties where the abuses were the worst." Coffey outlined the context and reasoning behind the county ordinance. (See the full memo here. Weeks later issued her own memo, available here.) The same words could be applied to the Palm Coast City Council, whose members routinely–at election time–get complaints by constituents who want political signs restricted or banned, even when they appear on private property.
Weeks was not convinced and returned to the charge, saying the county was imposing a double standard. Earlier, she had made numerous claims that were at odds with the record.
"Every election I'm seeing it gets a little bit more hostile when it comes to early voting," Weeks said, "so I would like to request that if a policy is in place to limit the placement of campaign signs at early voting sites, currently the Palm Coast library and the elections office are the two location that are county property, that the policy be revoked. I'm not aware of a policy, there may not be a policy in place, if it's in writing. It may be something verbal. But I don't believe there should be a policy in place."
Weeks said the county's rule creates confusion, claiming that now with an additional early voting site at the Palm Coast Community Center, there would be "two different sets of rules," making it "difficult for me to educate people"—again, not accurate: the county's and Palm Coast's rules on campaign signs are identical, though enforcement may be different. Weeks said more correctly that she gets blamed for rules that are out of her control. So instead of signs, Weeks said, campaigns are having volunteers distribute materials, generating "more signs by persons physically being present at early voting locations to erect them. In other words the people have spoken in stating that they do not agree with the restrictions that have continued to place their signs on county property, so they physically choose to hold their signs and that's the only way they can allow their signs to be seen."
By "people," Weeks should have specified: campaign volunteers and candidates. "There have been verbal confrontations, people walking back and forth to the parking lot to their vehicles as traffic's trying to come in and finds a place to park in the library and people are setting up chairs in the parking lot by vehicles to hold signs," Weeks said—again, not specifying that she was referring to campaign workers. She would do so once, later. "I constantly get complaints that this is very intimidating and uncomfortable to the voters. Some state that they'll not vote if they have to go through those practices in order to vote."
Absent evidence from Weeks, Coffey said: "I know she has stated a lot of things, and I think some of those are, I would say, opinion."
When commissioners asked Hadeed for a legal opinion, Hadeed barely hid his impatience with the claims that had just been made by McDonald and Weeks.
"I don't know that you need a legal opinion," Hadeed said. "First off, the assumption that's been made or presented is that by allowing signs to be installed on public property, that that act, permitting them, would increase access by the voters, increase participation in the election, increase turnout. That has not been established, so it is conjecture. Only conjecture. If you believe from your own experience—I mean, I don't campaign. If you believe in your own experience that that is a supportable factual proposition, I'm not talking about a law I'm, talking about a fact, if you believe that installing signs on public property is going to have that result, then it may be an open question for you."
He added later: "This community in my service on this commission over the years, this community has generally stated, which is reflected in your codes, that they don't like a proliferation of signs or a competition of signs. They view it as visual pollution, and the many ways they've expressed it to you, and I'm sure you've heard that. We don't allow any more billboards. I realize that doesn't count here on the issue. We just bought some signs to take them out of the public view-shed. Our policies have been to reduce sign clutter. I'm using that—that's actually a term from First Amendment cases. We want to reduce sign clutter. That is what the Flagler County government has consistently done over time. So what is reflected in this rule, what is reflected in our code, what is reflected by what Mr. Coffey has said, is consistent throughout."