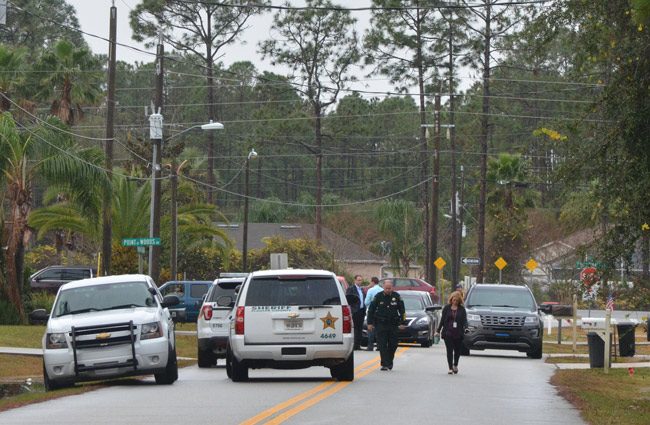 Last Updated: 5:19 p.m.
Around 8 this morning Flagler County's 911 dispatch center got a call that a woman at 6 Point Pleasant Drive in Palm Coast had died after reportedly falling either in the shower or while stepping out of the shower. Her husband was at home at the time.
The victim was identified as Faith Cummings, 44, her husband as Michael Cummings, 46.
Sheriff's Office deputies and paramedics arrived at the scene. The woman was pronounced dead. Soon after that, the sheriff's office had the Palm Coast Fire Police close Point Pleasant Drive to traffic at the two ends of Point of Woods Drive, which loops from Point Pleasant. And later in the morning, both Sheriff Rick Staly and his public information officer, Brittany Kershaw, were at the scene, suggesting that the situation might be more serious than an accident.
"We're working a death investigation, it's in the very preliminary stages of this investigation, so not a whole lot I can tell you at this point other than that the community doesn't need to be alarmed, this is not anybody running around in the community," Staly said, speaking a few doors down from the house.
Asked how suspicious he would rate the death, the sheriff said: "On a scale of one to 10, probably a seven. But there's a lot of extenuating circumstances that we're still being told. This case could really go either way right now. We want to make sure that we do everything correctly, that if it does turn out to be a major crime, that we have all the evidence not contaminated."
He added: "We handle all cases where there's an unintended death as a major case until we prove otherwise, so once the ME gets here and an autopsy is done, then that will help us determine exactly what we have here." The Medical Examiner in fact arrived at the scene as Staly was speaking, at 10:06 a.m.
Just two weeks ago–on Dec. 19–Faith Cummings had called 911: her dog had gotten stuck in a hole underground on the property, leading to the swale area, according to 911 notes. A sheriff's deputy rescued the dog.
Faith Cummings's body would not be removed until the Medical Examiner had surveyed the scene and examined the body, and a Crime Scene Investigation truck was still expected. It's to be that of the Florida Department of Law Enforcement this time, not that of the Sheriff's Office, but not because of the nature of this case: rather, the Sheriff's former CSI, Laura Pazarena, just accepted a job teaching at Broward State College. "Our additional person in there is very good but on a potential major case I need two people here processing the scene and I don't have that capability right now." (Laney Weebling is the other CSI at the Sheriff's Office.)
Michael Cummings was still in the house around 10 a.m., in a room with detectives or deputies. "He is talking, he is giving us his version of events," Staly said. "It's fluid, we're still trying to compare evidence with statements at the scene and make sure everything matches."
The house is just a few doors down from Point Pleasant's intersection with Belle Terre Parkway, from where the crime scene and the FDLE truck will be visible to passing traffic.
6 Point Pleasant, a 1,300-square-foot house, has been owned for the past 12 years by Eliya Voldman, but it is not a homesteaded property, suggesting that it is a rental. The identity of the occupants has not yet been released. The Sheriff said the segment of Point Pleasant was closed to traffic because members of the woman's family had started coming to the house, or trying to come to the house, and that closing the segment was a more effective way of keeping them from what is at the moment considered a crime scene.
"We would much rather err on the side of caution and find out that this was a medical issue and nothing else, that would be the perfect world," Staly said. "But if it is more than that, then we want to make sure that we protect and collect all the evidence that could be there."
Around noon today Staly, still at the scene, said the following in a video statement: "I'm more comfortable saying it's a death investigation at this point than suspicious. We're doing all the right steps that if a crime occurred here, we'll be able to prosecute it and bring an offender to justice. If it's not a crime, then it's a training exercise."
Point Pleasant Drive remained closed to traffic between the two intersections of Point of Woods.
And later observations seemed to contradict the Sheriff's noon statement: Michael Cummings was reported being taken out of the house in handcuffs, and was taken to the Sheriff's Operations Center. But the handcuffs were not an arrest over the death investigation, a sheriff's spokesperson later explained: detectives and deputies had asked Cummings to leave the house. He refused. He was arrested on an obstruction of justice charge and was removed to the operations center–where he was still being interviewed after 4 p.m. The charge is a misdemeanor, but he was still due to be booked at the Flagler County jail.
One family member was allowed to retrieve the couple's dog. The removal team for the body had been there twice by mid-afternoon but still not removed the body, and Point Pleasant remained closed past 4 p.m.