For 31 words cast as a vow to unity, justice and liberty, the Pledge of Allegiance can be mockingly divisive. Here's the latest episode.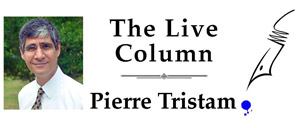 Tom Casey was a reporter for the Register-Star, a tiny-circulation newspaper in New York's Hudson Valley. John Friedman is a member of the Hudson Common Council. Sometimes he stands for the Pledge, sometimes he doesn't, because he has better things to do, and because the liberty to not say it is no less honorable than muttering it. At a meeting this month, he didn't. Casey didn't think it was newsworthy. His executive editor did. She told him to mention it next time. A week later, Friedman didn't stand at the beginning of a budget meeting. Casey didn't mention it. He was called back into the newsroom and forced to add a paragraph mentioning it, which he did. But he also asked that his by-line be removed. It's his right. It was.
Two days later, Executive Editor Theresa Hyland fired Casey.
"We just don't understand why a reporter would want to hide this, seemingly protect a public official or censor the news," Hyland wrote in an editor's note co-signed by Roger Coleman, the paper's publisher. "And to be frank, that is exactly what happened here."
No, it isn't. Noting the common councilman's decision not to stand for the Pledge may or may not be briefly newsworthy. (I find it worthy of a medal.) And it was noted. Nothing was "censored," other than the editor's intrusion. That's beside the point. The firing of a reporter over it, however, underscores the executives' decision to flavor with spite their bias over a perceived offense to the Pledge. That they did it in the name of journalistic integrity tells you how perverted the notion of integrity has become in an industry whiplashed by returns diminishing in proportion to the industry's compulsive pandering—to shareholders, to advertisers, to chambers of commerce and, distantly, to readers. Reporters don't rate. So Casey's news judgment counted for nothing.
If Casey had been outright insubordinate, maybe Hyland had a case. But she didn't fire him for not following orders. Casey ultimately did what he was asked. She couldn't have fired him for having his by-line removed. Another editor approved that request, which is no big deal anyway. No, Casey was fired because he made his newspaper look idiotic and rash as it reacted in direct opposition to the spirit of the Pledge. Malice was done here, not justice. Three members of the newsroom resigned in support of Casey, not at all an easy thing to do in a dying industry with a glut of laid-off reporters. But ethics can still matter, even in an industry that insists on self-destructing. If journalism is going the way of Anna Nicole Smith, it's in good part as a result of editorial decisions of the sort that have no place in newsrooms. Then again, most editors have no place in newsrooms, either, but rule them all the same.
Then again, it's not breaking news. "It is this vast and militant ignorance," H.L. Mencken wrote going on a century ago, "this widespread and fathomless prejudice against intelligence, that makes American journalism so pathetically feeble and vulgar, and so generally disreputable." The more provincial, the more vulgar.
Let's not absolve the Pledge, either, or the oppressive public rituals surrounding it. Its recitation in schools and government meetings is no different than a prayer, forcing itself on assemblies where most are more than willing to obediently and distastefully slap hand to heart and hail, if not heil, the flag. It is no small thing that until Franklin Roosevelt ordered the hand gesture closer to the heart, the original salute had been indistinguishable from the Nazi one.
And yet all gestures aside, enough controversies over the Pledge could be erased by a return to origins. The true version of the pledge, as written in 1892 by Francis Bellamy—a socialist minister—was 30 percent shorter and more briskly poetic. Politicians hadn't yet corrupted it with creed and bombast. Here's the original:
I pledge allegiance to my Flag and the Republic for which it stands, one nation indivisible, with liberty and justice for all.
"I pledge allegiance to my flag," the modest, personal, octosyllabic opening, was replaced with the clunkier I pledge allegiance to the flag of the United States of America, an unnecessary injection of insecurity for a nation so self-assured. And of course in 1954, at the urging of the uber-nationalist Knights of Columbus, the words "under God" were shoved in between "Nation" and "indivisible," thus creating divisions—constitutional, sectarian, stylistic—the pledge has since more effectively reflected than tempered.
There are good reasons to refuse to stand for it. There are better reasons to edit it back to its founding words.

Pierre Tristam is FlaglerLive's editor. Reach him by email here or follow him on Twitter.