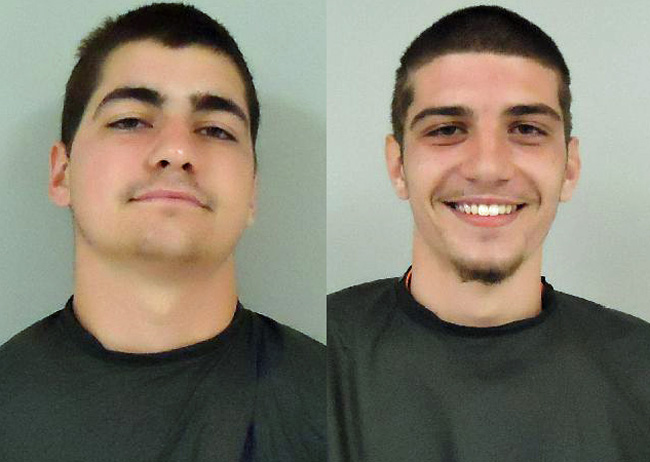 Cody J. Lynch is a 21-year-old resident of Farmbrook Lane in Palm Coast. He is soon to be a father with his young wife. On Friday (July 11), he was arrested on a charge of aggravated battery on a pregnant woman—allegedly over his inability to find his PlayStation 4.
As the victim described it to Flagler County Sheriff's deputies, she had come home after work Friday to find Lynch very upset over the fact that he couldn't find the toy. But because of his recent substance abuse, the victim told police, she had removed many items of value from the house—presumably to keep them from being hocked at a pawn shop—and stored them at another house. But when Lynch got her to tell him where the toy was, he made her drive to the place where it was stored.
The couple drove a Mazda. While in the car, Lynch, his arrest report states, "removed the keys from the ignition and shoved [the victim] against the window/interior door." Lynch's wife told authorities that she was not injured and refused evaluation by paramedics at the scene. Deputies observed "slight bruising" top her left arm, but the victim would not confirm or deny whether the bruising was a result of her husband shoving her.
Another witness—the person at whose house the Playstation 4 was located—had alerted deputies of the domestic disturbance when, at around 5:45 p.m., Lynch called to arrange for the pick-up, and the witness could hear screaming in the background. The screaming led the witness to call 911, and in a written statement would later claim that Lynch had grabbed and shaken his wife during the argument.
When Lynch was placed under arrest, he complained of high blood sugar. Paramedics responded, taken to Florida Hospital Flagler, and cleared. There, he was read his rights, but he told police that he did not want to provide a statement.
In March, Lynch had been arrested for domestic battery, burglary and petit theft. The charges were dropped. In March, he was arrested for cocaine possession and possession of drug paraphernalia. The charges were dropped. On June 29, he was arrested and charged with battery and disorderly intoxication. That case is pending in County Judge Melissa Moore-Stens's court, with an arraignment scheduled for Aug. 5. Lynch had briefly maintained a Twitter account two years ago. One of his last tweets: "It's funny when you have nothing to offer, your 'friends' don't seem to be there as much."

18-Year-Old Sean McRoberts Arrested For Rash of B-Section Car Burglaries
Deputies responded to multiple residential and vehicle burglaries on Bunker Lane in Palm Coast Friday morning. At least 7 burglaries were reported on Bunker Lane, Bunker View Place, Bunker Hill Drive and Bunker Knolls Lane.
At 6 Bunker Hill Lane, the owners of two vehicles parked in the driveway had left the cars' doors unlocked overnight, and discovered that a wallet was stolen (it contained $4), along with a pack of cigarettes, about $7 in loose money left in the console, and a charger. At 12 Bunker View Drive, a 2013 Toyota Corolla was apparently left unlocked, and several items from it were stolen, including a knife, two headrest TV screens with a DVD player built in, a GPS unit, two phone chargers and a $20 bill. At 35 Bunker Hill Drive, yet another car left unlocked overnight—a Buick—was broken into, and a speaker box and a cigarette pack were stolen.
A resident spotted the suspect, Michael Shawn McRoberts Jr., 18, of 4 Bunker View Drive, wearing all black clothing and looking into windows. The investigation revealed that McRoberts had stolen items out of unlocked vehicles and committed several burglaries or attempted to commit burglaries in his own neighborhood.
McRoberts, investigators found, also attempted to enter an occupied home through a sliding glass door while the residents were sleeping. A homeowner, who was alerted by his barking dogs, spotted McRoberts fleeing the area and followed him until law enforcement officers arrived on scene.
McRoberts was located at his home on Bunker View Place where he was arrested and charged with Attempted Burglary of an Occupied Dwelling and Possession of Cannabis Under 20 Grams.
A criminal history check revealed a petit theft conviction of McRoberts in September 2013, when he was adjudicated a juvenile delinquent in a case from the Bunnell Police Department, as well as a shoplifting conviction in March 2012 by the Lake Wales Police Department, when he was also adjudicated a juvenile delinquent. Because of those convictions, the petit theft charge he got on Friday was upgraded to a felony petit theft.
McRoberts was transported to the Flagler County jail, where it was discovered he had Alprazolam, a prescription narcotic, in his possession. McRoberts was also charged with Introduction of Contraband into a Correctional Facility and Possession of a Controlled Substance without a Prescription. He is currently being held on $50,000 bond on 12 of the 13 charges, and no bond on the 13th charge (dealing in stolen property).