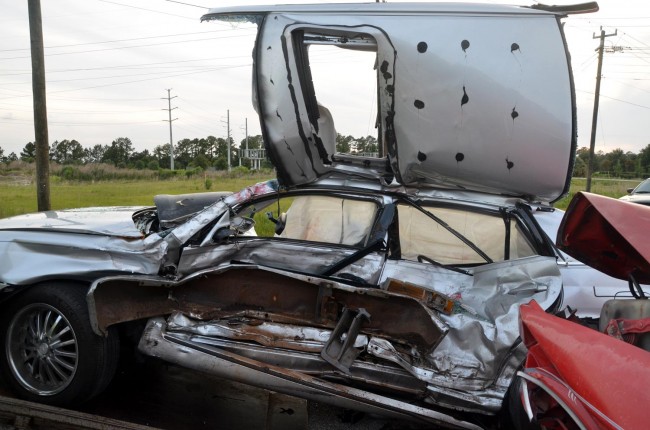 Last Updated: May 9, 7:53 a.m.
Harriet Look, 76, a resident of Plantation Bay, died on May 4 from injuries sustained Thursday evening in a two-vehicle wreck just outside Plantation bay, where authorities said she lived. Diane Teske, 68, who was riding with her, died on May 9 after battling critical injuries for four days.
The two women were involved in a violent crash between their Toyota and a pick-up truck hauling scrap metal. Look and Teske were airlifted on separate helicopters to Halifax Hospital in Daytona Beach. Paulo Rodrigues, the 36-year-old driver of the pick-up truck, a Palm Coast resident according to a Florida Highway Patrol reports, was in serious condition, and was transported by ground to Florida Hospital Flagler.
U.S. 1 in both directions was closed for three hours for about a mile on either side of Plantation Bay from the time of the crash, just before 5 p.m., to 8:22 p.m., by which time Roger's Towing had cleared the scene.
The silver Toyota, according to preliminary findings by Florida Highway Patrol investigators at the scene, was stopped at the Stop sign on Plantation Bay and U.S.1. The Ford F-350 pick-up truck was traveling north on U.S. 1, in the outside lane. The Toyota attempted to pull out onto the southbound lanes of U.S. 1, crossing the northbound lanes and making a left-hand turn. The Toyota "violated the right-of-way of the F-350 Ford pick-up truck, at which point they made impact on U.S. 1.," an FHP investigator said.
The truck's scrap metal remained contained. But the violence of the impact embedded the truck's front bender into the driver's side of the Toyota, where it remained when wreckers separated the truck and the car. The car's roof had been sheared off and its passenger side door cut and lifted to give rescuers access to the victims.  The Toyota's steering wheel was cut off and laid by the side of the road.