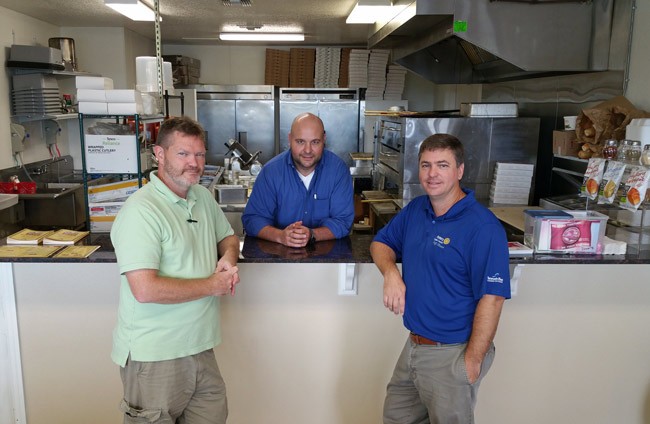 It's turning into something out of a gospel's genealogy: Just as Abraham engendered Isaac, Isaac engendered Jacob and Jacob engendered Judah, so has Woody's BBQ engendered Bull Creek Restaurant, Bull Creek engendered Island Grille, and now, all three—and more specifically, two of their restaurateurs, with a new partner—have engendered Pit Stop Pizza, a seven-days-a-week take-out joint on County Road 305 on the western reaches of Bunnell. The restaurant gives western Flagler County's perennially underserved tummies and taste buds a second restaurant choice in two years, Bull Creek being the first.
The take-out-only business opened about 10 weeks ago in a 1,400-square-foot property Trevor Tucker, the school board member, has owned for three years. The building took a while to put up. "This is the first restaurant for me," Tucker says, at least in theory: when he's not working, he's often at Woody's, run by his now-associates: Joe Rizzo and Chris Zwrin, who were both behind Bull Creek and Island Grille. "I thought of the name Pit Stop Pizza like a NASCAR pit stop," he said, "because our customers can stop in real quick and pick up a great tasting lunch or dinner."
By Tucker's calculations, there are some 4,000 residents in the western portion of the county that would otherwise have to travel at least nine miles to the closest business that serves food. "My understanding is no one as delivering pizza out there," Tucker said. So the Pit Stop, which delivers, was a good fit.
So were his partners, and the pizza-maker: Joe Orza, who owned Joseph's Bistro and Pizza in the Palm Harbor shopping center before it renovated into Island Walk, and had owned Benvenuto's Pizza and Subs. He brings some three decades of pizza-making to the business.
"We're pretty positive overall, the community is pretty happy with it, it seems like. We need to build our sales a little bit but overall it's been really good, we've got a great pizza maker in there," Rizzo said this week. The partners don't expect people in palm Coast necessarily to make the drive out to 305: that's not what the Pit Stop is intended for. They expect it to build up its clientele through people who previously had to drive into Palm Coast or Bunnell's downtown to get their pies. "Geographically, our customer base is within five square miles, we've been building it up for a year and a half, so everyone there knew it was coming,"  Rizzo said. (His family is of Italian descent, but "it's not like I'm bringing anything to the table because of it, to be honest with you," he says.)
The Pit Stop, a release issued this week states, offers all the usual pizza fare—veggie, Hawaiian, buffalo chicken, meat lovers', BBQ, calzones, Stromboli, sausage pepper onion rolls, garlic knots, pepperoni rolls, traditional sandwiches such as Italian sub, Texas Terry and Beast of the South, salads, soups, spaghetti and meatballs, baked ziti, and, of course, the traditional Italian cannoli.
For Rizzo, who just last May opened his third restaurant—Island Grille in Flagler Beach—with four partners, including Zwirn, the streak of restaurant-openings may be coming to an end.
"I think it's time to maybe diversify what we're doing," Rizzo says. "The big thing is being able to put people to work. If we can come up with ways to do that and help the local economy, that's really what the goal is. Restaurants have been good to us and helped us make a good living and put people to work," but he says, there are new ways of doing so. He has a couple of ideas, but they're not yet ready for prime time.
The four restaurants he's opened currently employ between 70 and 100 people, he says.
The Pit Stop is open Monday through Saturday from 11 a.m. to 9 p.m. and Sunday from noon to 9 p.m. at 1404 CR 305 in Bunnell. Delivery areas include all of Daytona North (also known as the Mondex) and  Espanola, including the Fire Station in Espanola. They can be reached at 386/263-7977 or online at www.pitstoppizzabunnell.com or https://www.facebook.com/PItStopPizzaBunnellFL.