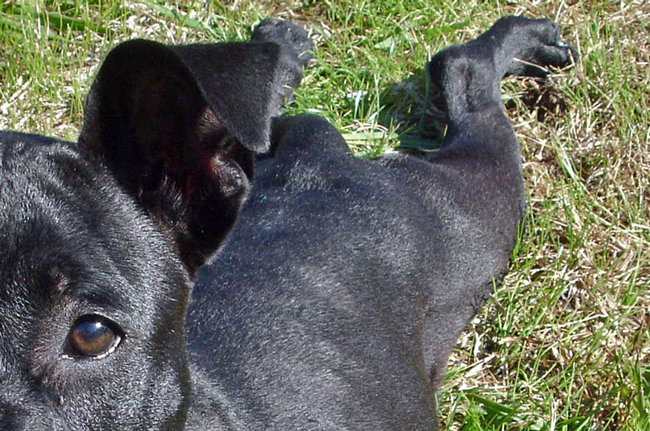 David LaBrie Jr., a Palm Coast resident, is a two-time veteran of the war in Afghanistan and a seven-year veteran of the Ormond Beach Police Department. He survived uninjured through two tours in Afghanistan. His very brief encounter with a pit bull early this morning went less well, and ended with LaBrie sustaining several bites and the dog dead from two gunshots.
The pit bull, a 5-year-old male pit bull mix called Tank had a short, bleak history of its own.
Last Wednesday (April 23) Tank, escaped through an open gate from a fenced-in backyard on Cypress Circle in Ormond Beach, ran into the adjacent yard, and started attacking three dogs. One of the dogs was immediately killed. Another soon died from its injuries. A third appeared to have survived, though Ormond Beach police today noted that in the end all three dogs had died: the third death was the result of a vet's decision to put it down.
The attacking pit bull's owner is 83-year-old June Davisworth. She sustained injuries of her own, including bites and cuts to her hands, as she tried to pry Tank away from the other dogs in that Wednesday attack.
Davisworth was ordered to quarantine Tank for 10 days. But she was allowed to quarantine the dog at her apartment at 6 Cypress Circle "at the discretion of the animal control officer."
On Monday, the midpoint of the pit's quarantine, Tank struck again.
Ormond Beach Police responded to a 911 call at 14A Byron Ellinor Drive, just one door down from the yard where the Wednesday attack took place. A pit bull was mauling a cat, the caller reported.
When cops arrived, Davisworth was in the back yard, trying to rescue the cat from Tank's mouth, and yelling for help. She had managed to hold the dog down with a garden hoe, wrestling with Tank in the bushes. As soon as Tank saw officer LaBrie the pit broke free from the garden hoe and attacked LaBrie, at first attempting to lunge for the officer's throat.
LaBrie has a couple of Labradors at his Palm Coast home. He was deployed in Afghanistan in 2008 and again in 2010. Tank bit him on the back of the neck and on his forearm, causing injuries that would require medical treatment.
Ormond Beach Police officer Stephen Mills was a couple of steps behind LaBrie. Seeing Labrie under attack, Mills feared for LaBrie's safety.
LaBruie had managed to wrestle the dog to the ground, but only after getting bitten several times. Mills took out his Glock 40, and as LaBrie tried to pin the dog to the ground—Tank was continuing to try to bite him—shot the dog twice in the head area. Several witnesses saw the incident unfold, including the shooting, and provided statements to police. Two shell casings were recovered from the scene.
The pit bull had not been on a leash when it ran outside, even though, under the terms of the quarantine, it was supposed to be. Davidson had taken it outside so it could relieve itself.
Ormond Police's Officer Keith Walker, a department spokesman, said that after the Wednesday attacks, officers had initiated the process that could have led to Tank being designated a dangerous dog. Had that happened, Davisworth would then have had to follow a set of guidelines, including likely changing fence heights and other property alterations, in order to keep the dog. If unable to comply, Davisworth would then have had to give up the dog to be euthanized.
Davisworth does not have other dogs.
Pit bulls have been at the center of violent attacks in the past year in Flagler. Last May, a 27-year-old woman was attacked by five pit bulls in the Mondex (or Daytona North) area as she was taking a walk with her 6-year-old daughter. In March, a pit bull mix attacked two young children (ages 3 and 5) in their minivan as they waited for their mother, a volunteer at Second Chance Rescue in Bunnell, to finish some work. The pit returned and mauled the children a second time after their mother had managed to pry it away. The dog has since been euthanized.