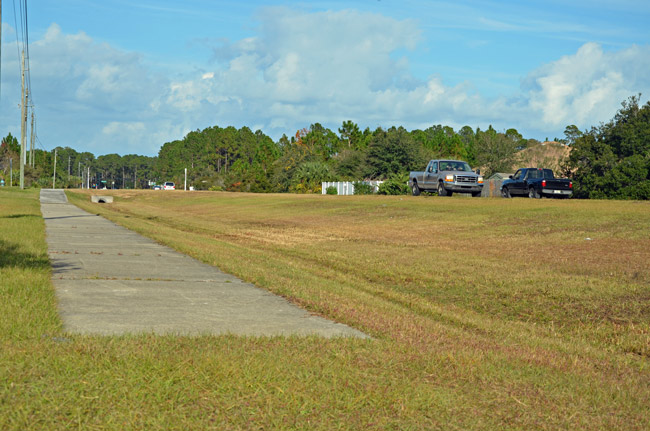 Next Tuesday (Dec. 4), Palm Coast will begin major roadway improvements on the 1.19-mile stretch of Pine Lakes Parkway North, hooking north and northeast from Belle Terre to Palm Coast Parkway. Improvements will include repaving of the road and adding a 10-foot-wide multi-use path for bicyclists and pedestrians similar to the one paralleling Pine Lakes south of the parkway.
The $1.52 million project, funded through the city's street-improvement fund, will take approximately nine months and is being constructed by Halifax Paving. The city signed its contract with Halifax on Oct,. 23 and held its pre-construction meeting with the company on Nov. 6. The money for the project is generated from the city's share of a half-cent countywide sales tax, from its share of the local fuel tax, and from state funds generated through revenue sharing of the state's sales tax.
The city originally approved a work order to design the project back in 2007, and approved a couple of change orders along the way. It gave the go-ahead for construction last year. In December 2011, it signed an agreement with Florida Power & Light to bury the utility lines, for $310,000. FPL had buried utility lines in the four-laning of Belle Terre Parkway North, and had granted the city a $255,000 credit, but that was contingent on providing an additional mile of utility lines to be buried. The Pine Lakes Parkway segment fit the bill. The net cost of the burial of the utility lines was $310,000.
No significant traffic impacts are expected along Pine Lakes Parkway, though minor delays may occur when lane shifts are needed during certain parts of the construction work. The City asks residents for their patience, understanding and cooperation.
In addition to the repaving of this section of Pine Lakes Parkway, the shoulders will be widened, streetlights will be added, and new swales will be dug and landscaped. A crosswalk will be added across Pine Lakes Parkway leading to the neighborhood near Brookside and Brushwood lanes. The entire project has been designed to improve safety along the roadway.
The new 10-foot wide multi-use, asphalt pathway will be constructed on the northwest side of the roadway. Along the new multi-use path, spaced approximately every 1,000 feet, there will be six landscape islands – each with trees and other plantings and a park bench. A pair of recycle and waste receptacles will be placed nearby.