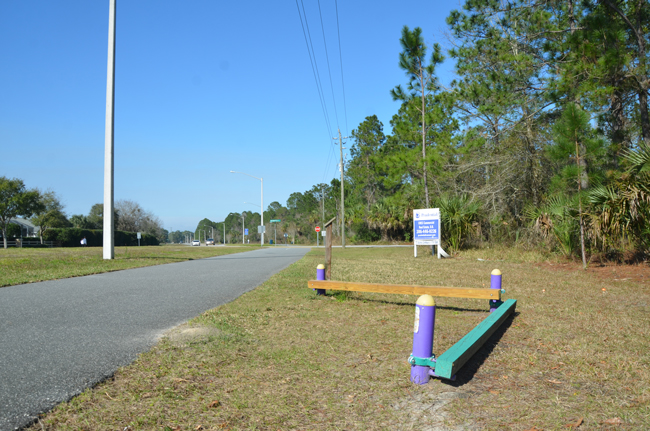 Palm Coast hasn't approved a site plan for it yet, but the 4,200-square-foot gas station and convenience store in the works for the southeast corner of Pine Lakes Parkway and Wynnfield Drive is causing a small upheaval among residents of the–until now–hyper-residential area. They're calling and emailing the mayor and other members of the city council. They're pleading for help in halting the project, and assuming the city can do something about it.
It can't.
As long as the plans mesh with city codes and regulations, Cocoa-based M&R United (which specializes in gas stations) can build the business without even having to appear before either the city's planning board or the city council, because the size of the project is below the threshold that trips such reviews. The 12-acre expanse of woods and brush has been zoned commercial since the old ITT days, and the city is not about to "down"-zone it to something greener. M&R acquired the property just six months ago for $441,000, just half the price the property sold for in 2011, according to county property appraiser records.
"We're not doing a very good job of communicating private property rights," Palm Coast City Council member Jason DeLorenzo said Tuesday, bringing up the matter at the council's meeting. Neither he nor other council members have any intention of opposing the project. They would be virtually powerless to do so. But the project, like the council's discussion Tuesday, illustrated the vast gap between residents' assumptions about the powers of their government and their dearth of knowledge about Florida law, which generally places property rights far ahead of community or government interests.
"We can't tell them no, you can't build on it. I have that conversation constantly," City Manager Jim Landon said. He had similar conversations when the ABC store went up at the corner of Palm Coast Parkway and Old Kings Road (though thousands of Palm Coast residents now depend on the store for spiritual sustenance). He recently got an email from a resident irate that yet another McDonald's was about to clog yet another city artery. But Landon explained that the market decides that, not government. He  continues to try to explain to residents that the city has no more power to stop a convenience store at a commercially zoned parcel than a resident can stop another residential home from going up on a nearby empty lot.
In this case, Palm Coast is contending with ITT's mapping of what was then just the sprawling development known as Palm Coast, under county zoning regulations. Several such parcels pop up around town, like dormant minefields that developers are poised to explode into commercial zones once the economy makes it profitable. The placement of a gas station and convenience store along Pine Lakes is by no means irrational: it would serve W-Section residents who, for now, have a trek of several  miles to make it to the nearest shelf of bread or fresh milk.
"I can't help but wonder in an ironic sort of way, how many of the people that are complaining about this potential convenience store are the same ones that complain that the city is not friendly to business," Council member Bill McGuire said.
Palm Coast has options to keep the gas station from going up. But they're not feasible options, Mayor Jon Netts said.
The city could offer to buy the property. "I can assure you that you can do all the appraisals you want, determining what fair market value is," Netts said, "but this developer has a profit motive in building. So he's going to want not only the value of the land, he's going to want return on investment. So you'll wind up paying substantially more for that property than if there weren't somebody planning to develop it."
Second option: The city could take the property through eminent domain. But that's very expensive. It goes to court, and a judge and jury determine the value. "You have no control over what the final price is," Netts said. Th city must also prove that it has a publicly beneficial need for the property. (Palm Coast's last attempt to go the eminent domain route didn't go so well.)
Third option: The city could "down"-zone from commercial to conservation. But under Florida law, the city would have to compensate the property owner for the presumed lost value of the property. "So, three options that I am aware of, all of which are going to cost the city a tremendous amount of money," Netts said. If there were just one such parcel in the city it might be doable, the mayor said. "But ITT in their mindset, said we're going to have residential communities, and we're going to have some neighborhood shopping opportunities within that community so you don't have to drive to the other side of town. You have these little isolated commercially zoned properties throughout the city. What you do for one, you do for all, what you do to one you do to all. The cost would be exorbitant if you were to try to start acquiring these properties."
Council members suggested explaining all these points in the city's newsletter and in its periodic Citizen's Academy. The city attorney suggested that the city's real estate professionals could take it upon themselves to be more upfront about neighboring properties' potentials as commercial developments.
"People who are in the real estate business are looking to make a sale," McGuire says. "If I'm a realtor and I've got you interested in a property I want to sell, I want to know what you're interested in hearing because that's what I'm going to tell you."
"As a buyer, you're better off knowing more than your realtor," Landon said.
"Everybody will tell you that we want smaller, less intrusive government, until it comes to my personal problem, then I want you to solve it for me," Netts says.