Around 7 p.m. Wednesday a Palm Coast woman called sheriff's deputies to report a robbery. The robber was her boyfriend. The couple had gone to an Orlando drug store, likely a pill factory, to fill out a prescription for Oxicodone, the pain killer. The woman told deputies that she'd promised to give half the pills to her companion when they were back in Palm Coast. When they stopped at a Bank of America ATM on Palm Coast Parkway, the man pulled out a box cutter, took the pills, and drove off in the woman's vehicle, according to the Flagler County Sheriff.
The vehicle was later returned to the parking lot by an unknown woman.
There was a slight silver lining in the story: the couple had to travel to Orlando to get its hands on those pills. Unless regulations are strengthened, pill-popping individuals or traffickers in prescription drugs, now a leading form of drug addiction, especially in Florida, may not have to go far for long to get their pills.
Flagler County Sheriff Don Fleming is warning that pill factories are making their way up from South Florida. He's asking the Flagler County Commission to pass an ordinance imposing a one-year moratorium on new pill factories in the county. The commission takes up the proposal at its Nov. 15 meeting. The sheriff is also asking cities to do the same: the Flagler Beach City Commission considers that proposal on Nov. 18.
"We're at an epidemic in the United States with Oxycontin, Oxycodone, Xanax," Fleming said at a town hall meeting at the Flagler County Library Wednesday evening. "We have seven people die every month in the state of Florida from overdose on one of these pills."
The sheriff was low-balling the actual numbers: According to the latest report by the Florida Medical Examiners Commission, some 8,600 deaths in Florida last year involved at least one prescription drug, a 20 percent increase over the previous year, with much of the increase due to a spike in oxycodone addiction. In Flagler County's district, which includes St. Johns and Putnam counties, 22 deaths were attributed to oxycodone last year.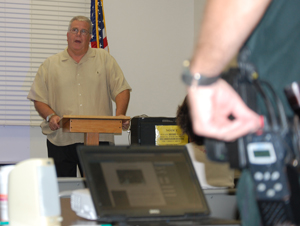 "What we've seen in the last year or so, and the state Legislature has yet to take any action on it, other than proposing legislation where they limit the amount of pills a pharmacist or a doctor can write after he writes the first one, is that we have—we call them pill factories, mostly in South Florida. Somebody goes down there with five or six prescriptions, picks up 60 pills at a clip, and then they sell them on the streets for about $20 to $25. Now they're starting to move further north. Volusia County is starting to get inundated with them, Broward County is inundated with them."
They're in Flagler County, too, the sheriff said. "Currently we have three that we would call pill factories in our county." He named them: Lou Salvagio, Robert Fruehan, and a multi-doctor pain management clinic next to Florida Hospital Flagler. The three, the sheriff said, are "technically legit, but I don't want to see other ones come in the county."
Fleming described a "classic" illegal pill mill in Daytona Beach : "It had a doctor's office, it had an MRI, so you'd go in to the doctor's, you do an MRI, you make money on that, then he'd write your prescription and you'll walk out and walk right next door into a pharmacy that was his brother filling prescriptions." The pill mill was shut down.
"So I've asked the county commission to put a moratorium on them for one year. That will give enough time for state Legislators to come up with a bill that's strong enough to prohibit these things unless they have very, very strict guidelines."
A law designed to regulate pill mills went into effect on Oct. 1. It limits pill-dispensing to a few days' supply for anyone paying cash or by credit card, and forbids pain clinics from advertising that they sell pain pills. More stringent regulations due to take effect in December—a statewide database designed to prevent doctor-shopping and stop pill mills—is on hold because of bid disputes between companies seeking to develop the system. So Florida, for years the only state not to have a prescription-drug monitoring system, continues to be the nation's leading pill-mill.
Florida's existing law is being challenged on constitutional grounds by pain management clinics. It's not clear how broad or effective an anti-pill mill ordinance can be locally. "I've asked the county, they're looking at right now and they've agreed with me, we can do it for a year," Fleming said. "We're going to put a freeze."