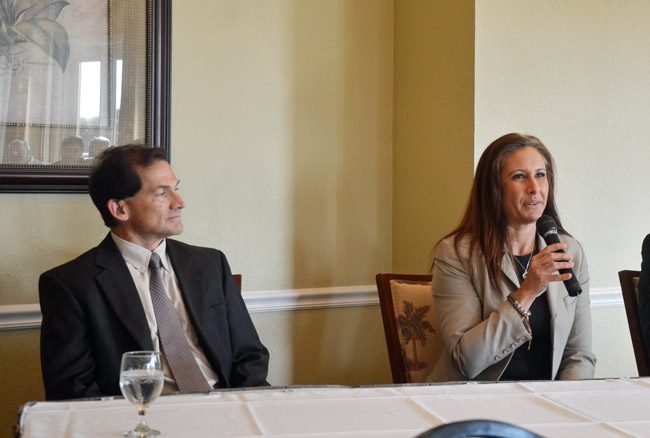 Phillip Haire Jr.'s case is fraught with so many complications that he has yet to be arraigned before a judge more than two months after he was accused of shooting at a Flagler County Sheriff's sergeant and at his own parents outside their London Drive house.
The day he was scheduled for a court appearance before County Judge Melissa Moore-Stens on unrelated charges, on May 14, a sheriff's deputy reported that Haire made "potential threats" toward Moore-Stens and said in front of the deputy "that if he was not found innocent he was going to put out a hit on the judge," according to a sheriff's incident report. Haire claimed the judge had put a hit on him, so he would do likewise.
Haire has been held at the Flagler County jail since May 3 on no bond following the May 1 shooting on London Drive. The next day he appeared by video conference before Moore-Stens for his first-appearance hearing, where he claimed innocence and, in a tense exchange with the judge, said the real killer was at large, trying to kill his family. Haire said he felt safer inside the jail because he claimed the killer was after him. Hair interrupted the judge to the point where she had to admonish him to let her speak.
Haire tendered a not guilty plea in writing on May 9. His original felony arraignment was not scheduled until June 14. It was continued.
But Haire also faces two separate misdemeanor charges–a charge of trespassing stemming from a January 27 incident when he was found outside a girls' bathroom at Matanzas High School, in violation of a no-trespass order dating back to 2015, and a March 20 allegation that he struck a 19-year-old woman. He was scheduled for a pre-trial appearance before Moore-Stens on those two charges on May 24 at 1:30 p.m.
Detention deputy Brian Sheridan took him to the courthouse. But Haire never made it before the judge: the hearing had been continued. As he waited in a secure area outside the courtroom on the fourth floor of the courthouse, where inmates are held hands and feet shackled before they're escorted in their shackles before a judge, Haire became disenchanted, "and began talking about Judge Moore Stens, calling her derogatory names," the incident report states. ("Derogatory" is an understatement: the insults were of the vilest misogynistic sort.) "It was also alleged that he said in front of Deputy Sheridan that if he was not found innocent he was going to put out a hit on the Judge."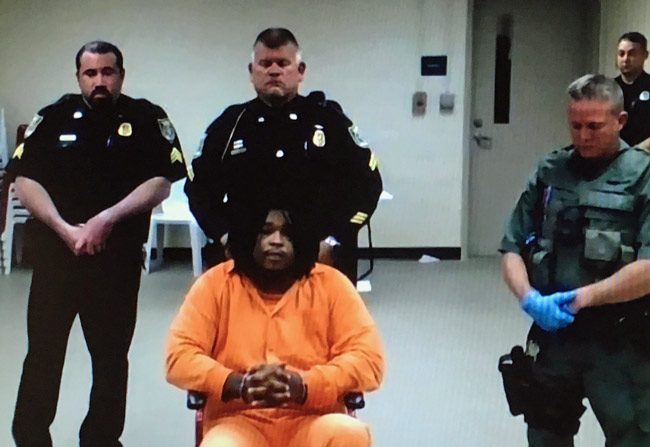 Sheridan had reported the matter in a brief memo to Sgt. John Bray that went into greater detail than the incident report. Haire was speaking directly to Sheridan, the corrections deputy wrote. "He also told me that if he wasn't found innocent then he was going to put a hit on her like she put a hit on him," Sheridan wrote in the May 24 memo. "He then continued talking saying she doesn't like him because he flicked her off at first appearance because she is a bitch and she wouldn't provide him a Bible to place his hands on." (A spokesperson for the court system explained: "Oaths are normally taken without the use of a bible. A bible was not available for that hearing.")
It isn't clear whether Haire's appearance was scrapped because of his outburst: what is clear is that the docket sheet listing all the cases Moore-Stens was to hear that day does not include his name.
Sheridan's memo does not reveal whether he spoke to anyone in the court about Haire at that very moment. He states that shortly after his outburst Sheridan was told Haire could be taken back to the jail, "at which time," Sheridan's memo concluded, "he started yelling, 'You fucking bitch, you are scared. You are lucky.'"
The court administration was made aware, as was the State Attorney's Office, though the case was investigated by detectives at the Sheriff's Office. "The follow-up that was done included listening to two weeks of monitored calls Haire Jr made from the jail," a sheriff's spokesperson said this morning, relaying information from the detective on the case. "In all calls, there was no mention of any threats and no references to the judge. It's possible that he was mouthing off because he was upset."
The incident disturbed the judge enough, according to a person familiar with the judge, that she changed some of her personal routines out of caution.
Haire was due in court this afternoon, before Craig, for a pre-trial on the charges related to the shooting incident. He faces 10 charges, including two charges of attempted first-degree murder. But his lawyer, Jeremy Buckmaster, has raised issues with Haire's mental competence to stand trial. Buckmaster, in a June 23 motion–a month after the incident regarding Moore-Stens–said Haire has "exhibited inappropriate behavior in the presence of the counsel and the Court," which appears to be a a reference either to the May incident or to Haire's claim that he flicked off the judge during his first appearance. But Buckmaster goes on to list five other issues, citing Haire's disorientation, his not disclosing facts pertinent to the case and other matters. Haire's family has previously spoken about his mental health problems, saying they are the result of himself being the victim of a shooting. (His assailant is serving seven years in prison.)
Craig on June 23 granted the order to have Haire examined. That examination appears not to have been conducted. Both Buckmaster and Jason Lewis, the assistant state attorney prosecuting the case, submitted a stipulated motion–that is, a motion to which both agree–again to postpone the pre-trial because Haire and his attorney are requesting additional time to conduct the mental health evaluation. Craig granted the order.
The next scheduled pre-trial date is September 13 at 1:30 p.m.