Pedro Riera, 48, a resident of 16 Wittlesey Lane in Palm Coast, was killed late Wednesday night as he rode his Harley Davidson motorcycle into a car that was crossing White View Parkway, at Rolling Sands Drive, in Palm Coast.
Florida Highway Patrol investigators at the scene said speed and a badly placed city sign that blocked the view of the driver of the car involved may have played a role in the fatality.
The wreck took place at 10:10 p.m.
Shelby Cuccurullo, 21, was at the wheel of a four-door, 1993 Pontiac Bonneville. She had rolled to a stop at the stop sign at Rolling Sands and White View, as she was about to cross White View to make a left on the parkway. White View at that point is a four-lane parkway divided by a wide median of grass and trees.
A car was driving east on White View and had slowed to make a right turn on Rolling Sands, investigators said. The driver of that, who was interviewed by one of three investigators at the scene, made the right turn. As he did so, Cuccurullo thought the coast was clear, investigators said, and pulled forward to make her turn.
In fact, Riera had sped up in the right lane, riding up to the car that was making a right turn on Rolling Sands. The car made the right turn, Cuccurullo pulled forward, and Riera slammed into her Bonneville's left-front side.
Riera was ejected 62 feet, landing by a tree in the median, his right leg almost amputated. He was losing blood and was in and out of consciousness.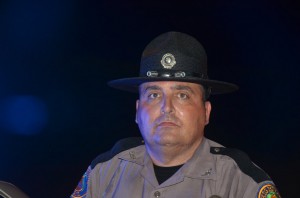 Florida Highway Patrol trooper Steve Howard happened to be driving in the area immediately after the wreck–perhaps a minute or less after it happened. "I was first on scene and I attempted to provide first aid as best I could," Howard said. "When I got here he was in pretty bad shape, he was unconscious, he was wearing a helmet." Howard told Riera to stay with him as a Flagler County Sheriff's deputy–Mark Reeves–arrived at the scene and helped block the area of the crash scene "to prevent injury to anybody else," Howard said.
Cuccurullo, who was not injured, was outside her car. "She was distraught and she was standing maybe 10 feet from the motorcycle operator, I think she was in shock," Howard said. Cuccurullo stayed at the scene until about 11:30 p.m., when she recovered a few items from her car before it was towed, along with the motorcycle, by John's Towing, and the intersection cleared of debris. The intersection was reopened at about midnight.
Shortly after the crash and Howard's call to other emergency personnel, the Palm Coast Fire Department, Flagler County Fire Rescue and the Palm Coast Fire Police were at the scene. Riera was flown to Halifax Hospital by Volusia County's Air One (Flagler County's Fire Flight is taken out of service at 8 p.m. because of budget cuts. Air One is not always available, but was on this occasion.) Riera died of his injuries at the hospital.
Though an FHP crash report notes that questions of alcohol involvement are pending, officials at the scene found no apparent signs of alcohol. (An FHP press release incorrectly identifies the victim as Pedro Rieva, the name other news outlets have been disseminating this morning.)
But two factors did stand out to investigators. First, the speedometer on Riera's motorcycle (a black 1994 Sportster) had been immobilized at a reading of 63 or 64. White View Parkway is a 45 at that spot. Investigators said that on sudden impact, the final reading of a speedometer is usually an accurate reflection of the actual speed at which the motorcycle was last traveling.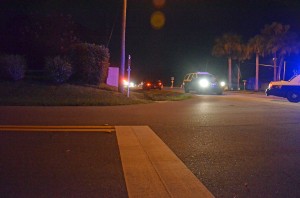 Second, there is a large, squarish Lehigh Woods sign that sits on the south shoulder of White View Parkway, and that partially blocks the view of oncoming traffic from the west, going east, the direction Riera was travelling. Cuccurullo would have been looking down that way as she was readying to make her move forward, but, especially if Riera was traveling at the speed indicated by the speedometer, would not likely have seen him in time: investigators said that, after interviewing the witness (the driver of the car that made the turn onto Rolling Sands), that witness said that Riera had not been behind him, but suddenly rode up on him as he was making the turn.
Positioned at the crossing point of Rolling Sands and White View, a motorist's view of eastbound traffic on White View is significantly blocked by the Lehigh Woods sign.
Charges are pending in the crash.