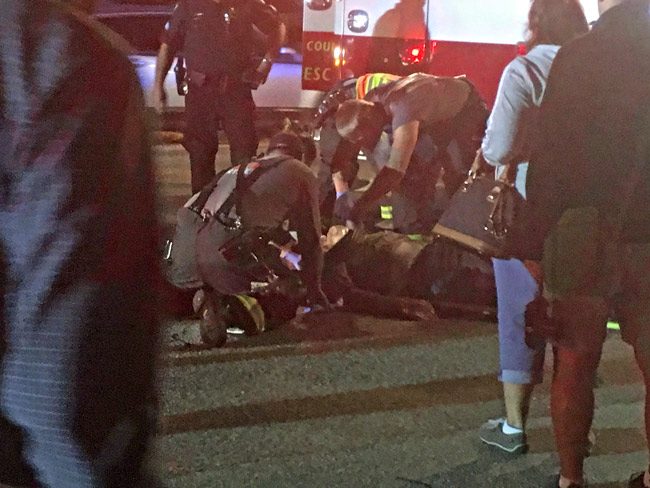 A man believed to be older than 55 was struck by a passing car on State Road A1A as he was crossing the street this evening around 7:15 p.m. The man was being air-lifted to Halifax hospital in Daytona Beach by Flagler County Fire Flight, the emergency helicopter, which landed on A1A at 7:30 p.m.
The collision took place in front of 608 South Ocean Shore Boulevard, around South 7th Street. Traffic on A1A was halted in both directions around that block. The driver who collided with the pedestrian remained at the scene. The driver was heading south in a sedan.
The victim was being treated at the scene for 15 minutes or more before the helicopter landed. He was reportedly severely injured around the head and was having difficulties breathing, but was conscious and aware. By 7:40 p.m. his breathing was restored and he was transferred from a rescue to Fire Flight.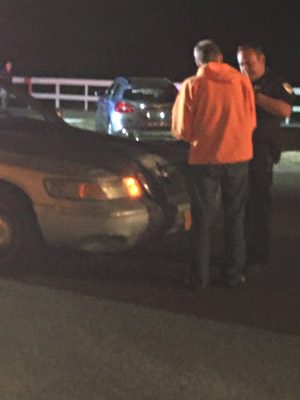 Witnesses were reporting that the victim was looking at his phone as he crossed A1A, which is not brightly lit and has been the scene of serious and fatal collisions with pedestrians in that area: two years ago, a 56-year-old woman who'd recently moved to Daytona Beach was killed as she crossed the street at night on A1A at South 26th Street. Two years before that, on A1A at South 16th Street, Shane Kitchens, a resident of Flagler Beach, was struck by a motorcyclist as Kitchens crossed A1A around midnight. He was walking home, nearby. He survived but was in a coma for 30 days and had a difficult recovery.
The Flagler Beach Fire Department, Flagler County Fire Rescue, the Sheriff's Office and the Flagler Beach Police are at the scene of this evening's wreck, with traffic being regulated by the Flagler Beach Fire Police.
The driver of the car involved in the collision was released from the scene at 7:50 p.m., and drove away. His car was not severely damaged. A1A was reopened at 7:55 p.m.