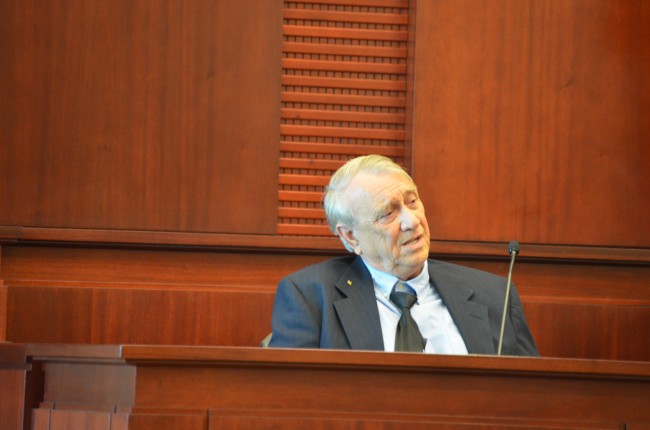 Note: this is an account of the Paul Miller trial's afternoon session on Wednesday. For the account of the morning session, go here.
If it was sympathy that Paul Miller was trying to elicit from the jury Wednesday afternoon, his nearly two-hour performance was not a model. He may have hurt his case more than he helped it when he elected to take the stand in his defense in his trial for the killing of Dana Mulhall in March 2012.
When a prosecutor told  Miller that he wanted to settle his problem with his neighbor by shooting him rather than calling police, Miller called the prosecutor "crazy." When he said he'd pointed but not aimed at Mulhall when he shot him and the prosecutor asked him what the difference was between the two, he said, "I can't believe you just asked me such a stupid question." When she asked him what it meant when he told the 911 dispatcher that "he'd shot his fucking ass," Miller said "it means I'm trying to tell that lady on the phone why I'm calling. I couldn't believe I said that but I did." When she asked him why he went into his house to retrieve his gun and go back on his porch even when he'd heard that Mulhall had gone back into his own home, he said he was "afraid of the son-of-a-bitch," since Mulhall, Miller said, had threatened him and his dogs in January. And when the prosecutor asked him why he hung up on the 911 dispatcher even as she was asking him question, he said: "I didn't want to listen to her no more she was getting on my nerves."
Miller made no secret of how much Assistant State Attorney Jacquelyn Roys was getting on his nerves, too, as he was in turn condescending, dismissive, impatient, ridiculing and irritated with a line of questioning that repeatedly had him explaining inconsistencies between statements he'd given police and statements he was making today, and as he refused to lend credence–as was his right–to the prosecutor's version of events. But it was clear that Miller is not a man who suffers being challenged, let alone challenged by a woman. It was just as clear that if empathy is among the elements that play into a jury's decision, he did not secure it. And if consistency between statements helps provides a degree of certainty about his version of events, he did not provide it.
"I shot the man because I didn't want him to shoot me and that's about all there is to it," Miller said.
'There's a lot more to it, Mr. Miller, because you shot an unarmed man—" Roys began to say.
"Didn't know he was unarmed," Miller interrupts. "He told me he had a gun. He's going to kill me."
"You confronted an unarmed man—"
"I ain't going to sit here and argue with you because I don't think that's—right. Do you, your honor?" Miller said, looking at Circuit Judge J. David Walsh.
"I think," Walsh immediately said, "you each need to take each other's time, let the other finish, all right? Proceed, State."
Miller took the stand at 3:30 this afternoon, after his attorney, Doug Williams, had told Walsh in the morning that Miller would testify on his behalf. And after Williams had, a day and a half into the jury trial, delivered his opening argument claiming that Miller acted in self-defense. (No stand your ground notions anywhere.)
Williams called Miller's wife to the stand, Derrol Miller, who spoke of his ailments and inability to walk fast or for long durations (the couple never take walks together). He cannot work in the yard for more than five to 10 minutes without taking a break. Derrol described the extent to which she went to ensure that her dogs would stop barking after the January incident, trying one type of collar after another and deciding that between the collars' ineffectiveness or cruelty, she and Paul decided to remove them and simply make sure that one of them would be with the dogs at all time. They also installed the sort of curtain that blocked all view from Mulhall's property.
One minor surprise of the day was the defense calling up one of the three young boys who'd witnessed the beginning of the confrontation on March 14. The prosecution had called up one of the three on Tuesday, and he'd testified that he saw Miller show Mulhall the finger. On Wednesday, a different boy, now 12, was supposed to testify that, as he'd said in previous interviews, he'd heard Miller not yell but tell Mulhall to come down, that the two could "work it out," and that there were children present. The testimony would have lent credence to Miller's reasonableness.
But the boy on the stand helped the defense as much as he did the prosecution: his testimony was less certain of the events of that day. When Williams first asked him if he'd heard Miller say anything, the boy said: "No, not really."
Williams pressed him. The boy said again: "To my full extent of my memory from today, no, I don't remember, I'm sorry."
The defense was broadsided. Williams tried to introduce answers the boy had made in previous interviews with authorities. That drew an objection, because there are specific ways those elements can be introduced. The jury was sent out. The prosecution and the defense argued before the judge. They finally agreed that the material could be used to "refresh" the boy's memory. The boy sat through the exchanges in the witness stand.
When the jury returned and his cross-examination resumed, Williams elicited the following response from the 12-year-old (whom Miller would later identify as "the Asian kid" in his defense; he was unable to identify the other two boys): ""I heard just maybe barely a phrase or so, just heard, just, stop, maybe, most likely, to my recollection of things now, I believe he did say, like stop, because there's kids around, all at the beginning of the street, at the end of the street, and in the middle of the street."
It was not the smokeless gun Williams was looking for.
When the prosecution's Hathaway took over the questioning, she craftily led the young witness to say "yes" and offer other forms of admissions–without a single objection from Williams–that he really hadn't been paying attention to the two men arguing, he was with his two other friends, he was minding his dog, the chatter about school, the laughter Hathaway imagined (but the boy did not quite confirm). When Hathaway was done, the boy's testimony was a wash. Deroll Miller followed, then Paul, who walked slowly from the defense table to the witness stand and sat, his blue tie's knot not quite even with the collar.
Aside from a 10-minute break, Miller was on the stand until 5:20 p.m., with only a fraction of that time devoted to questions by Williams. Had that been the only thing the jury had seen, it would have witnessed a older man–Miller is 66–proud of being old school, looking grandfatherly, calm, almost bewildered at having found himself in the situation he's in but for the certainty of his fears, in January and March 2012, that Mulhall was out to harm him–and, in March, to kill him. But even then Miller revealed chinks in the armor of his Southern mannerliness, the sort he claimed had him disbelieving his own foul words when he heard them in the 911 call, as he conceded that when someone cusses him out, he cusses back, as he did Mulhall, whom he described as "kind of aggressive."
"He was nowhere near nice, he was saying the F word, and that's not nice," Miller said, only to moments later relay a subsequent exchage: "Fuck you, old man," he said, quoting words Mulhall allegedly said. "I said fuck you too." That was during a January confrontation over the barking dogs, when Mulhall, Miller says, threatened to beat him. That day both men went back to their homes, Miller called the police, reported being threatened, but, he said, "I didn't want to press it no farther and he didn't neither."
When Williams asked him how he felt over the incident, Miller, who alternated between saying he couldn't admit to being scared and describing himself as such, said: "I hate to admit I was afraid of somebody but I was." As Williams questioned him, Miller sounded like any older neighbor suddenly out-upon by a disturbing situation. He described his ailments from a life of hard work. He described the early days with Mulhal when he and his wife had taken him a plate of food at the first Thanksgiving they were neighbors. And he described the two confrontations the had with Mulhall, the last one proving fatal to Mulhall.
"His face and his neck, red, I'd never seen a man so red in my life, he had a sneer on his face," Miller said of Mulhall in the 30 to 45 seconds that he said the confrontation took, leading up to the shots. Miller he was afraid Mulhall was going to "come through" the fence (though Mulhall had stopped shaking the fence when Miller told him to).
Then he described the shooting.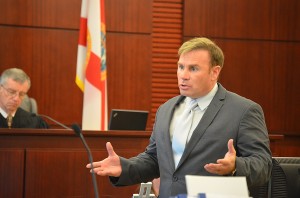 "He just kept cussing, he kept saying that same old thing, 'these goddamn motherfucking dogs, these goddamn motherfucking dogs,' and he says, all of a sudden, he says, go ahead and shoot, motherfucker, I got a gun too, and I'll kill you and them goddamn motherfucking dogs. That's when he done that." He gestures toward his back. "When he done that I pulled mine out and shot, shot, shot."
But Miller said he'd never let on that he himself had a gun, never told Mulhall that he had a gun, never showed it, and throughout the brief confrontation, had kept his right hand, his shooting hand, behind his back, near his gun. He never explained–and the prosecution never got him to explain–how it was that Mulhall told him that he had a gun too, despite not knowing that Miller had one.
"But the whole time you kept your hand behind your back, the whole time," Williams said.
"Yes, the whole time."
"Until you fired, correct?" Williams asked, after the judge overruled an objection from the prosecution, which though the question was leading the witness.
"That's the only way I can fire was take it out of my pocket," Miller said, with a hint of sarcasm even when questioned by his own attorney.
"You never showed him the gun?"
'No, he did not know I had that gun."
He then described the actual shooting, saying he couldn't remember if he used one hand or two and lingering over that detail a moment. He was facing Mulhall from 10 to 12 feet away. He thought he'd missed, so he kept shooting until Mulhall fell. "He was running sideways across the yard, and I shot two more."
"Why did you shoot two more?"
"Afraid he was going to come out with that gun, blow my brains out."
"Did you think you had missed him every time?"
"I thought I had missed him till I seen him fall to the ground."
"Why didn't you call 911 before?"
"Before when?"
"When you were sitting there, and he pulled a gun, or you thought he had a gun, why didn't you go inside and call 911?" Williams asked.
"I wasn't going to turn my back on him," he said, literally chuckling. "I wasn't going to get shot."
Williams's time with Miller was relatively brief: he asked Miller about his  interviews with police, where he slept the first night after the shooting (in his own bed: he was arrested the next day), the length of his police interviews, and their tone, which Miller said he did not like because investigators sounded like they were out to get him, asking the same questions over and over ("just like you're doing now," he'd later tell Roys). Williams was trying to show that the evening of the shooting, when Miller was interviewed until midnight, he was under duress, and may have given conflicting statements because he'd gone without a meal for many hours.
Williams then asked how Miller felt when he learned Mulhall had no gun. "Terrible," Miller said. "He made me believe he had one."
"What would you have done differently if you knew he didn't?"
"Probably would have never pulled mine out. He'd still be alive," Miller said.
The came the prosecution's turn, and the mood soured almost immediately. That was expected: a defendant under examination by the prosecution is never a breeze. But as Miller jousted with Roys, the assistant state attorney, he appeared to have lost sight of his real audience: the jury to his right, in whose direction he almost never looked. Roys never got the answers she wanted, but in some regards, she didn't have to, and probably knew it as she stretched the cross-examination to agonizing lengths.
Roys began the aggressive questioning immediately, getting Miller to concede that he was the one who initiated the January confrontation with Mulhall since he walked out of his home to tell his neighbor that his dogs hadn't been barking that long. She also got him to concede that between the January confrontation and the March, he and Mulhall had had no interaction at all, and no incidents had taken place in the interim. Nevertheless, Miller said he was afraid.
Roys then moved on to the March confrontation and tried, through innumerable avenues, to reconstruct the moments that led to the shooting. Miller agreed that he was initially in his garage, getting ready to go fishing the next day. He heard Mulhall yell about the dogs, but did not confront him at that point. Mulhall went back to his house and slammed the door. At that point, Miller–who did note that he'd gone to the porch, when the dogs stopped barking–of his own admission, then went into his house, retrieved the 9 mm gun, and walked back to his porch. He set the gun on a table there and got ready to sit down when he heard Mulhall come out again, just as the dogs started barking again. Mulhall grabbed the fence and shook it. It was at that point that Miller walked out and confronted him, telling him to quit shaking the fence.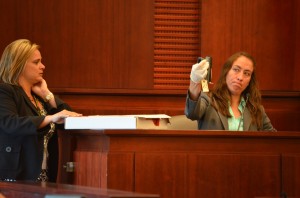 Those points are not in dispute. But Roys asked him: instead of retrieving the gun, why not call 911? (The gun itself, a 9 mm Miller had bought in 2006, made a brief appearance as Maria Pagan, a Florida Department of Law Enforcement crime lab analysi and firearms specialist, held it up during her cross-examination in the morning. Pagan's testimony was necessary to the prosecution to link the gun to the bullets that killed Mulhall. The judge had earlier refused to accept a stipulation by both defense and prosecution establishing that link: the judge wanted the state to prove it in open court, before the jury.)
"It never entered my mind to call 911," Miller said, because he felt threatened.
"You wanted to kill him," Roys said, referring to Mulhall.
"You're crazy," Miller shot back. "What do you think I am some hillbilly who ain't got no sense I know when I'm being threatened?"
On several occasions Roys, who read generous portions of Miller's words in police interviews, pointed out contradictions between his testimony Wednesday and what he'd said after the shooting. Among the inconsistencies: Miller had told Flagler Beach police that Mulhall had let go of the fence entirely, but Wednesday he said Mulhall kept hold of the fence with one hand (the difference being significant: if Mulhall had let go of the fence entirely, it would have suggested that he was already moving away from Miller.) Asked to explain the discrepancy, Miller said of the investigator who interviewed him: "He got me all worked up," and compared the investigator's tactics to Roys's, and once called her a "smart aleck." He was not helping himself by essentially saying that he does get worked up, extraordinary though the circumstances were.
Roys persisted, looking to attach a willful motive to the moments immediately preceding the shooting rather than an act of self-defense. When the prosecutor said the evidence had shown, from Mulhall's physical pivots after the shooting started, that he was moving away from Miller–running away from him–Miller again called her "crazy."
Miller had two hunting rifles in his house. Roys asked: "If your point is to let someone know that you have a gun, so you don't get into a confrontation with them, don't you agree that if you carry a bigger gun instead of a concealed gun, they might know not to mess with you." (Of course, brandishing a gun at an individual is itself a crime.)
"No," Miller replied, "I don't agree with none of that stuff you're talking about, because you twist everything around so bad that if I said I agreed with you I'd be crazy. I don't agree with nothing. You're thinking I did this like a plan, premeditated or something like that."
When Toys asked why he didn't go into his own home rather than confront Mulhall, he said: "I don't think nobody would go into their own house and hide when somebody is out there raising hell."
"Because you're a proud man, right?"
"I'm not proud. It ain't got nothing to do with being proud."
But she finally got him to concede explicitly that he, Miller, had confronted Mulhall with a loaded firearm. "Yes. Yes," Miller shot into the microphone.
When Roys was done with Miller, Williams asked him a few more questions, starting with his state of mind the evening of the confrontation ("terrified. I was afraid I was going to get shot").
He then asked curious questions about accents and other people's English. Williams alluded to Miller's difficulties understanding certain American dialects better than others–that is, southern dialects (like Williams's) better than northern ones.
"Do you understand the way I talk a little bit better than those people?"
"Yeah," Miller replied.
"Why is that?"
"Because you're not screaming and shouting and using that accusing attitude like her and Brendel," Miller said, referring to one of the investigators who'd interviewed him.
But that wasn't quite the answer Williams was looking for.
"My voice, my dialect," Williams specified.
"Oh, yeah," Miller caught on. "That might help a little bit too."
Williams had tried to have an interpreter be part of the trial, to "interpret" Miller's Tennessee expressions and drawl and essentially translate his 911 dialect for the jury. Walsh rejected the motion outright a week before the trial started. But his very last question to Miller was about one of the investigators' accent's origins: "What kind of accent did officer Brendel have, do you know?"
"Accent?"
"Yeah, where is he from?" Williams specified.
"I don't know, I think he comes from way up north somewhere."
"Way up north."
Miller guessed New York.
"You feel he was pretty rude to you?" Williams asked.
"Rude, that ain't the word, he's a double rude, triple rude. He's real loud voice, accusing."
"I have nothing further," Williams said.
Mulhall, of course, is originally from "way up north"–Maine, where he was buried.
The day ended on that implicit, almost bigoted dig at loud, rude Northerners, at the close of an afternoon when speaking ill of the dead, however defenseless, was central to the defense's strategy of fostering reasonable doubt about the second-degree murder charge Miller is fighting.
The trial resumes at 9:30 Thursday morning. It is expected to be turned over to the jury by day's end, or by Friday morning.