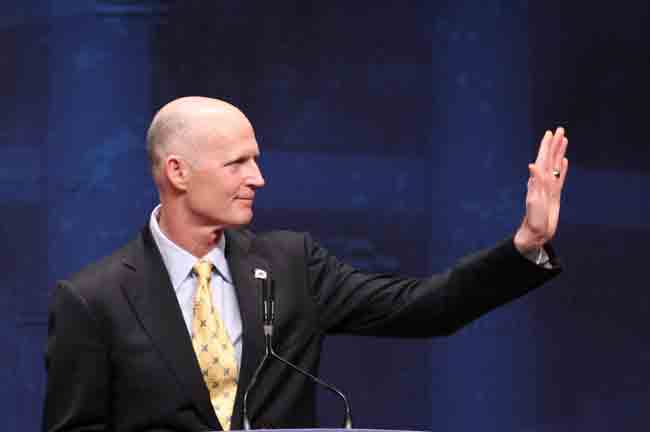 Florida voters are overwhelmingly against charging college tuition based on what people study, skeptical that degrees can be offered for $10,000 and strongly against setting different educational goals based on race, a new poll has found.
The poll by Quinnipiac University and released Thursday also found that Florida voters may be starting to change their minds on same-sex marriage, and are less enthusiastic about marijuana legalization than people in other parts of the country.
Gov. Rick Scott continues to suffer from poor approval ratings despite an improving economy and lowering unemployment, and a majority of voters say they wouldn't vote to re-elect him, a new poll shows. The poll found, among other things, that many voters are crediting the Obama administration with an improving economy, rather than Scott.
In a separate Quinnipiac University poll released Wednesday, Florida voters disapprove by 45-36 percent of the job Scott is doing, and 52 percent said he doesn't deserve a second term, compared to just 30 percent who told pollsters Scott should be re-elected.
The bulk of the poll released today (Dec. 20) dealt with educational issues that are at least suggested as being in play in Florida – while there currently isn't a strong move on gay marriage or marijuana at the moment.
The poll asked voters about a recent state Board of Education "strategic plan" proposal that drew criticism. The plan set out interim goals for achievement for students, but set lower goals for African-American students in an effort to acknowledge that many of them start farther behind their white counterparts. Critics jumped on the plan – which Gov. Rick Scott also criticized – saying that it sent the message that minorities couldn't achieve as well as whites.
Florida voters said by a 71 to 7 percent margin that there shouldn't be differing goals for students.
Registered voters also strongly opposed, by a 66 – 26 percent margin, charging lower tuition to college students who major in high tech, math and science subjects in an effort to boost the workforce in those areas. Voters also were strongly against , by 73-16 percent, allowing some public universities to charge higher tuition than others.
Those polled also are skeptical of Scott's challenge to the state's colleges to offer some four-year degrees for $10,000. Only 29 percent think it is very likely or somewhat likely to occur, though several colleges have said they are willing to try.
Two high profile national issues that are less prominent in Florida were also polled.
Respondents opposed same sex marriage by a 10 point margin back in May, but in the poll released Thursday they were nearly evenly divided, with 43 percent in favor of allowing gay marriage and 45 percent opposed. Voters under 29 years old, however, overwhelmingly support the idea, by a 66-23 percent margin.
There's also less reefer madness in Florida than elsewhere, according to the poll.
Florida voters oppose legalizing personal use of marijuana by a 52 percent to 42 percent margin – while nationally respondents say they support it by about the same margin. Washington state and Colorado recently legalized personal marijuana use.
Respondents also think state workers should have 401-k style retirement plans only, and no defined-benefit plans, which are currently offered in addition to the defined-contribution plans. The poll found 53 percent of voters support only offering state workers a defined-contribution plan, which is similar to many plans in the private sector.
The poll on politically related questions found that 55 percent of voters – including 53 percent of Republicans – say they'd like another Republican to challenge Scott for the GOP nomination in 2014.
Republican voters do give Scott a positive 63 – 19 percent job approval rating, however, and GOP voters say by a 55-26 percent margin that he deserves a second term.
"Obviously, the governor has almost two years to go until the election and anything is possible, but he faces a herculean task in changing public opinion to his favor," said Quinnipiac pollster Peter Brown.
Scott, who has struggled with negative approval ratings since being elected in 2010, plans to seek re-election next year. The only declared candidate challenging him is Democratic former state Sen. Nan Rich. Former Republican Gov. Charlie Crist, who is now a Democrat, is considering a run, and Democrat Alex Sink, who narrowly lost to Scott in 2010, is thought to be mulling a rematch.
Crist, who was governor as a Republican from 2007 to 2011 and lost a bid as an independent in 2010 for the U.S. Senate, has a 47 percent favorable rating and 33 percent unfavorable mark among all voters, according to the Quinnipiac poll. His favorability among Democrats is 65 percent and among independents is 48 percent, but only 28 percent of Republicans have a favorable view of Crist, compared to 56 percent who have an unfavorable view.
Sink overall is viewed favorably by just 27 percent of voters and unfavorably by 14 percent, but 57 percent of respondents didn't have an opinion.
Among four other possible Democratic challengers the poll asked about – Rich, Orlando Mayor Buddy Dyer, former Tampa Mayor Pam Iorio, and South Florida businessman and former lawmaker Jack Seiler – none has a favorability score of more than 17 percent and the overwhelming number of respondents said they didn't know enough about them to have an opinion.
The only other Republican the pollsters tested was Agriculture Commissioner Adam Putnam, thought by many to be a likely candidate for governor in the future. But 80 percent of voters don't have an opinion currently about Putnam, a longtime former Congressman and former state legislator.
Respondents said they dislike Scott's policies by 52 percent to 32 percent, though nearly half of voters say they're at least somewhat satisfied with the way things are going in Florida – the highest so far during Scott's term. The poll didn't' ask specifically what policies voters don't like.
Scott has staked his success on creating jobs, and has been able to boast about a falling unemployment rate for several months. Florida's jobless rate fell in October to 8.5 percent, its lowest level since December 2008, and non-farm employment has grown for more than 27 straight months. When Scott got elected, unemployment in the state was at 12 percent, so he has made good to some degree on his main promise of getting people back to work.
Pollsters found, however, that many voters are crediting the Obama administration with the improving economy. Twenty-seven percent of respondents said the president deserves "a lot" of the credit for the improving economy, to just 16 percent who think Scott deserves "a lot" of the credit. Similarly, though, those voters who believe the economy is getting worse, overwhelmingly blame Obama rather than Scott.
The poll also found a 52-30 percent approval rating for U.S. Sen. Marco Rubio, a Republican, and a 51-31 percent approval rating for U.S. Sen. Bill Nelson, a Democrat. The Legislature, generically, is seen negatively by 44 percent of respondents with just 35 percent approving of lawmakers on the whole.
The two polls included 1,261 registered voters and were taken Dec. 11-17. They have a margin of error of plus or minus 2.8 percentage points.