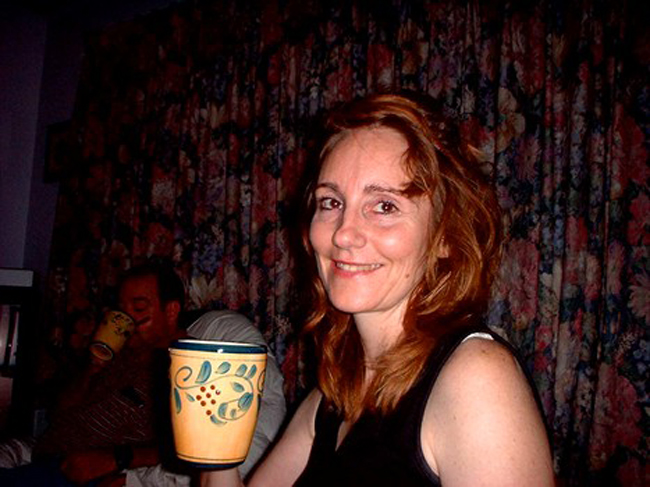 Note: The Life Celebration for Pamela Zill scheduled for Friday, Feb. 7, at 6 p.m. originally at the Beachhouse Beanery in Flagler Beach has been moved, due to the weather, to the Roadhouse Bar at the Bulow Plantation RV Resort, 3165 Old Kings Road South), at 7 p.m.

Pamela Zill, 50, of Flagler Beach, died peacefully at Florida Hospital-Orlando on January 13, 2014.  Her sister, Jane Zill, brother-in-law, Joe Onosko, nephews Emerson James and Myles Collin David Zill Onosko of Portsmouth, N.H., brother-in-law Stewart Griffith, nephew Hart Perry Griffith-Zill, and niece Aubrey of Hillsborough, N.C., and loving relatives among the Ziolkowski and Perry families of Wisconsin survive her.  She also leaves behind her friend and companion, Carl Seppanen of Flagler Beach, and many other good and true friends, including Dale Snyder, Flagler Beach, Vic Fedorov, Trenton, N.J., Bruce Davies of Princeton, NJ, and Charlie and Zach, her beloved dogs.
She was pre-deceased by her father, Robert Bruno Zill, WI, her mother Janet Perry Zill, her stepfather George Humboldt, her brother James Robert Zill, and her sister Robin Ann Eileen Zill.
Pam and her brother, Jim, were stricken with End Stage Renal Disease and severe hearing loss as teenagers.   Yet, both emerged from catastrophic illness as vibrant and loving adults.  Their love for life and for each other is a great tribute to their mother, Janet Zill, also, a long-term resident of Flagler Beach.
Pam has credited Jim as her greatest hero.  He gave her the courage and the skills needed to thrive as a dialysis patient until she received a successful deceased donor kidney transplant at the University of Wisconsin-Madison in 1986. For twenty-seven years this transplant served her and qualifies her as a long-term survivor of renal transplantation.
Jim had three unsuccessful kidney transplants, two from kidneys provided by sisters Robin and Jane, and died in Flagler Beach in 2004.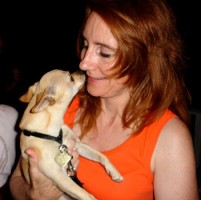 The twists and turns of fate experienced by Pam and her family were humbling, yet provided important perspective on the meaning of life, its fragility, as well as the limits of personal control and of medical intervention.   Sadly, Pam died of pneumonia caused by H1N1 and Influenza A.  The medication taken by recipients of organ transplants negatively impacts immunity.  Pam could not fight the viruses that claimed her life.
Pam was beautiful, creative, and spiritual, known for her trademark long red hair and vivacious personality. As a teenager she was an astounding actress and went on to become an accomplished model, licensed practitioner of therapeutic massage, and pursued a life-long interest in the healing arts.  In the mid-90s, while in Madison, Wis., she hosted a local television talk show for which she is fondly remembered, "Almost Profound"–the very handle she would then use frequently as a commenter on FlaglerLive.
Yet, due to her personal hardships her heart was often with the "underdog."   She was sensitive to the needs of those who are sick and disabled.  Many will recall her willingness to provide comfort and support, whether by visiting, cleaning a hearing aid, or helping with pets that needed care.
Although originally from Brown Deer, Wis., Pam loved her adopted community of Flagler Beach.  She was active in the area Chamber of Commerce, posted comments about news that concerned her, and loved the natural beauty that graces the area. Pam was a fixture at Flagler Beach City Commission meetings, which she not only attended almost without fail but participated in, often speaking a half dozen times on a half dozen issues at a single meeting. She took strong positions and defended them.
Her life was too short – full of great joys and great hardships.  She will be missed and always remembered.
Please visit her Memorial Webpage.
For those who would like to make a memorial contribution, the family has suggested the Alport Syndrome Foundation.
Details of a Life Celebration for Pam will be announced subsequently.