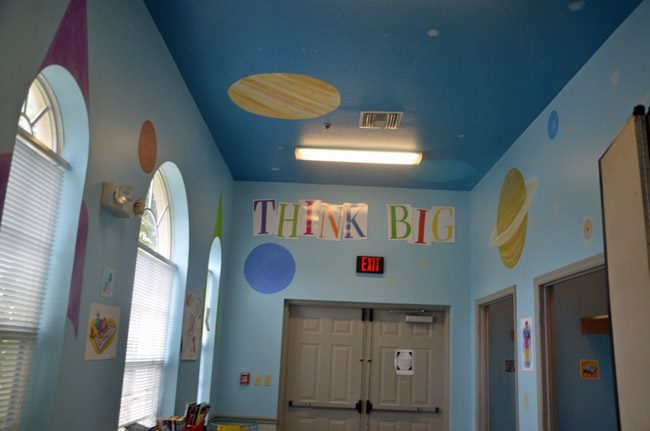 Palm Harbor Academy, the nine-year-old Palm Coast charter school on Old Kings Road, will cease operations Oct. 31, becoming the third charter school in the county to fail in the past six years. Palm Harbor had about 100 students until earlier this year, when its enrollment fell.
The district will reach out to students' families starting in a week or two to facilitate their transfers to public schools or to schools in Volusia County.
Palm Harbor is closing voluntarily in a settlement of what had been a growing clash with the Flagler County school district, which had signaled its intention to close the school because of repeated poor performance by students and other issues. Charter schools are publicly funded by taxpayers but privately run. The school district retains oversight authority to ensure that education standards are being met.
Palm Harbor is run by Gillard Glover, the pastor at AME Church of Palm Coast at 91 Old Kings Road North, on whose grounds the school operates. It will join Heritage Academy and Global Outreach Academy as charters that failed in Flagler, leaving one charter standing: Imagine School at Town Center, whose academic and financial performances have caused the district no issues.
School Board attorney Kristy Gavin announced the settlement agreement at a workshop of the school board this afternoon. "We had tentatively agreed to a resolution of the matter without the need of requesting from the board to do a 90-day notice of termination," Gavin told the board. "They will be voluntarily closing Palm Harbor with an effective date of Oct. 31, 2018. We have agreed to a mutual non-disparagement clause as well as to a mutual release" ensuring that neither side will sue the other.
Superintendent Jim Tager had issued just such a 90-day notice in May over numerous irregularities, including Palm Harbor withdrawing some 18 students from the school and transferring them to a newly established "private school" on the same grounds as Palm Harbor, using much of the same equipment and facilities, if not personnel. Glover had established a school called Academy of Excellence of North Florida. The transfers took place just before the Florida Standard Assessment testing period, when students take high-stakes tests that bthe state uses to determine a school's grade. Charter schools that get two F's in a row must close.
The district felt the "transfer" was a ploy to keep poorer-performing students from taking the standardized tests and keeping them from depressing the school's scores. If Palm Harbor had received yet another F, it would have been facing closure regardless. Glover provided the district with affidavits from staff and parents indicating that the transfers were conducted voluntarily, as parents were seeking to have their children enrolled in smaller classes (though Palm Harbor was opened nearly a decade ago partly on the same premise) or because they wanted to go elsewhere. Some 18 students were transferred.
While the settlement calls for non-disparagement, relations between Glover and the district had deteriorated bitterly and resulted in a serious confrontation between Gavin and Glover at a school board meeting last month, when both school board members and Gavin repeatedly suggested Glover was misrepresenting facts as he stood there addressing them and claiming, for example, that the Palm Harbor board had previously discussed the creation of a private school, a claim nowhere backed up by documents he had provided board members. Glover, an attorney by training, also maneuvered around Tager's letter, calling it an improper document if it was supposed to stand as a 90-day notification. That prompted the board to agree to restart the clock and give the school time to make its case. But as weeks wore on, the district received nothing from palm Harbor to suggest that it could right its ship. Negotiations then turned to a settlement agreement.
"We believe that this was a fair compromise since school grades have not come out yet and will not come out until July," Gavin said. "That created a little conundrum for us of not knowing what their school grade is going to be, whether it's an F, then having to make a decision of how to proceed. This gives us a definitive end point where we're moving toward a closure of the school by Oct. 31."
Glover did not address the board at today's workshop (he arrived some 20 minutes after the discussion, which had lasted a mere 10 minutes). He intends to keep the new private school operating. As a private school, it does not have to meet the district's or the state's academic standards, its students are not required to participate in standardized testing, it does not fall under district oversight, but it does not get public financing, either–at least not to the extent that a charter school does. But its students may be eligible for private school vouchers under Florida law–publicly funded vouchers that students may use to pay tuition at a private school.
In coming days Palm Harbor will be notified that any purchase orders that have used public dollars will have to match inventories. "Anything that has been purchased with state dollars or Title 1 dollars we obviously have to take possession again of those items," Gavin said. The school will be allowed to buy some of the materials at fair market value. The school will have to submit to a pair of audits in coming months.
School board members had few questions, though they had some concern over the Oct. 31 date, which falls into the second grading period. But Palm Harbor had initially wanted to keep the school for the full 2018-19 school year. The district didn't believe it would be in the best interest of children "when we had significant deficiencies that we were concerned about," Gavin said. Winter break might have been an option, but the district had the same concerns as it would have students then potentially half a year behind after transferring to another school. "We thought the October end date are most beneficial to everyone, because the first three to four weeks are review typically of the year prior," Gavin said, "and so if students need to be remediated there's less information to be remediated."