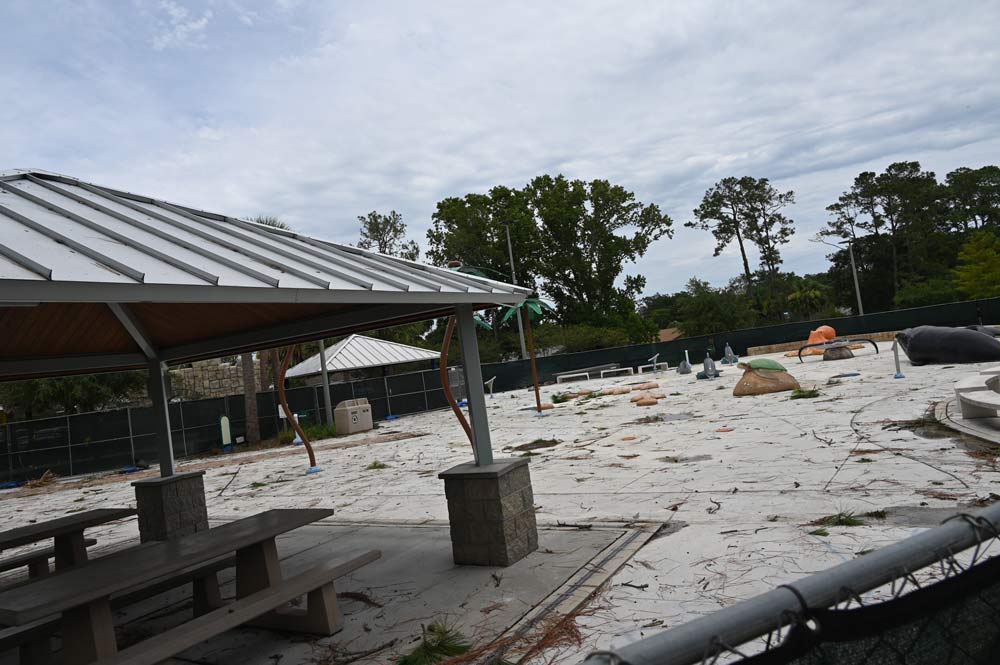 Palm Coast government is turning to a trusted contractor, Daytona Beach-base Saboungi Construction–fresh from its ramped up transformation of Waterfront Park–to repair the desolate splash pad at Holland Park, a two-year-old blight on the city's prized park system and an eyesore at the flagship park almost since it opened in May 2021.




The city had no choice. Saboungi Construction was the only bidder. Should the Palm Coast City Council approve the award at its meeting this evening, the company will be paid $2.6 million, with an additional $305,000 for contingencies. The city paid Martin Aquatic Design & Engineering $100,000 to redesign the project, bringing the total cost to $3 million.
The original cost of the splash pad was over $5 million, and never had the full support of the council. The splash pad's unhappy history suggests that tonight's vote is not a guarantee, as some council members could be leery of being associated with what so far has looked like a boondoggle even as the city battles those it blames for it in court.
The reconstruction costs will be added to the $1.4 million in losses and legal fees the city had already accumulated from the failed splash pad as of last November (that figure has grown significantly since, but the city didn't yet have an updated number). The city hopes to recoup all those dollars if it prevails in the lawsuit it filed against several contractors involved in the original design and construction of the splash pad before it opened. It is an extremely complex lawsuit that hinges on technical fine points and spheres of responsibility between innumerable contractors. Palm Coast initially sued four defendants. That list has grown to 12.




The case is in the thick of discovery at the moment as parties depose each other and posture with the usual duels of interrogations  and other "productions" that are routine if still contentious, time-consuming and costly parts of civil trials. Should it go that far, the case would result in a lengthy trial and an uncertain outcome, especially regarding the damages the city hopes to recoup: some, if not most, of the city council members serving now will not see the conclusion of that case before their terms end.
More certain, but not definite–because nothing with this splash pad has ever been definite–is the current projected end of reconstruction: July 2024.
The splash pad today is unrecognizable from the way it looked, its oceanic colors and sculpted animals doused under water and the patter of children's feet, when it opened more than two years ago. It is now an enclosed wreck, the site of many tests, its pad surface removed a long time ago for analysis, leaving bare a grim gray concrete expanse . The contractor will remove te entirety of that surface, including 11 miles of rebar, rebuild 23 miles of underground piping, and reapply a new pad. It's usually a contractor specialty(a separate contractor was hired to do the job the first time), and it's not clear if Saboungi has experience in that particular aspect of splash pad construction. The fact that Saboungi was the only bidder may be a reflection of companies' reluctance to risk getting mired in a legally fraught zone.
But Saboungi, his brother Hassan and their family business have a long history in Palm Coast, and a warm relationship with the city, as Mahmoud Saboungi described it when he spoke to the ribbon-cutting crowd at Waterfront Park two months ago.




"In the 70s I had a friend who was a vice president of sales for ITT and he invited me to come here and see this wonderful opportunity," he said of Palm Coast at the time. He visited. "And I thought, this guy's crazy. There was was 2,000 people living in their area, and the area was called I think a district, the Palm Coast District." He visited again 10 years later and saw the difference, and before long he thought his friend at ITT may not have been so crazy after all.
He started Saboungi Construction in 1986, landing the company's first project in town–the flag-fluttered welcome to Palm Coast sign at Old Kings Road and Palm Coast Parkway. Then he built the Post Office,  with some doubts: "Why are they building the post office in no man's land?" he asked himself, the Post Office on Pine Cone Drive at the time seeming like an outpost in the wilderness. "And I'm going, something is wrong with these people."
Ten years later, Saboungi Construction was adding to its Palm Coast portfolio: Indian Trails Sports Complex, Heroes Memorial Park, Ralph carter Park, Linear Park, Long Creek Preserve, "and a lot of private projects." The company was not as lucky with the recent, $22.6 million contract for an addition at Matanzas High School. Even though Saboungi was the low bidder, by several million dollars, the district awarded the contract to a different company.
In fact, this evening Saboungi is in line for two contracts. In addition to the Splash Pad, it is also slated to be awarded a $1 million contract, part of the $1.2 million Long Creek nature Preserve construction of its Phase 2 amenities, including a nature center, walking trail, kiosks, 27 markers, a boardwalk and an overlook.