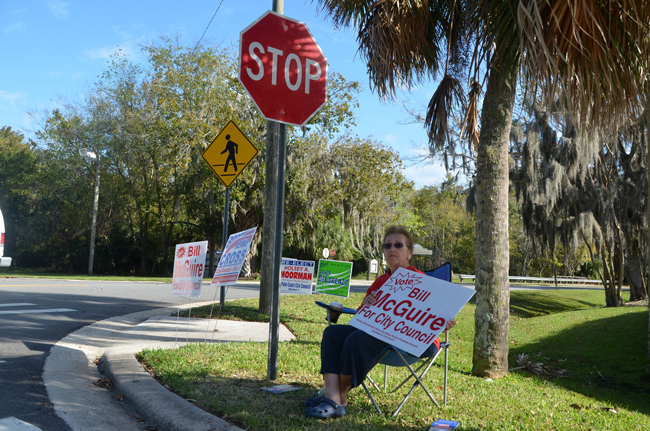 Flagler County Supervisor of Elections Kimberle Weeks summed it up just before 4 p.m. this afternoon, as she was visiting the Wadsworth Elementary library, one of six voting locations for two seats on the Palm Coast City Council: "It's like planning for a big event and nobody shows up."
By then, just 140 voters had cast a ballot at Wadsworth. Only 600 had voted by 2 p.m. at the Flagler County Public Library on Belle Terre and Palm Coast Parkway, usually the busiest voting location. Only 474 had voted by 2 p.m. at the Palm Coast Community Center, and fewer than 50 had voted at Matanzas High School and Belle Terre Elementary. IT's not known how many had voted at the old school board building on State Road 100, but that wasn't a high-turnout location during the Sept. 13 mayoral election, either.
That election drew just 5,248 voters, 10.6 percent of registered voters, worst in the city's history. The question by late this afternoon was as much who would win the city council seats as whether the Sept. 13 turnout would be exceeded. Chances are it will, but not by many thousands.
The two weeks of early voting had exceeded those for the mayoral election by almost 1,000 votes. So before the polls opened at 7 a.m. today, some 3,331 votes had already been cast–2,631 in early voting, and 700 as absentee ballots. By 2 p.m., roughly 1,400 votes, at most, had been cast at the six locations, bringing the total to 4,731, or still about 500 short of the mayoral tally. The afternoon rush, as people leave work, was still ahead, but between the city's unemployed and retired, the prospect of a big evening rush was slight.
All four candidates and most of their spouses and supporters were out in force, primarily at the community center and the library, ready to chat it up with any last-minute voter looking to learn more, waving signs at passing cars, and likely using every telepathic mean to encourage drivers turn in and vote. Around 3 p.m., the stream of voters into the community center looked as it it were picking up, with relatively brisk traffic in and out of the parking lot.
Polls closed at 7 p.m. at the following six locations:
Registered voters of either party and independents may cast a vote for any of the candidates at any of the following locations Tuesday:
Flagler County Public Library, 2500 Palm Coast Parkway N.W.
Palm Coast Community Center, 305 Palm Coast Parkway
Belle Terre Elementary School, 5545 Belle Terre Parkway
Wadsworth Elementary School, 4550 Belle Terre Parkway
Flagler County Schools Building, 5400 E. Highway 100
Matanzas High School, 3535 Old Kings Road N.
The absentee ballot votes will be tallied first, then the precinct votes, then the early voting ballots.