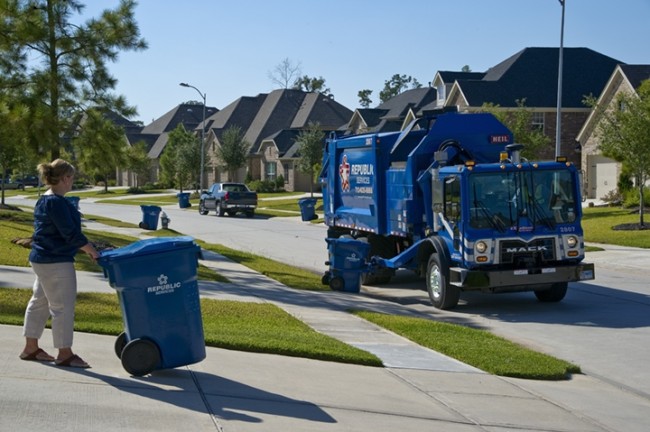 The Palm Coast City Council agenda had looked slight Tuesday, but deceptively so, and on many levels. City Manager Jim Landon was holding back several items he did not place on the agenda, a tactic he often uses. He's a controlling manager down to his handling of the council, this time drawing a sharp rebuke from Mayor Jon Netts.
One of the items Landon was holding off the agenda was an entire presentation on one of the most expensive, controversial and political issues before the city council this year: the renewal of its trash contract, which costs residents about $7 million a year—and yields the city a half-million profit.
The city's 5-year contract with Waste Pro is expiring. Landon wasn't interested in re-bidding the contract. He wanted to negotiate a 5-year extension with Waste Pro, exercising a provision of the existing contract. But a lot has changed in the trash industry in the past five years. Re-bidding might lower the trash contract and save residents money at a time when residents are clamoring for savings from government fees and taxes. After Landon attempted to skip the bidding process, a mounting public outcry that council members clearly heard forced him to backtrack and agree to a request for proposal.
On Tuesday, toward the end of a meeting well into its third hour, Landon sprang the RFP presentation on the council—what the RFP would entail, what restrictions would be in place, assuming council members would agree. The presentation included a powerpoint. In other words, it could very well have been itemized on the agenda, giving council members and the public, if not trash haulers, advance notice of what Landon intended to talk about.
There was likely another reason Landon didn't put the item on the agenda: it might have drawn a protest from future council members who, for now, may have no say in the decision. Two seats on the council will be decided in less than two weeks. One of the seats will certainly turn over: Mary DiStefano is term-limited, and will be replaced wither by Jason DeLorenzo or Dennis Cross. Incumbent Holsey Moorman is in a tough fight against challenger Bill McGuire.
Landon could have waited until after the election before bringing up talk of the trash contract, given its size and consequences. All three candidates challenging for the two seats have made government savings a big part of their campaign. They would almost certainly have had a different imprint on the nature of the RFP were they to have a say in its make-up.
Landon's maneuver on Tuesday ensured they won't, essentially circumventing the voices of potentially two council candidates who will nevertheless have to vote on a new trash contract for the next five years, come January—without having had a say on the contract's nuts and bolts.
When Landon broached the subject, his latest in a series he'd failed to include on the agenda Tuesday, Netts interrupted.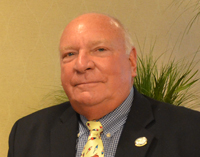 "I would appreciate in the future that these be agendaed, so I can plan," Netts said.
"Um, OK. The, um—next slide," Landon responded, surprised.
Half-way through the manager's presentation, Landon was surprised again.
"Mr. Meeker, I'm going to have to leave," Netts said, sounding annoyed and without addressing the manager as he passed the gavel to the vice mayor.
"Mayor, I've got one more real quick one, one more," Landon pleaded.
"Doesn't matter, I'm going to have to leave," Netts shot back. And he left.
So the direction Landon got on preparing the $7 million-a-year RFP was provided by a council of four members, one of whom—possibly two of whom—will be gone by next month.
Judging from Landon's presentation, the RFP is designed to give Waste Pro an overwhelming advantage while virtually all but disqualifying certain competitors.
For example, Landon is ruling out one-person, automated crews for regular trash pick-up. Yet many local governments and trash hauling companies, using new technology, have found big savings in one-person, automated crews running regular pick up on one day a week. One of those is Republic Services, one of the nation's top three trash haulers, and one of the interested bidders in Palm Coast. Republic officials have complained about palm Coast's process going back to Landon's attempt to prevent them from bidding. They are likely to complain again about the RFP's specifics, as their advantage is dismissed outright. Landon said he was proceeding on the council's direction. But the council had never vetoed one-person crews, even as some of its members—clearly, not a recorded majority—spoke against the 96-gallon trash bins that would be part of an automated system.
"I was under the impression we were going to seek one day as an alternative," Netts said during the first half of the presentation, when he was still there.
"OK, but that's alternative," Landon said. "I will tell you that there are bidders out there that will bid an automated system even with this. Now, what we're going to do is, you won't even see that. We will reject it, because it was not responsive, because if you allow them to go through the process—"
"Then you're going to get your bid protest," Netts says.
"It's not fair to the others who'll say wow, you said we couldn't throw that in, so we're not even going to consider it."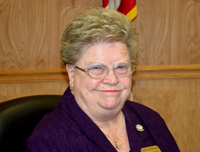 "Why do we dictate two-man crew? Why can't they make that decision?" DiStefano asked.
"If you're going to do our current system where they have trash cans that they dump in there," Landon said, "you have to have one in the back and one driving. And see, the automated system is a one-man crew."
Those restrictions will rule out innovators and favor Waste Pro while most likely keeping prices where they've been. Keep in mind that the city has no incentive to lower the price of the contract any more than the haulers do. The city skims off 7 percent of the value of the contract, generating that $500,000 a year for its coffers. Most of that money goes to the general fund, helping to offset declining tax revenue, even though it is, in essence a tax, since all residents pay trash fees. If the city were to secure a $6 million contract instead of a $7 million contract, its own revenue would fall by $80,000. If anything, the city's incentive is to have a more expensive contract. That's one of the reasons the administration has been working hard to stick with Waste Pro and the existing contract's structure.
The RFP will allow for 65-gallon recycling bins, and will call for "single-stream" recycling, doing away with residents' need to separate paper and plastic.
But the RFP, which will rank bidding companies on a 100-point scale according to five criteria, in another transparent give-away to Waste Pro, will also give 10 of those points for "local experience."
"Local experience, there's only one person that has that," council member Bill Lewis said, referring to Waste Pro.
"You might be able to give Waste Management some, they've been here in the past too," Landon said. Other council members raised no objections to the point system.
Landon also stressed that trash haulers were not allowed to lobby council members. "We think we will have a problem on this one," Landon said. "What's not fair is for one of them not to do their lobbying, tell you why you need to do this or that, because the bid or the request for proposal says they can't because they follow the rules, and someone else does contact you." Landon told council members he wanted to be informed should they receive solicitations from trash haulers, as that would disqualify the haulers from the RFP.
Landon is going a step further, as he did when he initially gathered interest from haulers before the bid approach was formalized: he is preventing the trash haulers from making any presentations directly to the council members. That's highly unusual, as other local governments, while they may object to being lobbied outside of meetings, generally welcome direct contact in public meeting for elected officials themselves to be informed and ask questions, and for the public to be privy to the selection process.
Trash haulers bidding for the Palm Coast contract, and the public paying for it, will be denied that degree of fairness and transparency, leaving it to Landon to decide which haulers make the cut and which don't. The process, in sum, appears to be a Request for Proposal in name only.