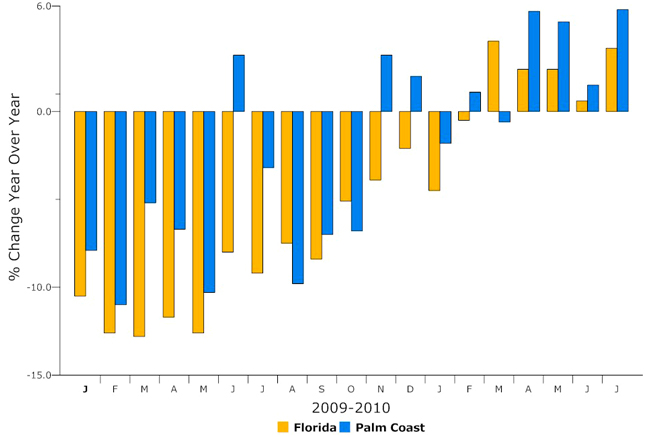 Despite its unemployment rate, which remains among the highest in the state, the Palm Coast economic region can boast of a more encouraging economic indicator: consistently since the beginning of 2009, the region's taxable sales have fared better than Florida month after month, in year-over-year comparisons. And the overall trend is significantly up since January for Palm Coast and the state, with Palm Coast ranking near the state's top-performing economic regions, at least in taxable sales.
In Palm Coast, according to July figures, the latest released by the Office of Economic and Demographic Research, overall sales were up 5.8 percent over last year, compared with a 3.6 percent increase statewide. Palm Coast's 5.8 percent increase ranks it second-best in the state after Orlando-Kissimmee, where tourism remains the leading engine of activity.
Four of six spending sectors saw an increase in the Palm Coast region–tourism, consumer non-durables, building investment and business investment. The region's retail activity index was also up significantly–4.1 percent, third highest in the state after Punta Gorda and Miami (out of 21 economic regions).
The upward trend was expected, as this year's figures are compared with last year's dismal ones. But while the improving numbers are modest, they point at least to a stabilization of the economy, rather than continued decline.
Three factors suggest some explanations for the area's health in taxable sales, going back to 2009: First, the region's high proportion of elderly residents–the only segment of society that saw its household incomes rise in 2009, according to the Census Bureau–has acted like a hedge against diminishing paychecks in the labor force. Second, it's likely that a combination of more retail outlets in Palm Coast and shoppers' decreased means for gas-guzzling trips to Daytona Beach, Orlando or Jacksonville mean that consumers are spending more closer to home. Third, Tourist Development Council figures have shown consistent improvements in bed-tax revenue, pointing to more tourism activity locally.
State figures confirm it: The $16.7 million in taxable sales in tourist-related sectors surged 17.9 percent in July when compared to July 2009, according to state figures. In June, sales increased 11.7 percent, and in May, 9.4 percent.
Other well-performing sectors were consumer non-durables and building investment. That last, a 36 percent increase compared with last year, should not be overstated: the $5.2 million in total sales compares with a $3.3 million in sales in the same month last year. To put the figure in perspective: Tourism had more than three times the sales volume in July.
The brightening picture in taxable sales has its limits when put in the context of overall state revenue. The Office of Economic and Demographic Research just released its August revenue report. It shows declines almost across the board when projected, or estimated, revenue is compared with actual revenue, for an overall shortfall of $63 million. So far this year, overall tax revenue is $71 million behind estimates, even though it's 5.9 percent better than last year's actual revenue. In sum, state tax revenue figures show are a mixed bag.