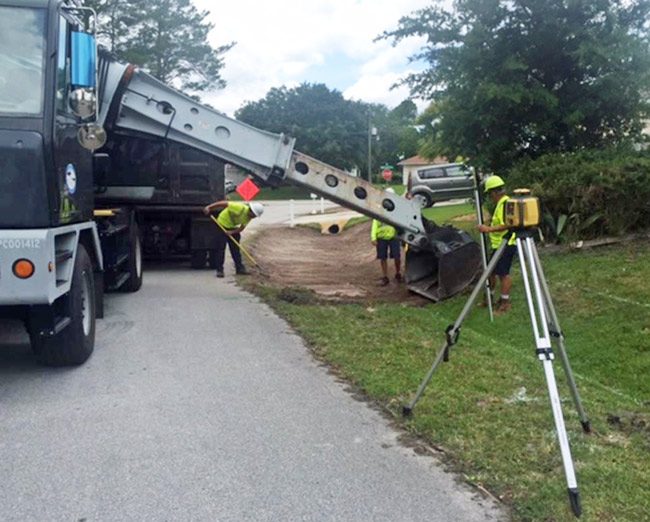 Four years ago the Palm Coast City Council approved a 46 percent increase in the monthly stormwater fee homeowners pay–from $8 a month to $11.65 a month, or $140 a year. Undeveloped lots pay $103.45 a year. Commercial properties generally pay more. The fee, supplemented in small part by property taxes and levied on 50,000 customers since 2004, generates an estimated $7.8 million this year to maintain the city's swale and drainage system, which includes some 150 miles of ditches and 1,200 miles of swales.
But the city is vastly increasing capital spending and employee costs in its stormwater operations, and is heading for deficits.
In capital spending, it's gone from $1.6 million in 2013 to $1.7 million in 2014 to $2.5 million in 2015. Proposed capital spending this year was at $2.2 million. In personnel costs, according to the city's budget, it's gone from around $800,000 in 2013 and 2014 to $1.9 million in 2015, a 1,375 percent increase, even though the stormwater management fund shows no personnel increase in 2014, an increase of just two full-time positions in 2015, and a decrease of five positions this year. Operating expenses, however, have declined from $3.7 million in 2014 to $2.6 million this year.
During a brief budget presentation to the city council Tuesday, council members were told that the stormwater fund is projecting a substantial deficit of more than $1 million a year starting with next year's budget, and growing to a $1.5 million deficit by 2012.
"One of the other issues with stormwater," Chris Quinn, the city's finance director, told the city council Tuesday evening, "unlike with our utility revenues and our impact fees, is there's no indexing for the fee, so every year we lose a little bit to inflation because the fee stays the same, it doesn't really change with inflation like our other fees, which is something else we'll be bringing in future workshops to talk to the city council about."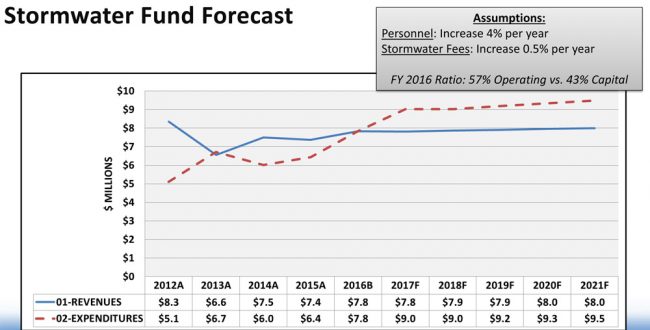 "Now this is pretty quick, next year, it looks like we're going to be in a deficit there," Steven Nobile, the council member said, indicating some concern with the projected increase. "Are we going to look at that in this right now in the budget to see how we can reduce that?" He was not favoring closing the gap with a fee increase, or at least not exclusively with a fee increase. Rather, he said, the city could rearrange its capital projects to scale back spending on stormwater.
"What we've been doing is each year during the budget process, we know that there's that gap, and we've been trying to work through that bgap during each year's budget process," Quinn said.
The city's numbers can be quite fluid. For example, it is projecting those deficits despite assuming that stormwater fee revenue will increase by 0.5 percent, based on the assumption of new customers paying the fee. But the city's 2016 approved budget puts that assumption at a 1 to 2 percent growth rate; why the graph shown council members Tuesday showed an assumption of 0.5 percent instead was left unexplained. The graph was also at variance from the current approved budget's projections, which put spending in 2019 and 2020 at $1 million less each year than in the projection before council members Tuesday evening. Absent that $1 million difference, the deficit is virtually erased. In other words, if the graph shown council members Tuesday evening had reflected figures their own current, approved budget reflects, there would be almost no deficit.
Last year stormwater operations rebuilt 55 miles of residential swales and 366 miles of drainage ditches and cleared 4,100 residential culvert pipes, among other initiatives. "Several public presentations were made and numerous one‐on‐one discussions were conducted with residents to increase their understanding of the functionality of their own neighborhood stormwater system," the city's budget document states. "As a result of this proactive program, our city Customer Service division feels that the number and intensity of swale complaints have decreased."