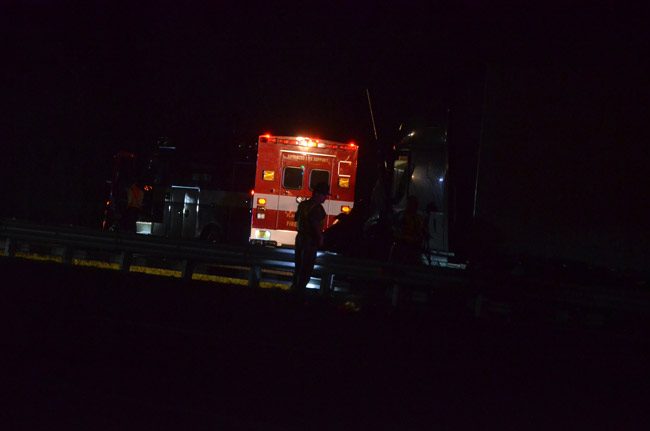 The previous time Matanzas High School student Kobi Kane was before a local government board was as a student school board member, sitting through a four-hour workshop a month ago. When she finally got a chance to speak, she described how the loss of fellow-student Michelle Taylor to a collision with a dark on a dark Palm Coast street the previous week had affected her school, and how it had clearly affected her: she broke down and wept.
Kane did not leave it at that. In addition to the many responsibilities of a top-achieving senior, she's been part of an effort to get something done about more street lights and more sidewalks in Palm Coast. This evening, she appeared before the Palm Coast City Council with fellow-student Michael Delgado to present the Matanzas School Safety Committee's research, analysis and requests to the council for some action. The research included a survey the team conducted online, and facts about traffic fatalities and injuries involving pedestrians
"After a traumatic and recurring increase in traffic related injuries and fatalities in Palm Coast, it became necessary to take action," Delgado said, alluding to the Taylor fatality, and likely that of Kelvin Smith, the 16-year-old student killed weeks earlier on a dark section of Old Kings Road by a hit-and-run driver, as Smith rode his bike.
"We wish to emphasize the urgency of the insufficient lighting on streets, sidewalks for pedestrians, and knowledge of traffic safety," Delgado continued. "These issues should be a concern for all citizens of Palm Coast, and they need to be prioritized."
"That means lighting and sidewalks are very, very much needed," Kane added.
The students' safety committee was formed in March, meeting twice a week, drafting a petition publicly accessible online, along with an open-ended online survey, to which some 100 people responded. Some responded with the word "everywhere." Lakeview Boulevard, where Taylor was killed, has stood out for its darkness in the students' research.
The committee members asked for a review of all streets with bus stops or places with heavy foot traffics. They asked for pathways and bike paths along more roads, among them Old Kings Road, "so cyclists and pedestrians aren't always in a dangerous position when traveling." And they asked the council to consider a traffic-awareness education program. (A team of Future Problem Solvers last year produced a video and a presentation called "Street Talk" geared at younger students along the same lines, emphasizing bike and pedestrian safety.)
"For our suggested next step I guess we would probably should have began with the approval and support from the council as we move forward, and we would also like to collaborate with you as well," Kane said, with a "dependable" timeline enabling students, City Hall and the public to review the plan. "We would like to remain involved and have as much input as possible, because we believe as citizens we should all have a voice."
The students had during their weeks of research approached City Manager Jim Landon about their concerns and their plan to make a difference regarding street safety in the city, including the involvement of the council. This evening's presentation was their latest, but by no means last, step.
"This could not have happened without this immediate reaction to a very unfortunate incident that took place in our community," Mayor Milissa Holland said, "and I really want to thank you for your advocacy and your approach to this. I know this council has taken your words very seriously." She said the city has already taken steps with its continuous lighting program designed to illuminate currently dark streets. The program was halted for years, ostensibly because of the economic downturn (though the city has spent lavishly on beautification through those years).
While no actual lights are going up as part of the program just yet, the city is starting with the hiring of an engineer for that program ahead of designing the approach and prioritizing streets.
The students acknowledged the resumption of the program, but stressed that much else needs to be done. "We want to again point out the urgency of the situation," Delgado concluded to the council, again