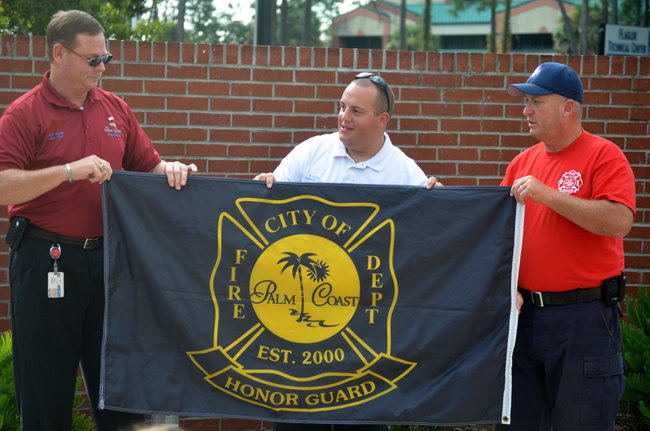 On Sept. 11, 2011, John Pickard, now member of Palm Coast's fire police, was a firefighter in Mantua, in the southern part of New Jersey. He spent many a subsequent day at Ground Zero in Manhattan with other firefighters, excavating the remains of what had been the World Trade Center's Twin Towers.
"Unfortunately we all went up there thinking we were going to do rescue. But there was no rescue. It was pretty much all recovery," Pickard recalls a decade later.
Pickard now is part of the 9/11 Foundation, a Leesburg, Va.-based non-profit that raises money to provide scholarships for the children of first responders and provides assistance to first responders when its members are able.
Eight weeks after the attacks, a large group of first-responder motorcyclists rode from the White House to Ground Zero as part of a memorial that placed 1,000 roses there, and to donate money. The ride became a symbolic, annual event. The following year, riders traveled to the Pentagon, the crash site of United Airlines Flight 93 in Shanksville, Pa., and Ground Zero, and have since carried out 10 rides into Ground Zero. The riders have also gone to other disaster sites, including Joplin, Missouri, in June, to help in the clean-up of a murderous tornado there, and to New Orleans in the aftermath of Hurricane Katrina.
Pickard himself was part of the latest ride to Ground Zero a few weeks ago. He took with him two Palm Coast Fire Department Honor Guard flags and two American flags and flew them there, as well as at the Shanksville site and at the Pentagon.
Friday morning, just after 9 a.m., in a modest ceremony at Heroes Park, Pickard presented the flag to Palm Coast Fire Chief Mike Beadle and firefighter Patrick Juliano. "The purpose of the ride itself is first of all to memorialize all the folks that were killed in the towers, all the first responders and firefighters that were also killed, and we also don't want anyone to ever forget the tragedy that happened," Pickard said.
For firefighters, Pickard said, going to Ground Zero is like going to the Vietnam Memorial wall in Washington for Vietnam Veterans. "It's the same effect. Ground zero is like a healing thing," he said.
The flag will be displayed at Palm Coast's Fire Station 24, next to a piece of steel from Ground Zero dedicated to the fire department from the Fire Department of New York retirees of Central Florida. "So this will go with it as part of our collection of stuff from September 11," Juliano said, "because as you know, being in Palm Coast here there are a lot of people from New York and New Jersey, a lot of people that were affected by these events. It's our part in never forgetting."
Juliano himself was 16 and living just north of New York City on 9/11. That day he was skipping school to go into the city: he'd landed tickets to the Conan O'Brien Show for the first time. He was moments from heading out to catch a train when the attacks happened. He never made it into the city that day, of course, as all major transportation links were shut down.
Friday's presentation of the flag at Heroes Park is a prelude to Palm Coast's commemoration of Sept. 11 next Sunday, the 10th anniversary of the attacks. That ceremony will take place at Heroes Park at 8:30 a.m.
Charlotte Marten reports:
---
[media id=244 width=500 height=400]