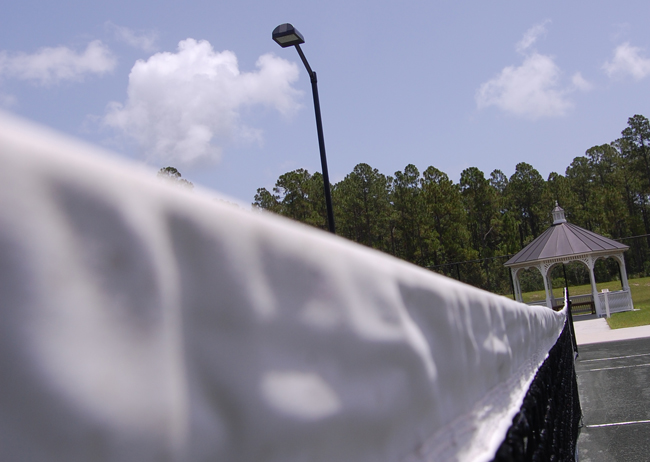 Note the correction on the proposed tax rate as opposed to the TRIM rate.
The Palm Coast City Council held its final budget workshop Tuesday before turning over the resulting blueprint for next year's tax and spending plan to the public in a pair of September hearings. There's been surprises in the past, but the hearings are usually poorly attended and more of a formality where the council adopts the budget in two votes.
The coming fiscal year's version calls for holding the line on taxes. The notice taxpayers will receive in the mail–the so-called truth in millage notice, or TRIM) will show the city's tax rate increasing to 4.5 mils, or $4.5 per $1,000 in taxable value. That would be up from the current rate of 4.2958, and works out to a $20 annual increase for a $150,000 house with a $50,000 homestead exemption. (The median price of a house in Flagler County is currently $155,000.)
But in fact, the council has agreed not to adopt that rate. It set the 4.5 rate to give itself room to negotiate with itself on the way to a final vote, but two weeks ago the council agreed to set the tax rate at 4.27 mils, essentially adopting the so-called rolled-back rate, which means that the city will take in the same amount of money next year as it took in this year.
Tax rates are not as significant as property values when calculating one's tax bite: property values are still considerably lower than they were in 2008, so overall, while tax rates are higher than they were in 2008, the final bill will be lower than it was at the height of the housing boom, at least for most. (An earlier version of this story incorrectly took the TRIM rate as the proposed rate for next year.)
Three-quarter of the revenue will be spent on police and fire protection. It will also swell city staffing back to 393 positions, from a low of 382 this year. Staffing peaked in 2009, at 436. (See the full budget presentation below.)
There was little to no disagreement about the budget in the council's lengthy meeting today, but there was ire, because the new budget continues to subsidize two operations that have been deficit-ridden from the time they were started, and that will continue to be deficit-ridden in the near future: the city golf course, and the city's tennis center. The two have combined for a deficit of $150,000 this year. Last year the tennis center alone had a deficit of $120,000, and the year before that, $140,000. Council members took heart that the trend, at least, is improving. But improvements have not been so convincing as to stop the public grumbling.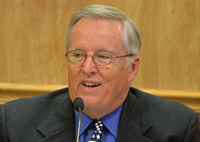 "I take a terrible beating over this golf course every year," council member Bill McGuire said. He assured his colleagues that he wasn't pretending to be a golf business whiz, "but what I am saying is that the history, year after year of this golf course, shows that it's sucking money out of the revenue. If there's no way to change that, then we either accept it or go in another direction."
"The golf course this year in particular has been hit pretty heavy by the weather that we've had, and this year was the rain. They've made quite a few strides in cutting back on their budget," Chris Quinn, the city's budget director, said, but not enough to erase a $50,000 gap. Next year he says the golf course is expected to break even. At least according to predictions put forth by Kemper Sports, the private company the city hired last year to turn around both golf and tennis operations. But the administration warns that it's still a guessing game. While the golf course will lower its expenses by close to $100,000 next year, it is also projecting lower revenue by an equal amount.
"But the weather that we experience isn't atypical," McGuire said. "What's the best year te golf course has ever had. In terms of not losing money?"
"It hasn't had it yet. We've come close," Quinn said.
The weather hasn't been unusual in any of the years he's lived here, he said, "so is our budget overly aggressive in terms of how well we think we can do?"
"It has been," Jim Landon, the city manager, said, explaining the reasoning behind the nearly $100,000 decrease in expected activity next year. He put the numbers on Kemper's back.
"People complain, complain, complain," council member Bill Lewis said. "If you were to get rid of the golf course they'll still complain because it'd be a different type of person complaining then."
"I'm not suggesting that we should get rid of the golf course," McGuire said. "We pay a management company to manage this in a way that won't be a negative impact on our budget, and I sometimes wonder: we held their feet to the fire down at the tennis center and said OK, I want to see a recovery plan. They came and presented a seven year plan and said in seven years we're not going to be losing money anymore. All I'm saying is that if you're paying a management company to manage it, at least from the standpoint that you're not going to lose money, what's their plan?"
Lewis suggested that Kemper Sports should be summoned to the council to answer questions and present a break-even analysis. That's what will happen.
"If they can come in with a plan for a break-even analysis , I'd like to see it. If they're just going to come in and pump some sunshine, I could live without that," McGuire said.
"If they tell you they can guarantee you they've got a plan to break even, they're thumping you sunshine," Landon said.
McGuire isn't asking for a guarantee. He wants to see a better trend. Landon defended Kemper, saying they're struggling just as other golf courses are struggling. When McGuire suggested perhaps raising the price of a round by a few dollars, Landon countered that patrons would react unfavorably.
"It's going in the right direction, it's just not where we want it to be," Landon said of the bottom line at the golf course. "You need to keep sending that message to Kemper. We tried. I don't think you back off that message and say these numbers are acceptable. That's not the right message. They need to continue to try to make those numbers balance."
For the tennis center, the break-even point is not expected before 2018.
"Do we have any more confidence in the management of the tennis center than the golf course?" council member David Ferguson asked.
"Don't have a good answer for that one," Landon said. "Neither one of those is where we want it to be, so it's a matter of trying to continue to make improvements. We feel like they're headed in the right direction." The city manager said the tennis center should get one more year under its belt, "and if they don't really see progress then I think we need to go in a different direction on tennis."