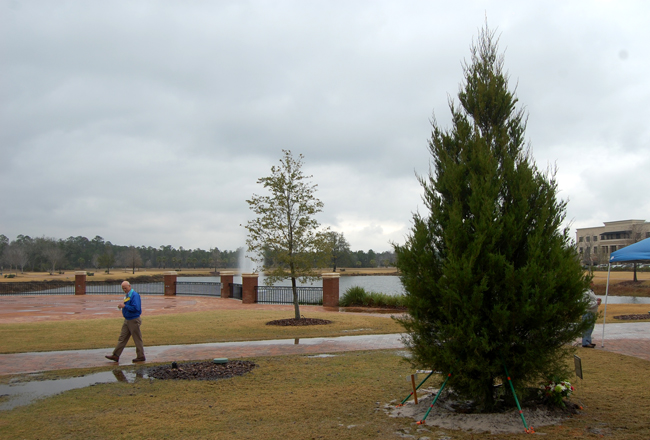 It was a brief, moving ceremony by the Palm Coast Garden Club at Town Center this morning, marking Arbor Day with a pointed invocation by Don Scott: "We apologize that we often mess up this planet and do not care for it in the way you meant us to, but we are grateful to celebrate this Arbor Day together."
The Garden Club was commemorating the annual occasion with a tribute to seven of the club's members who died in 2010—a particularly grief-ridden year for the club, as many of those members had been among its founders 36 years ago—and the dedication of a new, stately southern redcedar that will become the focus of the city's annual Christmas-tree lighting celebration. The club bought the 18-foot redcedar for $325 from a nursery near Tampa. The city paid for the shipping ($300) and got it in the ground, and under a damp gray wintry sky this morning, club President Kathleen Terlizzo, Arbor Day Chair Bob Tabit and others dedicated the tree.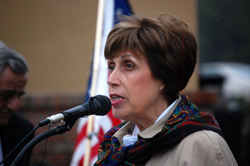 Tabit read a quote from William Saroyan that echoed the very sentiments of J. Sterling Morton, founder of Arbor Day almost a century and a half ago. The day, given over to planting trees, is "the only anniversary in which humanity looks futureward instead of pastward," Morton, a celebrated journalist in the Nebraska of the mid-1850s, had written. Tabit's Saroyan quote read: "In the time of your life, you live so that at that wondrous time, you shall not add to the misery and sorrow of the world but shall smile at the infinite delight and mystery of it… as it is lived."
The dedication, before some 30 people, including a contingent of city council members and the city manager, was wrapped in the poignancy of remembrances for the seven recently deceased club members: Hilda Gottwald, Tom Foy, Donald Pierce, Jim Miskelly, Laura Pierce, Joan Holzschuh and Jim Wilson.
Holzschuh, for whom a mass was celebrated at St. Elizabeth Ann Seton church just last Saturday (Jan. 15), had moved to Palm Coast in 1990 with her husband Bob, who died in 2008. She was visiting one of her children in Egypt as part of a tour of the Holy Land when, the day after Christmas, her tour bus was involved in a devastating crash. She was one of eight Americans killed.
Several people spoke about their late club members, especially about Laura Pierce, whose dynamism and embrace of all things green and bright elicited the fondest emotions.
"We moved in in the beginning of April, and my neighbor across the street came running down with a flier and said, 'Welcome to the neighborhood, but you have to come to the Flower Show. I mean, I barely knew Palm Coast, let alone the Flower Show. But she got me involved and consequently got Bob involved,  and we've both been involved in the last seven years in the Garden Show. So thanks to Laura. I know she did this with everyone. She extended herself to everyone in the neighborhood, everyone in her church," and of course everyone in the club.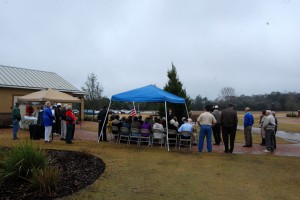 "This is what makes a community," Butler said, remembering the now-defunct Christmas tree-lighting ceremony that used to take place at the Palm Harbor Shopping Center (itself an almost defunct shopping center these days), and speaking of reviving that tradition at Town Center. The Garden Club's gift was good timing. It's the first redcedar in all of Town Center.
Arbor Day predates Earth Day by several decades. J. Sterling Morton (1832-1902) was A Nebraska pioneer and journalist—a one-man blogger in print, as the trade used to go—who moved there in 1854. He was interested in farming and forestry. He thought Nebraska needed more trees and started advocating for tree-planting days. President Buchanan is one of the more forgotten and clueless presidents in the Union's history, but one of his more consequential acts was appointing Morton secretary of the Nebraska Territory in 1958, giving Morton's ideas more heft. His tree-planting zeal spread through American schools, seeding Arbor Day, which now falls on different days in different states, and has spread to other countries. In Florida, it's always the third Friday in January.
"We remember," Scott's invocation went on about trees, "that they give shelter to birds and other animals and to us, and they give life-giving elements to all of us. Bless the trees around us today, bless this tree that we are about to dedicate, and help us to remember our responsibilities to your earth, and we dedicate these trees to the memories of our members who have gone before us."