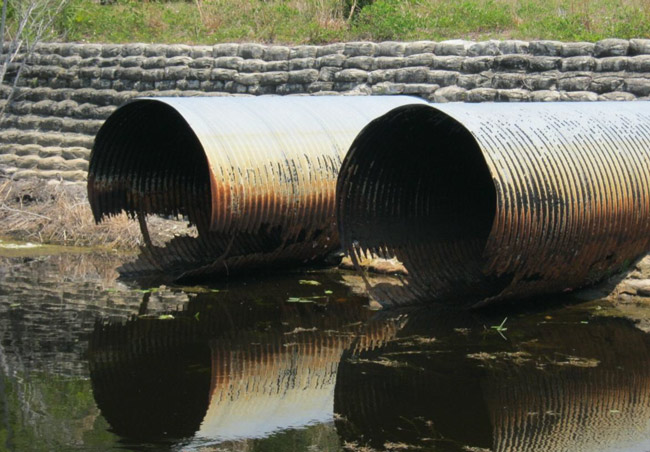 Last Updated 3:35 p.m.:
If the Palm Coast City Council was expecting a storm of opposition this morning to a proposed new fee that'll soon appear on electric bills, that opposition did not materialize. A half dozen people did address the council, most of them in opposition to the proposal. But the turn-out was nowhere near the sort of groundswells the council has faced in recent years over, say, the Bulow Creek development at the southern end of the city, or the way Palm Coast used to charge Grand Haven residents a stormwater fee those residents argued–successfully–they shouldn't pay.
Today's proposal was directly related to that $8-a-month stormwater fee most residents are paying through their water bill. The city is abolishing the fee, because it considers it unfair: it applies unevenly to residents and businesses. But the city must have enough money coming in to meet a $7.5 million budget for stormwater improvements: that infrastructure of pipes and swales and culverts is deteriorating fast. The city must also have a financing mechanism in place to pay for $14 million in debts it took out over the past few years to pay for stormwater repairs. So it's arguing that it really has no choice but to find new fess and taxes.
Tuesday morning, the council approved the first, big step toward securing that revenue, voting unanimously to add a 6 percent "utility franchise fee" (which will be no different than a tax) on electric utility bills. That'll add, on average, $6.27 a month to monthly residential utility bills. The fee is charged to the utility–in this case, Florida Power and Light–but passed directly to consumers. The agreement the council approved with Florida Power and Light will be in place for 30 years.
It's only half what the city needs to meet its stormwater obligations, assuming a $7.5 million annual budget. The council, on a 3-2 vote, defeated a city administration recommendat6ion to also add a 2 percent utility tax on electric bills. That tax would have cost the average household an additional $1.32 a month.
There was not much opposition in the audience, but what opposition turned out was forceful and pointed.
"I've sat here and I've listened, and I truthfully, in all candid, tell you, I have never heard anything so convoluted in my life, so fractured, so diverse, and so punitive to your citizens," Vince Liguori, a tea party leader who was closely involved in the incorporation of the city 13 years ago, told the council. "I fully recommend that you shelve any consideration of voting for this today and go back to the drawing board. It was evident by your discussion, there's a lot to be determined."
Liguori continued: "You've graced the residents of Palm Coast for 10 years without implementing this nonsense. You say, well, other cities do it. Are you content to say, well, I'm going to follow that city. No. Be a leader, and do the right thing for your city."
Liguori ridiculed the city's newfound urgency for a new fee as he reminded the city that just last year it had found $10 million to build a new city hall, and that its stormwater infrastructure needs were not unknown in previous years. "Does this mean down the road that you're going to have a new tax for resurfacing? It certainly looks that way," he said.
Dennis McDonald was equally cutting. "It doesn't seem to me that any of you guys have got this thing worked out as to where it's going to come from or to how it's going to happen," he said. "It seems as if this thing has been a workshop this morning more than anything else. If you want the public to support this, then what needs to happen here is, this thing needs to be fully explained to the public before any new tax is added. I would like to comment on Mayor Netts's, what he had to say here today, that you're going to enact today and adjust later. Well, to me that sounds like something we've heard way too often from Washington, D.C. As a matter of fact Nancy Pelosi comes to mind on that one."
He called the new proposal "a perpetual tax" that will never go away. He's right: Netts himself had said the very same thing the previous day during a meeting with the county on the sales tax referendum under discussion. Netts said that once a tax is on the books, it doesn't go away, and residents don't expect it to go away.
The first vote is not the final one: it was only the ordinance's first reading. It must still be approved on second reading, in two weeks, when the council holds an evening meeting: those meetings tend to be better attended than morning meetings. But the council's unanimity suggests strongly against a reversal, even if more opposition is mobilized.

Palm Coast's Plan on Replacing the Stormwater Fee: Download the Presentation