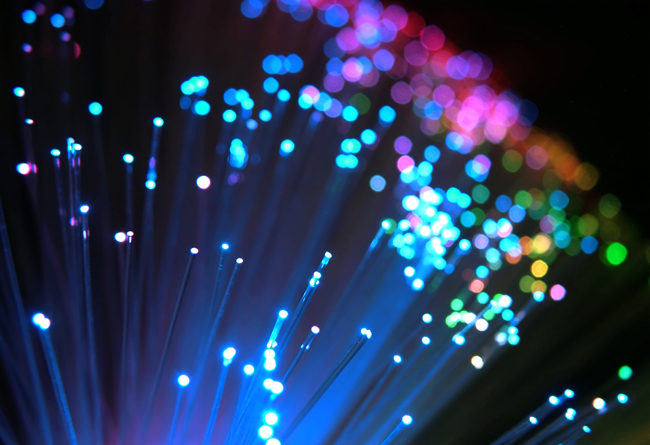 When Palm Coast needed extra capacity for its communications network five years ago, the city decided to connect its 21 properties with a broadband, fiber optic network that would speed up communications by immense orders of magnitude.
It really is immense: Your best phone-based DSL connection will get you speeds of 1.5 megabits per second, or capacity for the equivalent of 24 simultaneous voice channels. It's good, especially for home use. But it has its limitations when it comes to, say, video conferencing. A fiber provides 2 to 2.5 gigabits per second of capacity, or the equivalent of 32,000 voice channels. Put another way, your best 100Mb/s connection (such as your residential broadband at home) would let you download the entire contents of the Library of Congress in about two weeks. A fiber optic connection would download it all in about a minute.
Palm Coast's broadband system is in place, connecting 20 of the city's 21 properties (the hold-out is a water plant).
On Monday, the city is opening up its fiber optic network to private business. Those services exist already. But broadband provided entirely on private fiber is prohibitively expensive. Palm Coast's network serves essentially as subsidized broadband: It's in place, the city administration reasoned, and it's underused. Might as well let the private sector benefit from the capacity and possibly use it to spur business activity. "It shows that Courtney and his crew were really forward thinking," Palm Coast Mayor Jon Netts said, referring to Courtney Violette, director of Palm Coast's information technology department.
It's not quite the first time in Florida that a local government's broadband network will be made available to private companies: Leesburg owns 140 miles of fiber optic cable, which it began installing in 1987. It uses the network to provide communication and Internet service to the Lake County schools, Leesburg Regional Medical Center and some area businesses.
To be clear: Palm Coast isn't going into the Internet business. It's merely granting Internet providers access to its broadband network. The providers, who'll pay Palm Coast a fee for using the network, in turn will be able to offer broadband service to businesses in geographic areas lined with fiber optics. Those areas include Palm Coast Parkway, Belle Terre Parkway, Town Center, State Road 100 and northern portions of U.S. Route 1.
"So if you're a business in those areas and we can get to you, then you're eligible to connect to the network," Violette says.
Two providers have signed on to offer the service: Lux Communications, which has offices in Palm Coast and Miami, and Palm Coast Internet.
"A lot of the businesses aren't even aware of this fantastic asset that's available to them right now, today," says Rob Beach, president of Lux Communications. "We're not going to be going live immediately, we're going to make sure that everything we put in is absolutely solid and redundant before we start with our first customer."
Speed alone isn't the advantage. For many subscribers, a basic 2 to 5 Mb/s connection will suffice. But for businesses, reliability is key. Fiber optic networks are underground, they tend to be far more reliable, and enabled with far more redundancies, or back-up systems, than traditional DSL and cable modems. Fiber networks are also less prone to weather-related hazards.
Violette says the city has 40 miles of fiber in place, with an additional 10 to 15 miles scheduled for this year. (The city's information technology department is financed by its own fee structure, like a business. Unlike several other segments of Palm Coast's government structure, IT is making money this year, bringing in almost $800,000 more in revenue than budgeted. Fees paid by Internet providers will increase revenue further, enabling further expansion of the fiber network if necessary.)