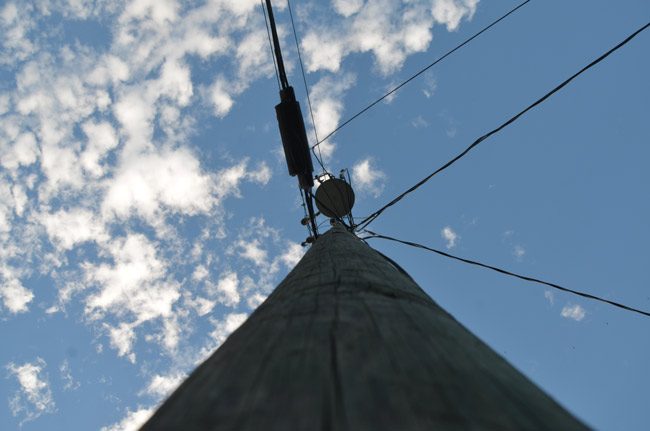 In Palm Coast, they're among the most-frequently asked questions relating to electric power: why aren't there more street lights, and why aren't more power lines run underground?
The Palm Coast City Council contended with both questions Tuesday. The short answer on the first is that more street lights are on the way. Florida Power and Light's Larry Volenec, the company's external affairs manager, provided the longer answer to the question about underground lines, which can nevertheless be summed up this way: it's complicated, it'll take time, it's not a given that your neighborhood will get there–but the local government can leapfrog those complications if it is willing to pony up the money and assume the cost of conversion itself.
But it's expensive–more expensive to operate an underground than an overground system, and more expensive to convert one. Conversion costs run from $500,000 to $4 million per mile. Volenec later specified that "it's $1 million a mile, on average." More if the system has been "hardened."
And city ratepayers or taxpayers would have to assume those costs, just as they are seeing all their utility bills increase significantly.
"And we maintain 1,222 miles of swales, so if you think about that number, that's astronomical," Mayor Milissa Holland said, referring to the more than 500 miles of street frontage.
Almost 40 percent of FPL's distribution lines are now underground, and two-thirds of all new homes and businesses are getting their power from underground lines, as do all new developments in Palm Coast have underground power lines. Clearly, it's the way the company and the industry are headed. As utilities see it, it improves reliability and aesthetics, going from poles and wires to "cabinets" at roadside and "padmounts" in yards–those oversize, gray, suitcase-looking blocks you may see in shoulders along the road.
But that's for new development, not existing developments that may want to convert.
Residents typically ask why there aren't more underground lines during and after every major storm, when power fails. Council members asked the questions during a workshop with FPL officials Tuesday at City Hall, and pondered whether it's worth going the conversion route. What they heard did not particularly enthuse them: it sounded like a better deal for FPL than for the city and its taxpayers, as it shifts a substantial capital cost from FPL to taxpayers.
FPL used the occasion to present its own program that's giving local governments "incentives" to essentially buy into a conversion program–with local governments bearing the upfront capital cost. "Once you go through this conversion process there is no further cost, we maintain the system in perpetuity," Volenec said (though in that sense it's no different than what the utility does, and is responsible for, with the near-entirety of its power line network.) It was never clear what the incentives were for the city.
And more precise dollar figures than broad ranges were missing from FPL's presentation even though the utility knows what it costs to convert, say, a mile of lines in a subdivision as opposed to a line of miles along a commercial strip, and so on. "FPL provides non-binding ballpark estimate" for each project, the company says, and the local government must pay for the conversion.
The priority for the city, as Holland sees it, is safety: how to diminish power failures when the elderly and others in the city depend on electricity for their health, and how to diminish recovery costs to the city after major storms.
Before getting to that step, FPL implements what it calls its "storm-secure" approach. It's a four-step process. That includes "hardening" utility poles by making them more wind-resistant, clearing trees branches around utility lines in such a way as to complete 75 percent of all needed clearing by the time hurricane season starts, inspecting all poles on an eight-year cycle, and exploring overhead-to-underground conversion. "It is a higher cost to bury the facilities," Volenec said. "Underground is great, I love the way it looks, but when you have a failure of the system there's multiple modes of failing." It takes longer to troubleshoot and it can be more difficult to get repairs done.
There have been flooding issues. "We have had an issue with flooding for underground facilities," he said, with certain areas having to be "de-energized" so water levels could drop before the power could flow again. "If you have areas where there's saltwater, it's a big challenge, we've had storm surge and saltwater. Saltwater in electrical equipment–freshwater isn't good, saltwater is much worse."
There can be lightning issues, which can affect underground lines. Failures can also be induced by contractors working and "nicking" lines below.
Another complication to keep in mind: even if FPL were to bury its lines, that does not include burying those of your phone company, your cable company, your internet company or any other utility that may be using the poles and the right of way.
There's also the matter of 5G technology. That's the next generation of wireless communications, enabling much larger data transfers quicker, more cheaply and more efficiently. (Verizon and AT&T are just now deploying 5G networks.) But the system depends on much smaller data-encoding "sectors," which means more antennas, though not necessarily nearly as high. Telecom companies want to be able to use right-of-way utility poles to install their 5G equipment. Florida law now lets them. And there are such things as "smart city pole systems" that combine light poles with wireless technology and other equipment mountable on the pole, including surveillance cameras.
FPL does not allow that type of access at all. That includes running broadband such as Palm Coast's Fibernet on FPL's equipment.
"We are working on a smart-pole offering that will allow smart-city attachments that we would provide," Volenec said. "Currently we don't anticipate to have anything that would allow municipalities to attach their own smart-meter equipment to our poles."
That lack of versatility is not good news for Palm Coast City Council member Nick Klufas, who has a big vision for the city's technological future. "That plays largely into my decisioning though about trying to ensure that we have the most opportunity for this equipment that we're going to be purchasing as far as the poles," Klufas said. "We really need to consider the option of buying our own poles upfront, having our own streetlights and we own the pole, and then we are just servicing with electric."