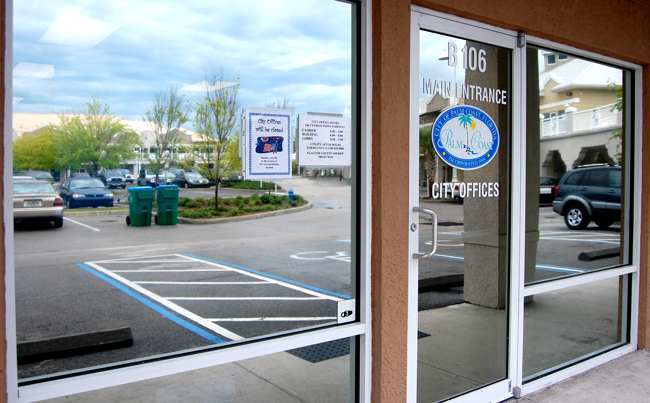 There may be many reasons to argue against Palm Coast's plan to build a $10 million City Hall in Town Center. But two of the city council's and City Manager Jim Landon's reasons for a new building are inarguably compelling: economics and aesthetics.
First, as federal stimulus dollars dry up and the state continues to cut spending, and with the private sector on the verge of a double-dip recession, local government spending in the next couple of years will be necessary to keep economic activity going. A $10 million construction project isn't grand (Belle Terre Boulevard's four-laning was $26 million). But it's part of what government can do to provide jobs and keep money circulating. The city's plan to build city hall in Town Center is another effort to anchor an economic engine in that area. About half the city's 420 employees would either be located there or would be in and out of there, generating economic activity of their own as smaller businesses such as restaurants would cater to their dollars.
Second, the city's main offices, spread over six storefronts on the ground floor and refurbished offices on the third at City Walk, are ugly and unbecoming of the county's biggest city. They're cramped and unwieldy for its employees. And they're not much more attractive for residents who need to do business with the city, though they're by no means inconvenient for residents. As a location, City Walk is more central than Town Center would be, parking is ample (thanks to empty storefronts all around), and the city's customer service is efficient and accommodating, making aesthetics virtually irrelevant from a transacting resident's perspective.
Residents don't see the cramped conditions behind the scenes, and likely don't care: Flagler County's government is housed in a palatial, 125,000-square-foot ode to ostentation in Bunnell (the county shares those offices with the school board and lends a suite to Bunnell). From residents' perspective there's no evidence that Flagler is better run than Palm Coast, though it's definitely more expensively run: county residents (including Palm Coast's) will be paying for the $65 million bonds they approved in 2004, to build the new government center and courthouse, until 2035 ($27 million went to the government administration building proper).
Palm Coast's main offices take up 21,000 square feet at City Walk. Here's one of many ironies: Roughly 150 of the city's 420 employees work at City Walk. About the same number of county employees work in their Versailles. So county employees have three times as much square footage to work in than their city counterparts. It shows. There are enormous offices, empty offices, high ceilings, and parts of offices that evoke the Great Plains in the county building. The city's offices at City Walk are a closer approximation to office space in Tokyo, where square footage is at a premium. Of course, the city could expand: it's certainly not lacking for space at City Walk. But the strip mall's office space is limited, and the administration isn't keen on taking up more storefronts.
A visit through the city offices with Palm Coast's Marsha Lidskin reveals the extent of the city's cramped feel. It's not a physically oppressive space by any means, but it's tight. One office space, if you can call it that, is emblematic—that of Bill Butler. Butler is the city's landscape architect. He's the guy in the trenches, realizing the city's airy, greenish feel wherever possible. His office is a cubicle smaller than most inmates' prison cells, perhaps six feet by six feet at most, though the space is narrowed by stacks of documents and rolled-up designs that have no storage space.
Cubicles like Butler's are stacked up against each other in several rooms on both floors of the city's space as if in a spoof of swarming office life, except it's no spoof: this is where engineers, customer service representatives, planners, urban foresters and whoever and whatever else it takes to run the city do their work. They even have an "overflow room"—a salad of workers from several departments who couldn't fit in their respective rooms, and who found cubicle space in overflow.
Some spaces are airier than others, but not by much. The entire city manager's suite, including Jim Landon's office, his conference room, the reception room and an office for the mayor and city council members (who all must share that office, if and when they're there) could come close to fitting in a single office in the county building. That's not an exaggeration: The school superintendent who pre-dated Bill Delbrugge, and who drew his own plans for his office in the county administration building, designed an enormous executive office that originally included a spiral stairway and its own bathroom. Those two items were junked as excessive (and the grandiose superintendent left town before he was fired). The size of the office itself remains. Delbrugge used it as combination office and conference room, and shared it with one, and at times two of his deputies.
The city moved into its City Walk space in November 2008 to make room for Palm Coast Data, which wanted the city's old, and very roomy, building on Commercial Drive. Palm Coast is paying $20,000 a month for its 21,000 square feet at City Walk, which happens to be in foreclosure. The city's lease runs out in November 2011. Landon devised a plan that would have the city move into its new city hall in Town Center by the end of 2012, which would entail at least a lease extension at City Walk.
There's no question that the city's move away from City Walk would bludgeon what businesses have set up shop there. And many other questions and concerns about the city's move are being raised, especially as the city appears intent on hurrying to the blessing phase of the project and beginning engineering and construction. It's a controversial proposition, and council members are well aware: their narrative rationale of the project is more defensive than enthusiastic.
The controversy will—or should—play out in the weeks ahead. But in at least those two regards (government spending and a city hall worthy of a maturing city), Palm Coast makes a strong case to convince residents that it's worth doing. The photo gallery below illustrates it, almost room by room and cubicle by cubicle.
For all that, residents in a city with one of the country's highest unemployment rates may still react with an understandable shrug: at least those workers have jobs, and relatively well-paid jobs at that. A plea for roomier office space in a remorseless recession may seem more dissonant than realistic.
[nggallery id=23]