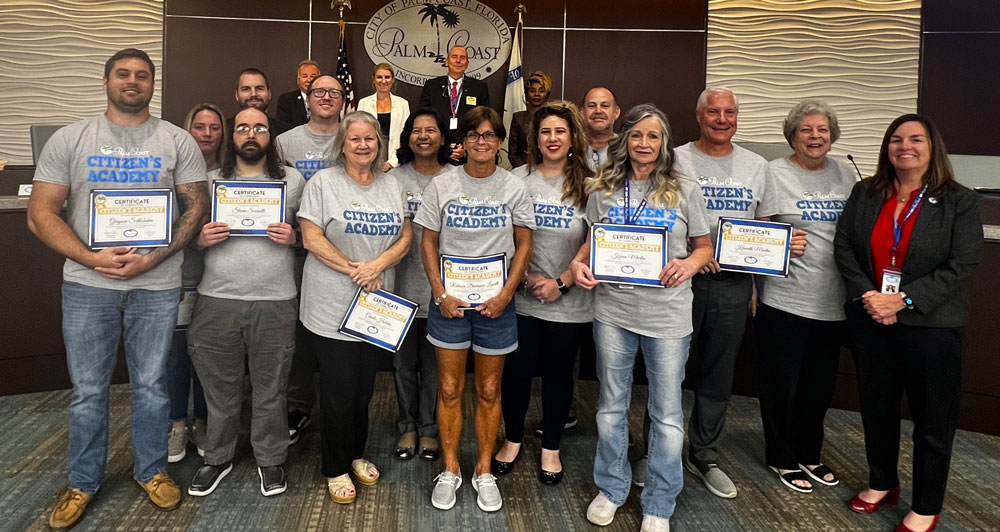 Fourteen Palm Coast residents graduated from the 54th session of the Palm Coast Citizens Academy on Tuesday, November 7th, at the City Council meeting.
This session of the Palm Coast Citizens Academy began on September 25th and completed on November 6th. The graduates include Rebecca Durrance Leavitt, Kenneth Martin, Richard Cooper, Shara Brodsky, Corinna Martinez, Karen Martin, Carole Holden, Joe Devita, Greyson Schlobohm, Linda Constantine, Christopher Kolega, Samantha Rizzolo, and Steven Scarselli.




The Palm Coast Citizens Academy is a comprehensive program intended to educate residents on the inner workings of the City government. The course is free, but registration is limited to 30 participants per session. This in-person, seven-week Citizens Academy is offered twice yearly – an evening option in the Spring and an afternoon option in the Fall.
The academy is organized and facilitated by the City's Communications & Marketing Department. Each session takes participants through an in-depth look at City departments, including Utilities, Stormwater & Engineering, Financial Services, Parks & Recreation, Community Development, Public Works, the Fire Department, and more! Along the way, participants also interact with members of the Palm Coast City Council, the City Manager, City Directors, and City staff.
"This program holds a special place in my heart, as it symbolizes our commitment to an informed and empowered community," said Palm Coast Mayor David Alfin. "I invite every resident to join the Citizens Academy to gain a better understanding of the inner workings of our city and engage with their local government."
For those interested in joining the upcoming sessions of the Palm Coast Citizens Academy, registration is available at palmcoastgov.com/palm-coasters/citizens-academy/register. For more information, please contact the Communications and Marketing department via email at [email protected].
For residents who cannot attend the in-person Citizen's Academy, the City offers a Virtual Citizen's Academy at palmcoastgov.com/palm-coasters/citizens-academy/virtual. The Virtual Citizen's Academy includes an overview of the City government and separate modules on each of the City's departments.