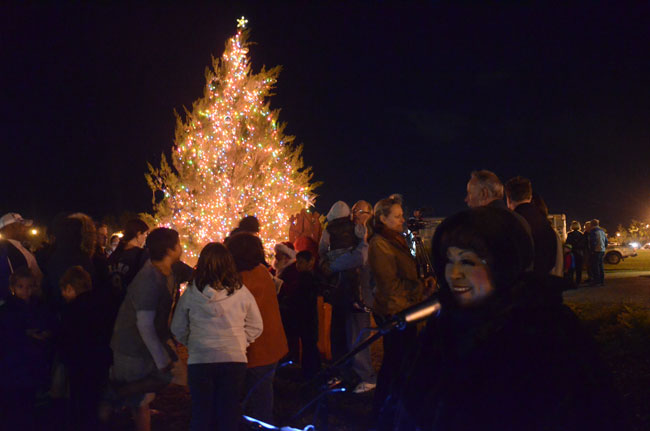 It was an alternately jazzy, merry, chilly and jingly evening in Town Center Thursday as Palm Coast had its inaugural tree-lighting ceremony in a huddle of perhaps a couple of hundred people around an upstart of a cedar that almost upstaged Santa.
The tree, a young but stately Southern Redcedar, went up in Town Center almost a year ago, on a gray, drizzly January day warmed by the Palm Coast Garden Club's generosity (the cedar was its gift to the city) and promises of ever-greener years ahead. Those dedicating the tree had made a point of also reminding the small crowd attending the tree-planting ceremony that the cedar would soon be one of the centerpieces of the city's Christmas. It would be its official Christmas tree.
And so it was.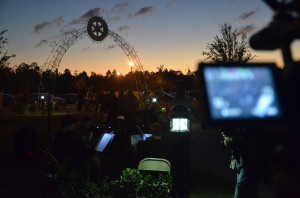 The redcedar, 18 feet high when planted in January, may have gained a few whisks of height since, but on Thursday evening, despite its youth, it towered and twinkled the moment Santa–who'd just arrived on a sleigh of bells and whistles of his own: a fire truck–lit it to cheers and applause. The technicolor Christmas lights, hugging the tree and Central Park's entire lake–the Rotary Club's annual Christmas Fantasy Lights displays ringing the lake has grown to 37 this year, including the 12 days of Christmas–probably warmed the air more than a fraction of a degree.
Moments earlier, Mayor Jon Netts had warmed the air even more with his words in a brief welcome to the crowd, before the tree-lighting.
"I bet at least one of the following stirs memories in your heart, Netts said. "Going to bed early on Christmas eve, and hoping Santa finds his way to your house. Hugging relatives that you rarely see during the year and you get to greet them at holiday time. Watching 'It's a Wonderful Life' on TV and crying when Zuzu hugs her daddy. Fighting over the turkey wishbone with your cousin–or your wife, in our household. Setting up the holiday's family tree with your favorite lights and ornaments. Well, as of December 1st, 2011, you can add a new holiday tradition to your calendar: the city of Palm Coast tree-lighting ceremony begins tonight, celebrating our great spirit that abides in each one of us. Always remember that you were here tonight, inaugurating a special event that unites us all in an atmosphere of harmony and good will."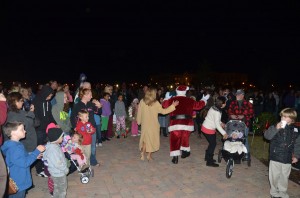 A quartet of the Flagler Youth Orchestra played a few holiday tunes as dusk enveloped the growing crowd before the ceremony. Linda Cole, the jazz singer, sang for an hour after the ceremony as a long line formed in front of Santa who, on his throne, listened to innumerable assurances from children that they'd been good all year, and that, if perhaps not in so many words, it was time to pay up. Several politicians–county commissioners, city council members, one school board member (there by marital rather than political obligation), a future supervisor of elections and an eternal clerk of court–milled about, exchanging holiday greetings and comparing Christmas bonnets. At one point Gail Wadsworth, the clerk of court, stood before the young redcedar, as if to seize it up, observed it quite a while, and said what only she could say, because only she could know it: "There are 13 kinds of cedar trees in Flagler County, and I only know one person who can name them all." That would be Cousin Lew.
It was, literally and figuratively, a stellar, heartwarming evening. "May tonight be the first of many evenings that bring us together in a spirit of peace, and," Netts had concluded, borrowing from Barbara Streisand in Yentl, "may the flickering holiday lights illuminate the night the way the holiday spirit illuminates our souls."