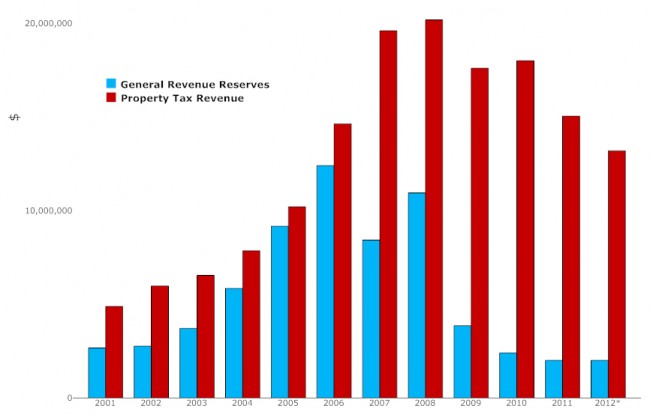 The Palm Coast City Council is looking to brace the public for one of two things come next year: either a big tax increase, or big cuts in services, including lay-offs. That's the consequence of yet another huge drop in property values—12 percent this year, compounding last year's a 15 percent drop the previous year—and the city refusing to raise taxes last year to make up for even part of the lost revenue.
Palm Coast lost $3 million in property tax revenue last year. Going by current estimates, it will lost another $1.8 million next year, bringing property tax revenue down to a little over $13 million, the lowest amount since 2005. Last year, the city made up for the loss by halting spending on construction and capital projects, and laying off employees or leaving unfilled what amounted to a couple of dozen positions. The previous year, the city used reserves to plug the hole, and raised taxes. Reserves have been wiped out: the general fund's reserves are at their lowest level in the city's history, and several other funds' reserves are running a deficit.
"There are no more jars buried in the backyard," City Manager Jim Landon told the city council on Tuesday.  "We've had four years of cuts so far. People talk about tightening belts. There isn't anymore belt to tighten. You've got to get rid of the person if you will to make those kinds of cuts after four years. So what we've talked about last year, it's not a message anybody likes to hear, you know, look up in my office, Nancy is the only one sitting there. Get rid of Nancy there's nobody to answer the phone type thing. It's not a matter of OK, how can we reduce the number of staff members. We're down to the bare bones in the office, so where we're headed, if we're going to cut this year, is boots on the street. We're talking about really three departments that are big cost departments, particularly the two big ones—fire, streets and somewhat code enforcement. Those are the three you can make cuts in, but it will be people out there that are mowing right of ways or firefighters or code enforcement out on the street."
The prospects are grim financially. They're also grim politically. Mayor Jon Netts is all but certain to run for reelection. He's facing two challengers. City Council member Holsey Moorman is facing challenges for his seat. Council member Mary DiStefano isn't running again, being term-limited. She alone spoke more freely Tuesday about the prospect of raising taxes.
"I don't want to raise taxes, but I've got to tell you guys, this is going to be a tough year, and all you do  when you lay people off is you're contributing to the unemployment," DiStefano said, "and I don't know how many more people we can lay off in the city. I just don't know." It costs the city about $30,000 a month to pay its share of unemployment benefits to laid off employees. That figure will go down, particularly since the Florida Legislature passed a bill that slashes the length of time the unemployed can get benefits to as little as 12 weeks, and no more than 23 weeks, depending on the unemployment rate. But the point council members were making is that lay-offs don't come cheap, either.
Moorman cited the Medicaid costs the unemployed incur, the house the unemployed own that may end up in foreclosure, cutting off tax collection for the city, the reduced income for stores that once were earning revenue from that employed person. "So we may save the city money, but we're not really because we end up supporting that person," Moorman said.
Ray Britt, the city's finance director, recently spoke to a local Citizen's Academy class that Moorman attended. Moorman described the assembly's demands and expectations. "They want more bike paths, they want more park and recreation programs, they want the world," Moorman said. "And then Ray just kind of laid it out to them and said, here's what you're getting for $40 a month, without raising the taxes." The $40 a month figure is drawn from the average city tax bill for Palm Coast residents. It does not include county, school and other taxes. "Now," Moorman continued, "either you're going to pay for it—there are no free lunches. Either you pay for this additional service that you want or you accept what it is at the current tax rate. I thought it was a very good presentation, and he shut them up. There wasn't a whole lot of talk after that when he started telling them what they're getting for $40 a month."
The council is holding its goal-setting session on May 31. The same day, it will also get a mid-year report on the city's finances to have a clearer idea of what to do next. Council members want Britt to make public presentations over the next several weeks, at city council meetings, where the city's expenses are laid out, so that residents have a better understanding of what they're getting for their money.
The approach is laying the groundwork for what's likely to be a tax increase. But even if the city were to increase taxes by, say, half a point (that is, 50 cents per $1,000 in taxable value), all it would do is generate almost the same revenue next year as it's generating this year. Under Florida law, that does not even rate as a tax increase, since the net result is flat revenue. Most residents, too, would not experience a tax increase: their values have dropped. The property tax rate is raised, but the end result is that residents would pay about the same in taxes next year as they did this year. For the city, raising the same amount of money next year would enable it to maintain what has been an austerity budget, with perhaps $200,000 to $500,000 extra in the pot, according to Britt—not a whole lot to do much with.
DiStefano, for her part, wants the city to resume investing in capital—the infrastructure of the city. "Not having money in capital projects is killing us, and our city is going to go downward if we don't start to figure out how we can put something in capital projects,"  she said.
Council member Frank Meeker flatly disagreed: "I think you hold off on capital projects until the economy improves. You have to live within your own belt-tightening. The question is has the city government tightened its belt as much as residents have had to do it at home."
Nowhere along the line was the city's hopes for a new $10 million city hall mentioned. Landon had been claiming that that money is available, though the building hasn't been on any council members' lips for months, at least not publicly.
After the meeting, Meeker spoke of exploring various avenues to make ends meet while sticking to his conviction that taxes should not be raised, though he clearly was conflicted over the matter. "Or does the city take one more bold step and say for one more year we're going to try something really out there," Meeker said. "To balance the budget, we're all going to take a voluntary reduction in salary." He stressed that he was merely suggesting ideas. "Nobody is going to like it, but the alternative is what, a 10 or 20 percent loss of staff?"
Not quite. But Britt's budget presentations over the next few weeks are designed to give council members a better idea of those numbers—numbers that have generally remained murky. "The problem for council by the way is," Meeker said, "because the manager is the guy that manages and operates the staff, I think we have kind of a limited understanding of how much staff it would take to really run a city of this size."