If you pay property taxes in Palm Coast, your city tax bill will see little change next year.
The Palm Coast City Council is setting the maximum tax rate it may charge at $4.2705 per $1,000 in taxable value, the same rate in effect right now. For a $175,000 house with a $50,000 exemption, that works out to a $534 tax for the year. Property valuations on average have barely budget this year in Palm Coast, going up negligibly. That means keeping the tax rate the same next year will result in tax bills similar to this year's, give or take a few dollars.
Going to the rollback rate—that is, the rate that would generate the same tax revenue for the city next year as it did this year—would mean a $4.0819 levy, or $510 for a $175,000 house—a saving of $24 that most households burn in less than a week's worth of cable bills.
For all that, the city administration and the city council expect that the final tax rate, set in September, will actually be lower than this year.
"We'll make that our maximum millage arte and continue to try to do what we can to work toward whittling that down, like we do each year," Chris Quinn, the city's finance director, said of the 4.2705 rate.
The last couple of years the city set its initial tax rate at 4.5, when lowered it each time—to 4.2958 in 2013 and to 4.2705 this year. To pay for the budget the city is presenting to the commission, the tax rate would have to be at least 4.2450, a negligible difference from the current rate.
"Unfortunately the people lump the school taxes and the county taxes and so on and they get wrapped up in this TRIM rate and rollback rate, when the real difference is $19," council member Dave Ferguson said. (He was basing his calculation on a $150,000 house with a $50,000 homestead exemption.)
"We don't really try to sell you on a millage rate as much as this is what we need to continue," Jim Landon, the city manager, said. "So we back into the millage rate. We don't set the millage rate then try to figure out how to spend it."
The public hearings when the council sets the final tax rate, and when few people ever show up, are scheduled for Sept. 3 and 17.
The council settled on those proposed rates on Tuesday during a two-hour discussion of the city's general fund budget that Landon prefaced with a caution much different than in recession years, when he would introduce the discussion more somberly: "Most of it is going to be pretty stale and boring because there aren't a lot of changes," Landon said this time.
And boring it was. This is the part where you may quit reading, unless you're a fan of budget sausage-making.
Property taxes represent just 11 percent of city revenue, but the largest revenue source for the general fund, which, in turn, pays for police and fire protection, parks and recreation, and street maintenance.  The general fund totals just $26.9 million this year. It is projected to increase to $27.4 million next year. That does not include a nearly $6 million loan repayment to the general fund from the Town Center enterprise zone, or Community Redevelopment Agency (a subset of the city government), as part of the financial maneuvers to pay for the new city hall going up in Town Center.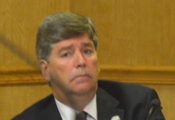 Some highlights: The city manager's office budget will rise $2,000, to $365,254, covering the salary of the city manager and one and a half additional positions. The PR and marketing department's budget will rise $4,381, to $353,363, covering three and a half positions. The city attorney's budget will stay flat at $393,678. The budget also covers financial services ($735,725), economic development ($294,000), parks and recreation ($2.7 million and 34 positions), code enforcement ($2.2 million, 25.5 positions), street maintenance ($5.8 million, 52.3 positions), the contract with the sheriff for policing ($2.6 million), and fire protection ($7.4 million, 58 positions).
A large number of city services have been pulled out of the general fund or were all along set up as their own fund, like operations or businesses within city government. Those include the water and sewer utility, garbage, stormwater management, building permits and inspections, the golf course and the tennis center. Together the funds add up to a $70 million budget.
What each of these has in common is fees: the funds are designed to operate independently, generating enough money to run independently of taxes. Generally, they do, with two notable exceptions: the golf course and the tennis center, which have run in deficit every year and have needed infusions of cash from the general fund to stay open. That won't change this year: as of April, the golf course was running a $58,000 deficit, and the tennis club a $64,000 deficit.
In previous years, the city would start the year with hopes of breaking even. Not this year.
"We're trying to be a little more realistic and actually put something in the budget for anticipated golf transfers," Quinn, the finance director, said. By transfers, he means subsidies from the general fund. "So even though we want that to break even, we've been struggling to do that, and it's good budgeting to put some amount in our budget for potential transfers, and tennis we're leaving flat for now. Both the golf and tennis center are out to bid for the management services on those, so we'll be spending more time talking about those in the coming weeks with city council, just as an FYI on that."
Landon describes the golf and tennis centers as part of the city's parks system, and acknowledges the operations will not be paying for themselves any time soon. "But closing that amenity has devastating impacts too, on neighborhoods and the community as a whole," Landon said. "For a community that's as outdoor active, our parks and recreation budget is not out of line, even with the golf and tennis included in it."
The largest of the funds is the city's water and sewer utility, which generates the most money and dollar for dollar, at close to $50 million, represents the largest share of the city budget, but through water and sewer fees that city residents pay. Stormwater management, underwritten by that monthly $11 fee, or tax, the typical Palm Coast lot pays (with some exceptions), is a $7.8 million operation. Building permits and inspections is a $1.4 million operation.
But the funds also are used to transfer revenue from one fund to another: this year the budget lists $14.5 million in such transfers.
The city's reserves are at $4.5 million, and its disaster reserves at $2 million—an amount Mayor Jon Netts wants increased. "I would feel a lot more comfortable if it were a little more than that," Netts said. "That number has been pretty static, and the city has grown." He would rather see the figure at $3 million, though in reality with most of the city's various funds having reserves, available dollars for emergencies are higher than the $2 million currently in the disaster fund.