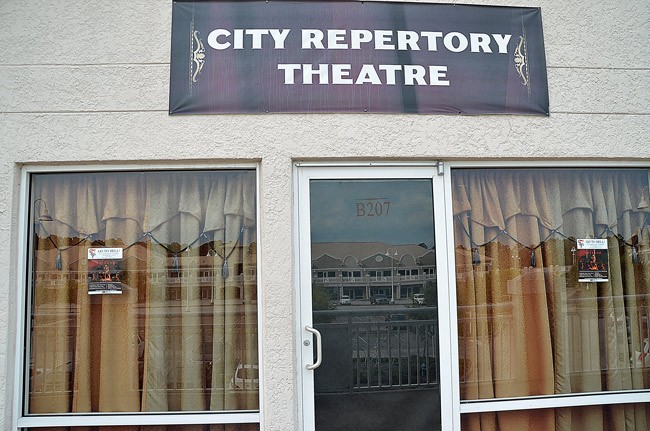 Two performing arts organizations, the Flagler County Art League and Friends of the Flagler County Public Library benefited from the second and final round of the Palm Coast City Council's cultural arts grants today.
The four organizations—including the young and rising City Repertory Theatre and the long-established Flagler Auditorium—each got $3,000 for various projects this year. Combined with the six grants the city awarded in October, the 10 organizations split some $30,000 between them.
Palm Coast government was a bit more generous this year than it had been recently, increasing its total grants to $30,000, from $25,000, thanks to the request of former city council member Bill Lewis. Lewis lost his seat to Steven Nobile in November. The amount Palm Coast devotes to the arts remains woefully low, however—amounting to just 37 cents per year per resident. The grant program represents a paltry 0.11 percent of the city's $28 million general fund budget. (By way of comparison, Palm Beach Countyin Florida spends $2.62 per resident on arts grants.)
Palm Coast's miserly attitude toward the arts is not unusual locally: the city at least has a cultural ghr4antsn program. Bunnell and Flagler Beach do not, though each of those cities underwrite, in amounts calculable more by cents than dollars, a few cultural events. Until this year, the county has underwritten none. The exception was this month's request by the Flagler Country Art League to help underwrite the appearance by Robert Wittman, an ex-FBI agent who established the FBI's successful stolen-arts division. Wittman is appearing at the Flagler Auditorium on April 7 in a fund-raising event organized by the art league. The county agreed to grant the league $2,500. It was the first time the county had directly underwritten an arts event, at least in part, though the county's administrator, Craig Coffey, said he would be discussing a more systematic and habitual way for the county to support the arts in upcoming budget talks.
Meanwhile, despite its tight wallet, the city this year made eligibility requirements for arts grants more stringent. The cioty now requires organizations to match the grants by 20 percent. And it requires them to spend at least 10 percent of the grant award on advertising. That advertising must include Palm Coast's logo, thus advertising the city as well. And each organization receiving a grant from the city must participate in at least one city-sponsored community event during the year.
---
Palm Coast's arts grants program amounts to just 37 cents per year per resident, or 0.11 percent of the city's $28 million general fund budget.
---
Luanne Santangelo told the council in October that the stricter requirements were an attempt to seek more "investment" from the organizations.
Last July the city hosted a grant workshop to explain the grant process to organizations and educate them about other sources of funding locally and elsewhere. Some 13 organizations attended, out of which six applied, all of which proved eligible. But their grant awards combined for $17,783, leaving just over $12,000 in the pot. Santangelo proposed opening up a second round of funding for organizations "that maybe didn't have time or forgot to submit their applications."
The council agreed. One of the organizations that had just forgotten to submit an application was City Repertory Theatre, the still very young, extremely vibrant theater troupe started by John Sbordone in a theatre sandwiched between city offices at City Marketplace. In October, council member Jason DeLorenzo spoke of the organization's energy, and the fact that in barely three years, it had put on more than 30 shows. City Rep was among the six non-profit organizations that submitted a grant request in round two, and got a $3,000 award. (An earlier version of this story incorrectly stated that DeLorenzo was the only member to have attended CRT show. Mayor Jon Netts and his wife have been season-ticket holders and attend almost every show.)
"That's a good example of a program that started very small and is growing  and is exactly what city council's target is, is those kinds of growing opportunities in Palm Coast," City Manager Jim Landon said last fall.
Each application is vetted by the city's Leisure Services Advisory Committee, which then recommends approval to the city council. The council has never countered an advisory committee recommendation, and usually approved them in pro forma segments of its meetings, as it did at this morning's workshop, though the approval must be ratified by vote at next Tuesday's council meeting.
Six organizations applied in Round Two, four were determined eligible.
Two organizations were deemed ineligible. One of them was Ancient Pipes & Drums, the pipe band music that plays Scottish and Celtic music at numerous community and government events—including, in many cases, at Palm Coast's own July 4 and 9/11 commemorations—and is headed by Patrick Juliano, who just left the city (where he was a firefighter) to join the staff of Florida Chief Financial Officer Jeff Atwater. Ancient Pipes & Drums, according to its application, was "seeking to purchase a mobile recruitment vehicle"—that is, a car—"to assist with membership recruitment, community awareness and organizational visibility. The vehicle purchased will be utilized as a mobile command center."
That request "was outside the parameters of what we fund," Santangelo said.
The other rejected organization was the Polonia Society of Kornona, a Polish heritage organization that sought city funding to bring six professional dancers from Sarasota to showcase Polish heritage.
"The activity they were proposing to fund actually occurs the next fiscal year," Santangelo said, "so we will make sure that they know that it was outside the current fiscal year and the funding available and that they could resubmit when we do the next round for the 16 fiscal year."
The Palm Coast International Festival takes place the first week of October—just a few days into the city's new fiscal year, which begins Oct. 1.
A full list of the year's Palm Coast cultural grants appears below.

Palm Coast Arts and Cultural Grants, 2015
Organization

Event

Program Cost

2015 Grant

Required Advertising

African American Cultural Society
AACS Annual Cultural Arts Series

$3,700
$2,960
$296

Choral Arts Society
Concert Series
$13,615
$3,000
$300

City Repertory Theatre*
Plays
$26,498
$3,000
$300
Community Chorus of Palm Coast
Concert Series

$9,909
$3,000
$300

Flagler Auditorium*
2015 Season
$552,700
$3,000
$300
Flagler County Art League*
Going Under Cover: Robert Wittman Appearance
$8,075.00
$3,000
$300
Gargiulo Art Foundation Inc.
Bicycle & Plein Air Art Show
$5,829
$2,823
$282
Palm Coast Arts Foundation
Picnic and Pops
Jacksonville Symphony Orchestra
$35,230
$3,000
$300
Friends of the Flagler County Public Library*
IMAG NE Art Project
$3,850
$3,000
$300
Palm Coast United Methodist Church
Concert Series
$12,800
$3,000
$300
Polonia Society of Korona
International Festival
$2,000
Denied
N.A.
Ancient City Pipes & Drums
Mosaic of Art and Music
$3,000
Denied
N.A.
Totals:
$677,206
$29,783
$2,978
(*) Approved in round two in March. The city council approved the non-starred applications in October. The grant applications can be viewed here and here.