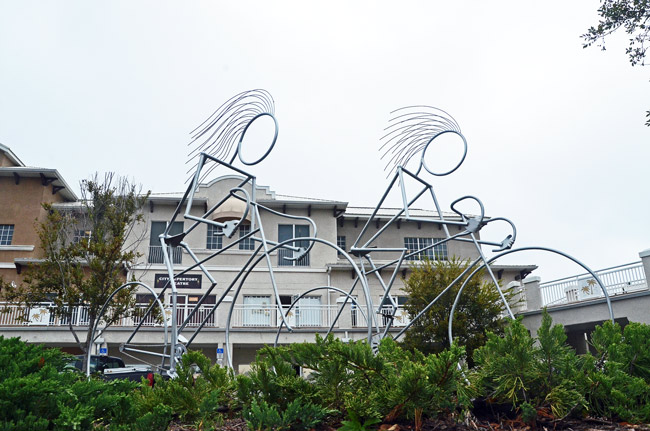 When it comes to funding for the arts, the Palm Coast City Council is squarely in the minimalist tradition. On Tuesday, the council endorsed the city's latest round of annual arts grants, which add up to $20,000, or far less than the city would spend to sod a median or cement a small stretch of sidewalk.
The $20,000 will be divided between nine local arts organizations, most of them previous beneficiaries of the city's grants, but with notable exceptions (among them the Flagler Auditorium and the Flagler Playhouse, neither of which applied). The largest grant amount is $3,125 (three organizations qualified for those). The rest are for $1,875, with one organization qualifying for $1,250.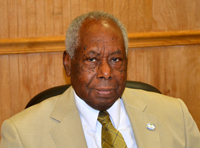 Year after year, Palm Coast City Council member Bill Lewis has been pushing for more generous grant. Last year he termed himself the "lone wolf" on the matter, for good reason: his colleagues have not only opposed raising the grant amounts. Two years ago they lowered them by a third.
"We're not very serious about it," Lewis said. "Twenty thousand dollars, and we had 10 applicants, it's a joke, really, when we talk about millions of dollars for many other things, and we're not serious about doing something about arts." He recalled asking for increases in the past, for naught. "We can't talk about having a diverse community and having all kinds of culture here and we're not serious about funding it. It's not just Palm Coast, I know it's a national trend, but we really have to do more for our culture and arts people. I'm hoping we can hopefully increase that in the next budget cycle."
This year, Lewis will have some help. Jason DeLorenzo was elected to the council last year, replacing Mary DiStefano, who'd resisted increases. DeLorenzo favors them, and has a way of paying for it. The city has a special fund, where revenue from recycling and from all those pricey special events at Town Center has been piling up. (Waste Pro, the city's garbage collector, sells recycling material and sends the proceeds to the city.) The fund has a $30,000 surplus this year.
"These events are fairly expensive for a family to go to," DeLorenzo said of the city's special events, whose price tag has been a point of contention for many who can't go because of it. "I don't want to see it collecting a lot of dollars, so we either reduce what we're charging for residents that come to these events and not collect as much dollars, or we recycle the dollars back out to the community to other events that they can attend. I think that would be an appropriate way to use some of that money."
Jim Landon, the city manager, appeared to like the idea: "It would be very consistent with us turning those dollars into event kind of funding mechanism," he said. But Landon was hedging his bets: when council member Bill McGuire spoke opf his opposition to granting increases, Landon moved closer to McGuire, saying the intent of the city's arts and cultural grants program was not to be a source of cash for organizations year after year, but to provide seed money for a couple of years, enabling organizations to establish new programs in town. After that, they were to be on their own.
"After two or three years," Landon said, "some of the organizations came and said, without your money, we're going to stop the program. So they came to city council and said, we need you to extend dollars and at that time as a compromise, the council said OK, if you're a new program, we'd go up to $3,000–$5,000, then as a continuing program, $3,000."
Some organizations, like the Flagler Agriculture Museum, have a multiplicity of programs, "so they submit a different program so they keep it new," Landon said. "It is what it is, we can't do anything about that."
Mayor Jon Netts didn't take a position different than the one he's taken in recent years—supporting the scaling back of the grants, and sticking with the lower amount this year. But he was willing to have a more extensive discussion on the matter, separate from the broader discussion: Netts wants a full-blown council debate on the future of the program, leaving the door open the Lewis-DeLorenzo ideas. Those ideas will still face stiff resistance from McGuire.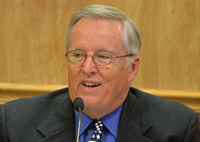 "It's great to support arts. I like the concept of seed money and all that," McGuire said. "But the economy is still in the toilet. The city's budget, we're tightening it all the time. This looks to me kind of like the tennis center. Until you tell somebody show me a plan, show me a plan that you intend to become self-sufficient, because we're not a never-ending source of cash for you. I don't mind giving you the money, it's the taxpayers' money, if you're building something that's meaningful in a cultural sense. But every year just to say, well every year we can depend on the city of Palm Coast handing us a check for this amount of money, whether we do anything or not, sooner or later they either have to stand or fall on their own two feet."
Curiously, the city council has been subsidizing the money-losing tennis center for several years: the city picked up the bill for a $140,000 deficit at the center last year, and $120,000 deficit this year. In other words, the two years' deficits add up to a sum 13 times larger than one year's worth of arts grants to organizations whose patrons, in the aggregate, far outnumber the scanty membership of the tennis club. The city remains, for now, a source of never-ending cash for the center, depending almost exclusively on the city for its viability—as arts organizations do not.
McGuire continued: "Before I'd support going from $20,000 to $32,000" in annual grants funding, "I'd like to hear from some of these groups that hey, we're not going to just come out here with our hand out, we've got a plan."
Those plans are in the city's hands: Each organization, to qualify for an arts grant, is required to submit detailed plans to the city, including full budgets for the organizations, and line-itemed details showing where each dollars is spent.
This year's grant awards, which the council is expected to approve at its next meeting, are listed below, with previous-year comparisons. The complete grants applications are available here.

Copy of Palm Coast Arts and Cultural Grants, 2013
Organization

Event

Grant Request

Actual 2013 Grant*

Grant in 2012

African American Cultural Society
AACS Annual Cultural Arts Series, December 2012-September 2013

$3,000
$1,875

$1,470

Choral Arts Society
Concert Series:
Dec. 2012, May and July 2013
May 4 7 6, 2012
July 4, 2011
$2,000
$1,250

$1,470

Community Chorus of Palm Coast
Concert Series
January 15, 2012
May 20, 2012
$3,000
$1,875

$2,450


Flagler Auditorium
2012-13 Season
Did not apply
$1,470

Flagler County Art League
Celebration of Arts Week
$5,000
$3,125
$2,205


Flagler Agricultural Museum
Hot Foods and Spicy Blues Festival
$5,000
$3,125
$2,450


Flagler Playhouse
2012-13 Season
Did not apply
Denied
Gargiulo Art Foundation Inc.
Poetry/Bicycle Event
$5,000
$3,125
$2,450

Hispanic American Club of Palm Coast
Hispanic Heritage Festival
Did not apply
$1,470

Palm Coast Arts Foundation
Picnic and Pops
Jacksonville Symphony Orchestra
$3,000
$1,875
$1,470

Palm Coast United Methodist Church
2012-2013 Concert Series
$3,000
$1,875
$1,470

Trinity Presbyterian Church
Mosaic of Art and Music
$3,000
$1,875
$1,470

Totals:
$32,000
$20,000
$19,845
(*) As recommended by the city's leisure services committee to the Palm Coast City Council.