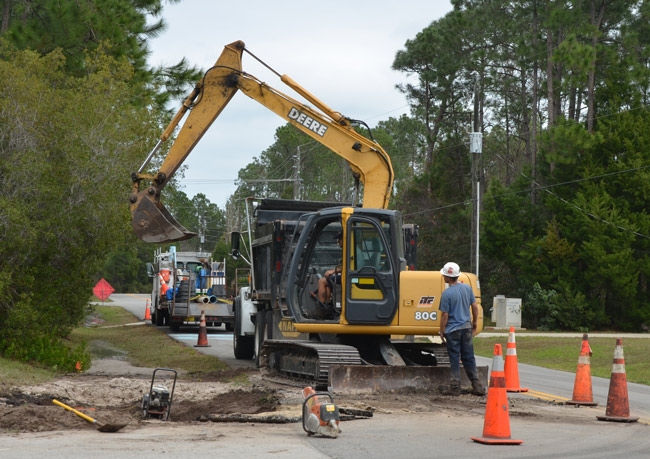 Some 25 homes in Palm Coast's P-Section lost their water connection for a few hours and remain under a boil-water advisory for the next 48 hours when workers serving a line today tapped into a water-main and split it, Richard Adams, the city's utilities director, said.
The work was taking place at Point Pleasant Drive and Powder Horn Drive. "It happens occasionally," Adams said of the inadvertent split, "and of course we immediately isolated the area, shut down the main and dispatched the crews to do the repairs." The main was back in service by mid-afternoon. The 25 homes affected were along Point Pleasant, Powder Horn and a small part of Ponce de Leon. The homes got a notice on their door.
The boil-water notice is a precaution, not a necessity. Residents can still use the water to shower or wash clothes for example, but are advised to boil the water before drinking it until water running through the system is tested and cleared, likely within 24 hours. Some of the areas beyond those streets were also afffected when the water pressure fell. Those areas may have experienced brown water for a while.
"Hopefully in two days it'll all be clear and everything is abck to normal," Adams said.